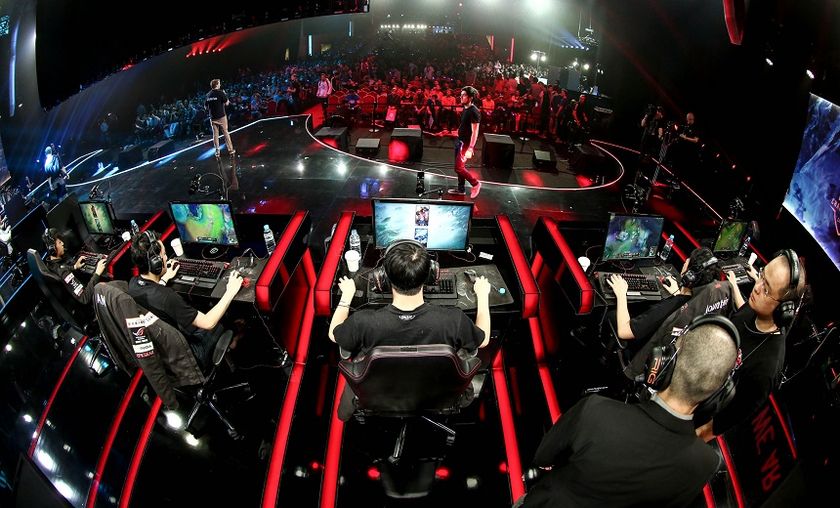 Worlds Group B Recap
Group B brought up the rear at Worlds this year, concluding on the final day of the group stage but bringing a level of drama not seen in the rest of the groups. Even if you had Fnatic and ahq in your Lolesports.com Pick 'Em brackets, there's no way anyone foresaw the chaotic last games that would decide the order of the group.
1. Fnatic (4-2)
Whether you had Fnatic winning the group or coming in second, it's hard to imagine many people assumed they wouldn't make it out of the group. And despite a shaky week one, Fnatic managed to turn their bad fortunes around with several good, though not great, performances in week two. An insane nail-biter against ahq was enough to prevent a tiebreaker appearance against Cloud9, but it's not an argument that ahq were the better team almost the entire game. With three inhibitors down for Fnatic, ahq pushed forward to end the game, and engaged a fight that looked favorable for the Taiwan club. However, the results weren't as expected, and one of the most exciting endings to a competitive League of Legends match occurred:
Marginally better week two performances from Fnatic don't necessarily bode well for the top seed from Europe, as a date with Edward Gaming, China's only team to advance to the knockout stage, certainly won't let Fnatic squeak by with weak performances in a best-of 5 series.
2. ahq eSports Club (4-3)
Taking second in the group were ahq who, like Fnatic, bounced back after a few weak performances in the first week of games. A demonstrably solid performance on Sunday allowed them to roar back from third place to force a tie-breaker against Cloud9, which they won in typical ahq fashion. After being about two minion waves from beating Fnatic to take first place in the group, they recovered from potentially one of the most tilting finishes a team could endure to secure their passage less than an hour later against the team from North America. Ahq joins the Flash Wolves in the quarterfinal round, as both LMS teams sent to worlds advanced out of their group, with ahq running into the buzzsaw that is SKTelecom T1. Faker and crew will hope to end the Taiwanese Cinderellas, and Westdoor and company have an enormous brick wall in front of them next week.
3. Cloud9 (3-4)
The last hope for North America, Cloud9 continued the NA trend of week two by going winless on Sunday, like Counter-Logic Gaming and Team Solomid did days before them. Needing only one win to see themselves through to the quarterfinals, Cloud9's hard push strategy was seemingly solved by all three of their competitors in Group B on the final day. Losing convincingly to Fnatic, ahq, and IG each on the final day, Cloud9's last hopes rested in a tiebreaker against ahq. And hoping to throw their opponents off, they deviated from the strategy they drafted 6 times previously, but their fight-based draft strategy played right into ahq's hands, who thrive on chaotic team fights. Unable to push through, Cloud9 should hold their head high at the turn around they had just to get this far. From 7th place at the end of the North American Summer split to fighting for a quarterfinal berth at Worlds, Hai's final hurrah gave us all a show.
4. Invictus Gaming (2-4)
Whether they were a disappointment or a victim of vindictive strategy leaks, IG's Worlds did not go as planned. Securing only one win through their first five games, it took until they were completely knocked out of the tournament before they proactively made changes. With Time subbing in for Kid at the AD Carry position, Invictus Gaming did their best at playing spoiler to Cloud9, with aggressive Nidalee play from KaKAO and a phenomenal performance from Time on Kalista being far too much for Cloud9 to handle. They return to China on the back of a win, but with the lurking allegations against Chinese analyst Tabe, IG certainly believe something far more sinister happened to them.
Fnatic and ahq certainly have their work cut out for them, as the two winners from Group B run into two of the overall favorites to win the entire tournament in the first quarterfinal stage. Both teams have shown incredible resilience to make it out of the mosh pit that was Group B, and weirder things have definitely happened. IG and Cloud9 return to their respective regions to lick their wounds, with Hai and Lemonnation both considering retirement from the professional scene. If it was indeed either of their last events, it was a fantastic effort and performance they put on, and we wish them the best of luck in the future.
All photos courtesy of lolesports.com