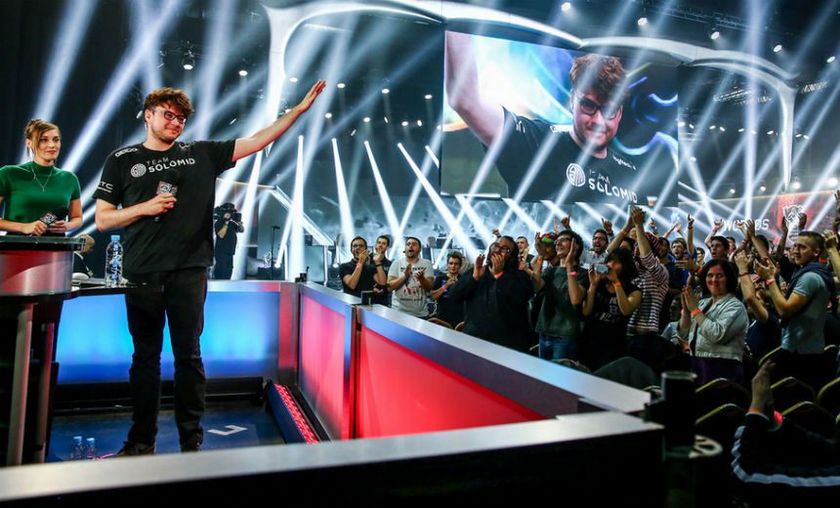 Worlds: Group D recap

Photo by: lolesports
KT Rolster and Origen swipe away the first two seeds, LGD has their Flame rekindled too late, and Dyrus says goodbye.
The lights are off, the crowds are gone, and the sun has set on day three of Worlds. Group D was colloquially known as the "Group of Pain," with both LGD and KT Rolster coming out of their well-regarded regions as strong contenders for the first two seeds. Origen, a journeyman team that had only qualified for the EU LCS this split, and Team Solomid, who had just come out of their rockiest split yet, did not seem to have a hope of qualifying. Did most people's prediction brackets come true? Judge for yourself:

Photo by: lolesports
1. KT Rolster - (5-1)
Heavy favorites for the second seed, KT Rolster exceeded expectations in the group stages, dropping only a single game over the past two weeks. There were many contributing factors to the success of this team, but the person to look out for in the coming stages of the tournament is Kim "ssumday" Chan-Ho. As versatile as he is mechanically proficient,  he was dominating the laning phase, executing beautiful teleport rotations, and was able to carry his team through to five victories and the top spot.

Photo by: Origen
2. Origen - (4-2)
Still green behind the ears, Origen managed to make a miracle run through the first week of the tournament, winning a game against each other team in their group. Not thought of as "weak" so much as "unseasoned," when it comes to teams like LGD, KT Rolster, and even TSM, they beat the odds through smart teamplay and excellent shotcalling. Even when they faltered and fell, got beaten up by the other, more experienced teams, they still sometimes found the ability to come back and win. They're a smart team, and certainly not one that should be taken lightly going forward.

Photo by: lolesports
3. LGD - (2-4)
The disappointment of Group D, LGD were the heavy favorites for not only the number one spot in Group D, but possibly the championship title itself. However, poor draft phases and sloppy play left the team 0-3 at the end of their first week. Replacing Choi "Acorn" Cheon-Ju with their toplane sub, Lee "Flame" Hojong, they managed to find two wins their second week, but it wasn't enough. Perhaps they didn't take their opponents seriously enough, or perhaps their unstable coaching staff let them down, but one thing is for sure: LGD has a lot to work on if they want another shot this time next year.

Image by: lolesports
4. TSM - (1-5)
TSM was a team that nobody expected to do well. Rather, everyone expected them to get clowned on by essentially every other team in their group, with some people (yes, including me, a diehard TSM fan) even putting Origen higher on their prediction brackets. TSM tried hard, and played very well, even admirably, against these comparatively stronger teams. They had good early games, showing marked improvement from their summer split, where they faltered and fumbled often. In the end, however, poor shotcalling and teamplay caused them to drop games that they could have won. They played hard, and showed everyone they could still compete on the world stage.
If I could take a moment to get personal, after the last game of the day, League of Legends lost one of their greatest players. Marcus 'Dyrus' Hill had announced his plans to retire long before worlds, but none of it truly hit home till today, where I looked on in sadness, watching TSM lose their chance to advance, and then lose their last game of the day to LGD. Dyrus, one of the most prolific and emotional players of the game, stepped off the stage in tears, his 312th and last professional game a loss. He was only barely able to compose himself for a heartbreaking interview with Sjokz:
Dyrus, I doubt you're reading this, and even if you are I don't know how much my opinion might mean to you. Regardless, you are, and ever will be, one of the truest legends to grace this game. Your accomplishments could be touted up and down the annals of LCS history, but rather than quote stats, I will say this: you are a titan of a player and a person, and while the future of the TSM franchise you helped build looks bright, your absence will leave the NA LCS set just a bit dimmer.
I let you guys down I'm sorry.

— Marcus (@LoLDyrus) October 10, 2015
You never let us down Dyrus. You were an inspiration not only to me, but to thousands of other players. You leave behind big shoes to fill, but even without you I will remain a TSM fan for years to come. Thank you for all you've done, and all the memories you've given us over the years.

At the risk of giving you, dear reader, textual whiplash, let's do a major gear shift and look ahead. Group B is tomorrow, and already we've seen totally unexpected results. I believe a newly resurgent Fnatic could easily beat out IG and ahq, but only time will tell. Cloud 9 does not need much to secure their berth to the knockout round, and as the last hope for NA on the world stage, I know I'll be asking them to take my energy.