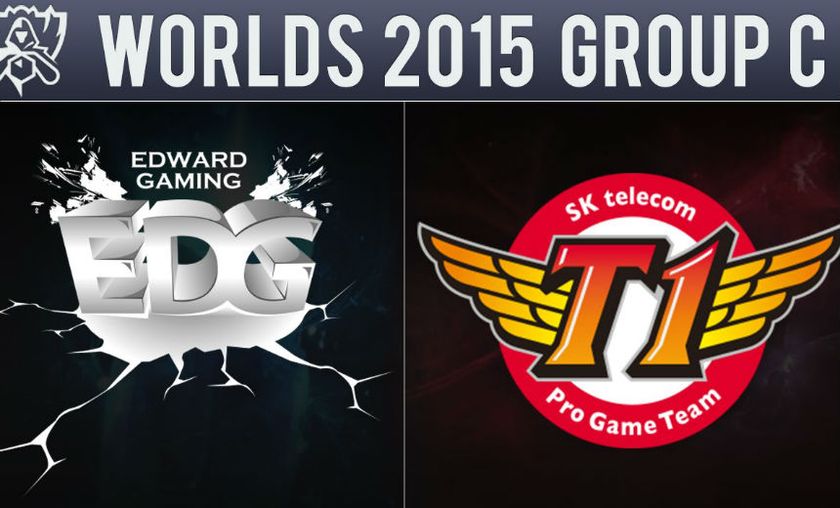 Group C - Final Day Recap
SKT and EDG advance to the quarterfinals after easing through the group stages.
Photo By: Daily Dot
Final Standings:
Group C went as planned. SKTelecom T1 (SKT) completely dominated the group finishing with a perfect record. Edward Gaming (EDG) advance by finishing second place after only losing games to SKT. H2K-Gaming (H2K) and Bangkok Titans (BKT) took third and fourth place respectively and have been eliminated from the tournament.
| | |
| --- | --- |
| Team | W-L Record |
| SKTelecom T1 | 6-0 |
| Edwarg Gaming | 4-2 |
| H2K | 2-4 |
| Bangkok Titans | 0-6 |
Team by Team Recap:
1. SKTelecom T1 (SKT) – After entering the tournament as an overwhelming favorite from LCK, SKT exceeded expectations. All of their games basically went according to their coach Kim "kkOma" Jung-gyun's master plan.  SKT annihilated all competition that they faced. The biggest surprise for them was the level of ease in which they beat EDG with. EDG came into the tournament as one of the favorites as well, but like the other Chinese teams in this tournament, have not played to their full potential. Their second game against EDG lasted a mere twenty-four minutes and SKT rolled through it controlling every aspect from the very beginning. Each of SKT's members has performed incredibly well in the group stages dominating lane opponents with pocket picks and even against counters. Other than a few minor hiccups, one would argue SKT played like champions in this group stage which bodes well for their aspirations of winning the tournament.  
2. Edward Gaming (EDG) – Despite playing rather poorly (especially in the second half of their group games) EDG has advanced by finishing second in Group C. Setting aside their losses against SKT, EDG won all their games. Their biggest issue has been their champion select. Analysts on the Worlds Broadcast have basically unanimously agreed that their showing far too much cockiness in their strategies basically assuming that they can win games against anybody through their superior team fighting and overall skill. This is a major problem looking into the future for EDG. If they do not fix their issues in game preparation before their knockout series they won't be advancing nearly as far as they expect themselves to. They've openly countered themselves in some games setting themselves up for failure. These issues didn't hurt them too much in the end but looking at their close second game against BKT, it shows that poor preparation and hubris will make games closer than they need to be. However, their final and clinching game against H2K they ran a flawless protect-the-Jinx composition that pushed them into the knockout stages, showing promise that despite their poor performances in a lot of games, they do have the potential to put out some stellar performances.
3. H2K-Gaming (H2K) – H2K met expectations. They entered the group as underdogs and despite some strong performances, they will not be advancing to the quarterfinals. H2K is a team known for their macro play and strategies. Head Coach Neil "Pr0lly" Hammad sets his team up for success from the very beginning by creating good team comps and objective control.  Caster and analysis Christopher "MonteCristo" Mykles even stated his approval in their champion select throughout the group stages prior to H2K's second game against SKT. Unfortunately for them, their gap in skill against SKT and EDG were just too much in the end. H2K can view this tournament as a success as they showed their strengths to the world against the biggest teams and won a few games.
4. Bangkok Titans (BKT) – Wildcard team BKT wasn't expected to do anything during the tournament, but they almost pulled off the upset of the century. Their game against EDG today was a testament to how they approached this tournament. They wanted to make some noise in this group filled with tournament favorites and their incredible performance against EDG made that goal a success. BKT created a massive gold lead early in the game before EDG won a couple of extremely close team fights to turn the game around. Although they didn't achieve a victory, it shows that wildcard teams are trying to close the gap against the major regions and that they do deserve a spot at Worlds.
Group MVP:  Bae "Bang" Jun-sik
Photo By: SKT Twitter 
Group C is littered with superstars from SKT and EDG, but the MVP award goes to the lesser hyped ADC of SKT. Bang has put up impeccable performances in each game earning the highest KDA in the group. He has played all of the common ADCs in the tournament meta and adapted to each game as it requires. His positioning and team fighting created massive leads against opposing ADCs which allowed him to play almost carefree in all of the games. His performances so far at Worlds provide promise for SKT as they will welcome this type of play from him in the later stages of Worlds.