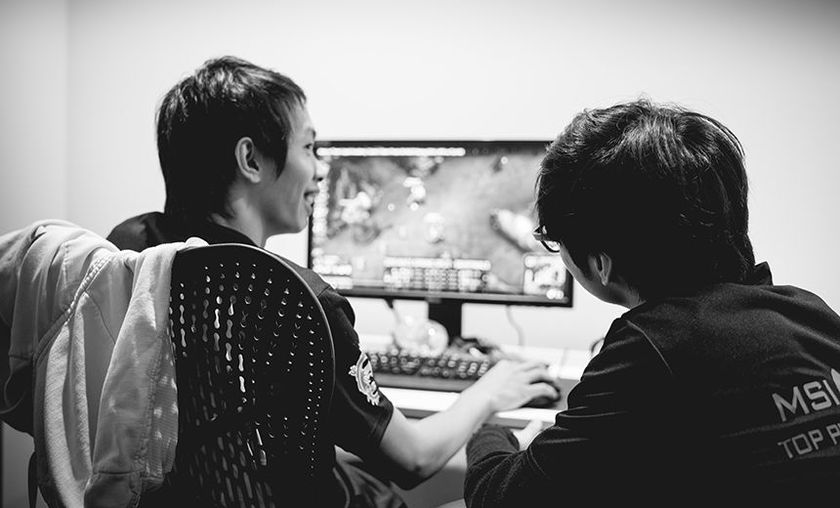 Player spotlight and interview: Flaresz
(photo credit lolesports' flickr)
Cuong "Flaresz" Ta has had a tumultuous time in the North American competitive scene. He has been the subject of intense criticism from fans, analysts, and other players. Nothing has stopped Flaresz from continuing to forge on and find new opportunities. Most recently, he helped Team Dragon Knights qualify for the North American League Championship Series promotion tournament— with an upset victory against the favored Ember. TDK did fall in the finals to Apex, but are still in the running to join the NA LCS ranks in the games starting on April 6th. Earlier this year, Flaresz also played with LA Renegades. There was limited success, but, with the team already struggling, it can hardly be attributed to one player.
Flaresz has had prior NA LCS experience but, as of yet, has been unable to bring to stage what he knows he is capable of. He faces the same problem that many players face: translating scrim results to the stage. The fluctuations in the type of champions that need to be played is one that continues to plague his performance. With a preference for Riven, the era of Poppy and Nautilus is one that is hard for a carry-style top laner to adjust to. We have seen moments of potential and brilliance shining through recently.
The potential to grow as a player is not in the hands of others, or the meta, but the player themselves. What type of player is Flaresz? What motivates him to keep striving to succeed and come back stronger?
---
Kit: What originally got you into video games and League of Legends?
Flaresz: I got into video games when I was around 8, playing Counter Strike 1.6 and some MMO. I got addicted to online games that I can play with friends and meeting new people. In 8th grade, my friend introduced me to League of Legends, so I tried it out and played with my friends.
Kit: What was your drive to play competitively? Has that changed over time?
Flaresz: My drive to played competitive at first were to earned prize and winning tournament. As time passes, I want to be one of the top player in my role.
Kit: What has been your hardest challenge since entering the competitive scene?
Flaresz: The hardest challenge in competitive is changing my playstyle. You have to know when you can play aggressive and play back when your jungler not on your side. Sometime, I also just go all in and try to kill one person to increase my KDA and I try not to do that too often now.
Kit: What has it been like transitioning teams?
Flaresz: The transition from Renegades to TDK was good but there a language barrier between AD Carry, Mid, Top, and Support. Both team know what to do in game but it hard to communicate something that happen really fast and team fight, so we just go with the flow on TDK, that how i feel like.
Kit: What was your highest high?
Flaresz: I think my highest high is probably last year challenger season because I could play carry champions and kill people 1 versus 1.
Kit: What was your lowest low?
Flaresz: My lowest low is probably the summer split where I show a disappointed performance in the split and have the most deaths record, haha.
Kit: What is your favorite champion?
Flaresz: Riven, Quinn, Hecarim, Irelia
Kit: What do you think of Season 6 so far?
Flaresz: I think Season 6 has more diversity in mastery and top lane champions pool. You can play AP/AD carry top, bruiser and tank top. Overall, tank top is broken at the moment with grasp of the undying.
Kit: What in the game would you most like to see?
Flaresz: Uh, I would like to have more standard lanes in competitive, therefore you can show people how good a player is. In lane swap, the games decide who is more aggressive and have better strategy than the other team.
Kit: Since you have played in both the NA CS and NA LCS, what do you feel is the biggest differences?
Flaresz: The differences between two leagues are, the macro plays, meaning LCS team have better map movement than challenger team, but individually we aren't that far apart beside Immortal.
Kit: If Team Dragon Knights get into the NA LCS for Summer, how do you feel you'll will do?
Flaresz: I feel like we can make top 6 if we can perform what we can do in scrim.
Kit: What people have influenced and helped you the most in becoming a better player?
Flaresz: The people that influence me are my family, and friends that support me. Last, but not least, the people that flame me in game and reddit make me want to prove to them more.
Kit: Did you ever have conflicts with your teammates? How did you resolve them?
Flaresz: Well, I do have conflict with my teammates but it's mostly about the games like about my teleport and how they can't follow up most of the time. I resolve them by talking to the coach and my opinion on the plays and we look over it.
Kit: What do you think of yourself as a player?
Flaresz: I think i'm an aggressive player that can carry game with the right resources and how my team utilizes me.
Kit: What are your hopes for the future?

Flaresz: I hope to win NA LCS playoff, play in the world stage, some people might think that its not possible for me, but I still believe. When I retire, I want to be a caster or a coach. However, I'm not sure what I want to do yet.
---
We'll have a chance this week to see what Flaresz is made of. Maybe we'll get to see him on a favored carry champion, but whichever champion he plays, it's up to him to show us what he's made of.