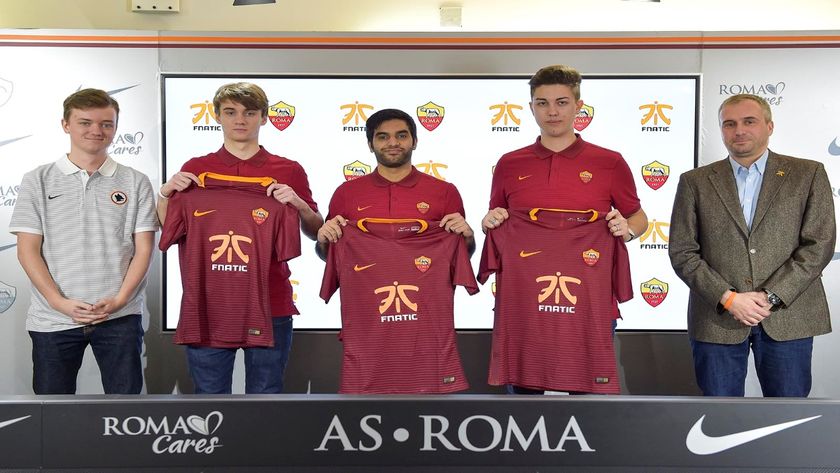 Traditional sporting organisations with their own esports teams
Esports continues to grow in leaps and bounds over the last few years and now the big-name traditional sporting organisations are getting in on the act. 
When it comes to esports, many still don't consider it to be a legitimate sporting competition. Although it has been around since the 90s, esports as a whole didn't truly grow until the noughties with the introduction of greater technological advancements to video games. Over the past 10 years or so, we've seen esports competitions truly take shape as one of the biggest sporting events in the world.
The likes of The International with its colossal prize pools for Dota 2 are just one of the reasons to get into esports these days alongside the millions of people who will be watching it on a live stream or in person. The amount of eyes on a single esports event is enough to prove to big-name corporations that esports is an industry worth investing in.
While many still think it's a volatile market to get into, traditional sporting teams beg to differ with them having their very own esports teams competitions against some of the biggest names in the industry. From football clubs to even current and former pro players, traditional sporting organisations from around the globe are taking notice of the esports scene and are doing their part in helping it grow.
Even former and current professional athletes and celebrities are getting in on the trend. The likes of David Beckham, Michael Jordan, and Drake are just some of the big names that have already thrown their hat into the esports ring.
With that said, we'll be breaking down all of the famous sporting organisations that have their very own esports teams.
PSG Esports
Paris Saint-Germain is a French football team that participates in the Ligue 1 football league. Being one of the best French football teams, they were also one of the first to have their very own esports arm as part of the organisation. Starting in 2016, PSG has since grown into a top competitor in the esports industry, particularly in Dota 2 and League of Legends with their teams, PSG.LGD Gaming and PSG Talon.
Both teams are at the top of their respective regions with PSG.LGD recently winning the WePlay Animajor while PSG Talon took a respectable third/fourth-place finish at MSI 2021. The LoL team has been around for almost five years now after acquiring Team Huma. They have since remained to be one of Southeast Asia's top teams over the years, having won two of the three PCS regional splits.
As for the Dota 2 squad got picked up back in 2018 after signing the LGD Gaming roster from China. The team had achieved instant and continued success heading into 2021, winning major tournaments like the Epicenter XL as well as the MDL Chengdu Major. The team also placed second and third at TI8 and TI9 respectively.
AS Monaco Gambit 
AS Monaco is the first French football teams to have its very own esports division for both Fortnite and Dota 2. Its collaboration with Gambit Esports - which is owned by Mobile TeleSystems (MTS) - pairs up the French football club with the leader in Russian digital, media, and telecommunication services.
It's Dota 2 squad is performing fairly well, considering it is still just a few months old. AS Monaco Gambit will also be the first football team that is actively participating in Fortnite. It's also worth noting that Gambit Esports also has its own division in CS:GO, being one of the top teams in the game.
FC Schalke 04 Esports
The esports scene in Germany is steadily growing with more and more big-name football teams investing in the industry. One of them is FC Schalke 04, one of the oldest football clubs in the country. It was founded in 1904, as per the '04' in its name while its esports team was founded back in 2016. 
They have their League of Legends squad, FC Schalke 04 Esports, currently participating in the LEC 2021 Summer Split. Aside from that, there is also FC Schalke 04 Evolution, the LoL academy team.
Galatasaray Esports
There are not one, not two, but three teams participating in the TCL 2021 Summer Split that Galatasaray Esports, backed by the football club of the same name.
While their TCL 2021 Winter Split campaign ended in the semifinals at the hands of the eventual winners, they will be looking to bounce back even better this time. They're currently first in the group stages of the Summer Split. There is also its academy team Galatasaray Academy, which will be participating in the upcoming Turkey Academy League Summer 2021.
1907 Fenerbahçe Esports
The second of three Turkish esports teams with a football club as its parent owner is 1907 Fenerbahçe. Unlike Galatasaray, Fenerbahçe made it into the grand finals of the TCL 2021 Winter Split, facing off against the Istanbul Wildcats for a slot at MSI 2021. Of course, we all know how that went.
While the TCL 2021 Summer Split has just started, they are off to a bad start after losing their opening two games. But if last Winter's results are any consolation, we can expect the team to move forward to the playoffs... that is if they perform when it matters. They also have their academy team, 1907 Fenerbahçe Academy.
Beşiktaş Esports
Lastly, there is Beşiktaş Esports, the third and final Turkish team that is participating in the TCL 2021 Summer Split and is also owned by a football club. It's pretty safe to say that Turkey is wholly embracing the esports dynamic with its associated football clubs.
Unfortunately, even with the backing from its footballing parent, they have been unable to grind out the results needed, finishing just outside the playoff stages at the TCL 2021 Winter Split. As for the current Summer Split, they're in a three-way for fourth so there is still light at the end of the tunnel.
However, Beşiktaş is the only team with an academy squad and an all-women esports team for LoL. But sadly, it didn't last very long as the team has since disbanded in 2020.
Where does it go from here?
Aside from the teams listed above, there are also plenty of other football clubs from around the world that have their very own dedicated FIFA team. There are also NBA teams that have their own NBA 2K team that compete in its very own NBA 2K league.
While actual sports games are a part of esports, it's only a single branch in an ever-growing tree that just continues to blossom year after year. If these teams were to branch out to more video games that are outside of their comfort zone, we can expect even more eyes on the esports industry. 
Given that many of these teams already have a well-established fanbase, it wouldn't be hard to appeal to a new and younger audience who can not only relate to sporting athletes but also esports athletes as well.
(Image credit: Fnatic)