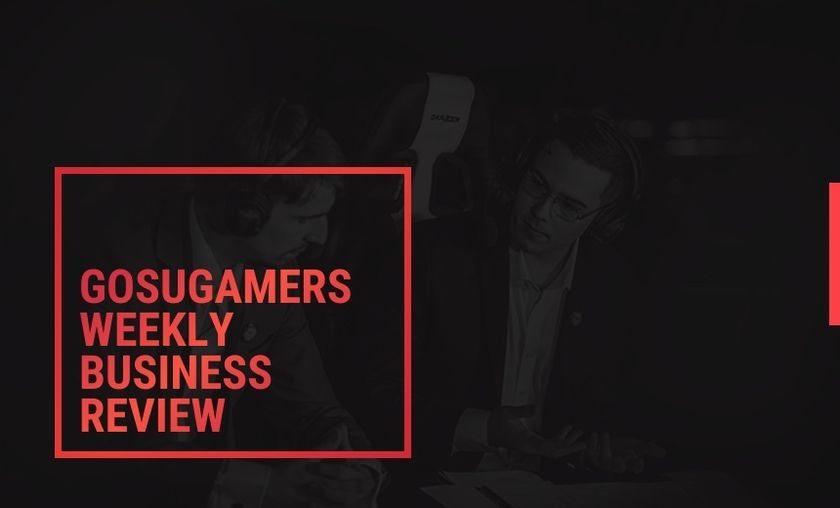 GosuGamers Weekly Business Review, 10/2 - 17/2
Money coming into eSports is always something that interests us over here, and this week we have an interesting and potentially extremely meaningful investment being made in a country that currently verges on undiscovered, if not definitely unoptimized as yet. Indian gaming firm Nazara announced this week that they would be pumping $20m into eSports over the next five years in an attempt to kickstart the scene in that part of the world.
With ESL and UCypher having announced some plans for the area, this new investement from a company that has already put over a million dollars of their own money on the line could potentially see an explosion and the emergence of the first few eSports stars from that region. In terms of population and potential, there is no doubt that India is at least as exciting as China, but there are real issues within the country that make it hard for real progress to be made.
ESL actually announced their plans for India last year too, but industry insiders have spoken off the record to GG about the challenges of working in that part of the world. The normal issues with scammers and missed payments are sadly part of eSports in any developing area, but there are also problems with internet access that make local play very challenging, and competing on outside servers nigh on impossible.
Still, the fact remains that there are many people currently untouched by the Cheeto-stained hand of eSports, and India has a larger than average number for companies to try and sell stuff too. Chinese eSports has already begun to grow, and if India manages to catch up and compete it could potentially change the face of the industry as we know it.
Roma knows
Image courtesy of Fnatic
Sports teams coming into eSports is about as novel as angry tweets from the President by now, but this week saw one move in that we should probably talk about. AS Roma, the socialist half of the Roman footballing scene, have partnered with Fnatic to step into the scene, with the signing of a few FIFA stars looking like their opening gambit at this point in time.
The club are owned by James Pallotta, an American who also holds shares in the Boston Celtics, and is currently the only foreign owner in Serie A. In terms of going into FIFA, that is a move a lot of football teams make for obvious reasons, but the club working with Fnatic at least shows a degree of respect for endemic knowledge within the scene, in contrast to some of the other deals we've seen proposed.
Instagram of eSports gains investment
Speaking of venture capital, one of the original stars of eSports had some good news this week as a story broke on Dennis 'Thresh' Fong, and his securing $15m of investment for his 'instagram for gamers' project, titled Plays.tv. Fong is a retired former FPS competitor, with Quake and Doom his main stomping grounds, and the investment group involved contains some very interesting names.
The likes of Jeremy Lin and the owners of the San Francisco Giants are both rumoured to be involved in the latest round of funding, led by Shasta Ventures, and the firm looks in decent health, having hit the 1m user mark in April of last year despite only launching twelve months before. The service allows players to analyse their own replays, something Lin himself was very excited about, and cited as a great tool for improving players.
Swedish strife
We've had a lot of YouTube personalities complaining of late, and the biggest of all has got himself in quite a pickle. Felix 'PewDiePie' Kjellberg has lost a commercial deal with Disney, as well as his forthcoming YouTube Red series, after a report from the Wall Street Journal on the content of his videos. The article, titled 'Disney Severs Ties With YouTube Star PewDiePie After Anti-Semitic Posts', details a number of times that Nazi imagery and jokes have appeared in his content of late, and also led to a video response from the Swede.
In his response, Kjellberg accused the mainstream media of being afraid of him, and the influence he has due to his platform on YouTube, and states the article was only written to 'discredit me, decrease my influence and my economic worth'. While the WSJ may or may not have a hidden agenda against all young, Swedish social media stars, there may be another explanation that explains the current predicament of PewDiePie, due to his unique circumstances and background.
Certain words and jokes appear online at a much higher frequency than you'll find in normal, adult life, but a number of young men and women raised on the internet find it hard to separate what flies on certain forums from what is acceptable in the workplace. Personally, this writer has seen young 4chan types trying to become professionals refer to a workplace superior as a 'libtard cuck' and then be surprised when asked to leave. PewDiePie, in his reaction video, recognised that his jokes may have crossed the line, and the reason he has had to make that concession is his move from being an 'internet celebrity' to just a celebrity, with all the slings and arrows that come with it.
There is a time and a place for all the different forms of humour, be it a Nazi joke, ironic racism or something else with the potential to offend, but when you are working with massive multinationals the circumstances are different to posting on an anonymous forum. PewDiePie is not a Nazi, or a fascist, in fact he is a remarkably switched on and intelligent young man, but as the internet and the mainstream come closer and closer he and his peers will need to adjust their expectations slightly, or will be limited in their ultimate scope.
Grubby muck
Sadly, we have to take a slightly dark turn here toward the end, as the ever-vigilant Richard Lewis this week brought to light the case of one Reece 'Bloominator' Bloom, a 25 year old American involved in the world of professional Counter Strike. As a player, Bloom has never really shone at any significant level, but his actions online have still brought him to the attention of Lewis, and may eventually see him visit the police station too.
Bloom is accused of, and has essentially admitted to trying to groom and eventually engage in sexual acts with girls aged fifteen or so, via sites like Twitter and other social media platforms. When caught, he was banned from ESEA for 1000 years, and obviously dropped by his team, but as you can see in the video doesn't seem particularly bothered by the implications at this stage, or the fact the world knows him as a paedophile.
Just as with the case of Jonathan Lugo, known in the Smash world as Alex Strife, the best thing that can happen is for the victims to come forward and the predator be exposed. That can be difficult though, so it is vital that names like Lewis signal boost such cases, just as vital as it is that others within the scene are vigilant, keep an eye on vulnerable people, and don't allow this poison to go unnoticed. As an industry we must show that we reject these damaged, damaging individuals, and protect the younger members of our communities from such danger.
Roundup
Trump's seven nation ban could have big implications for Valve
CLG part ways with Subroza
Blizzard take steps to combat cheating in Korean Overwatch
Heroes patch notes are released, Lucio arrives
Year of the Mammoth sees huge changes coming to Hearthstone
Matches of the Weekend
Misfits have to beat Lunatic Hai to make the playoffs at Apex
Fnatic v Virtus.pro in Vegas, loser is out
L5 v MVP Black sees the 1st and 2nd seed clash in HGC Korea
Events to catch
DreamHack Vegas is on this week, with some huge names involved
Starladder i-League season three is coming very soon
ESports Careers
Kinguin would like to hire a paid Social Media Marketing Specialist
ESL need an Event Project Manager to work for them in Cologne
Team Spectrum need a temporary Graphics Designer
Giggles
Adidas the next firm to get involved in eSports? Which teams would they sponsor?