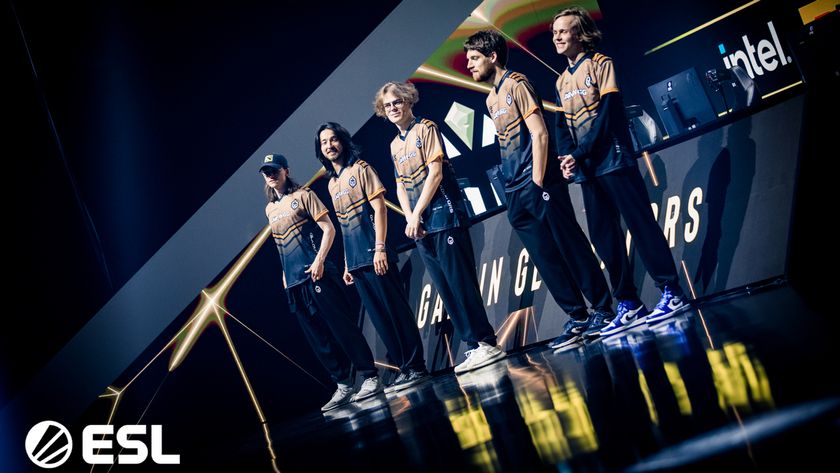 Gaimin Gladiators finish top 4 at their first ever Major
Gaimin Gladiators have pretty much secured a direct invite to TI11 with the fourth place finish at their first ever Major.
ESL One Stockholm Major marked not only the first Valve sanctioned tournament for Gaimin Gladiators, but it also brought the LAN debut for the majority of their players. Coming to the Major after a dominant run in both season of the 2022 Dota Pro circuit, Gaming Gladiators stomped their way to the upper bracket playoffs, finishing top seed in Group B.
On their way to the top 4 in the playoffs, Gladiators knocked T1 to the lower bracket and sent home beastcoast, but when pitted against their regional counterparts, OG, they got rather stomped.
Much like all other teams at the Major, Gaimin Gladiators had to decide which of Ammar "ATF" Al-Assaf's heroes they let through the first banning phase and if they wanted to take their chance with Tommy "Taiga" Le' Enigma or not.
In both games, they chose to ban the Enigma in the first phase while also denying one hero for Ammar. That gave OG the room to first pick what has become Sébastien "Ceb" Debs' signature hero for ESL One Stockholm Major, the Windranger, and in both games he had a huge impact on his team's victory.
Ceb and Ammar have taken the spotlight so far at the Major and the series versus Gaimin Gladiators was no difference. In game one, GG tried to offset OG with a mid lane Keeper of the Light, but the mid lane matchup against Tiny went disastrously for Miroslav "BOOM" Bičan and the game was pretty much decided by that outcome.
Headed to the second game, OG had the first pick and with Windranger available they didn't hesitate to take it, along with Razor for ATF. That forced Gaimin Gladiators to look for a solution in the safe lane. Their answer came with a last pick Anti Mage, who in theory could break the Static Link and have a decent laning stage. However, playing an AM line-up meant that they couldn't keep the pace with the OG's aggression and they ended up ran over by ATF, who finished the game with 21/1/11 KDA and 44k damage dealt to heroes, which was double the amount of any other teammate of his.
While Gaimin Gladiators exit the Stockholm Major in the top 4, with a total of 1130 DPC points at the end of the Spring Tour, OG will return to the Hovet Arena for the finals day on Sunday. They will fight in the lower bracket finals at 12:00 CEST against Tundra Esports for a shot at joining TSM FTX in the grand finals.
headline picture courtesy of ESL One