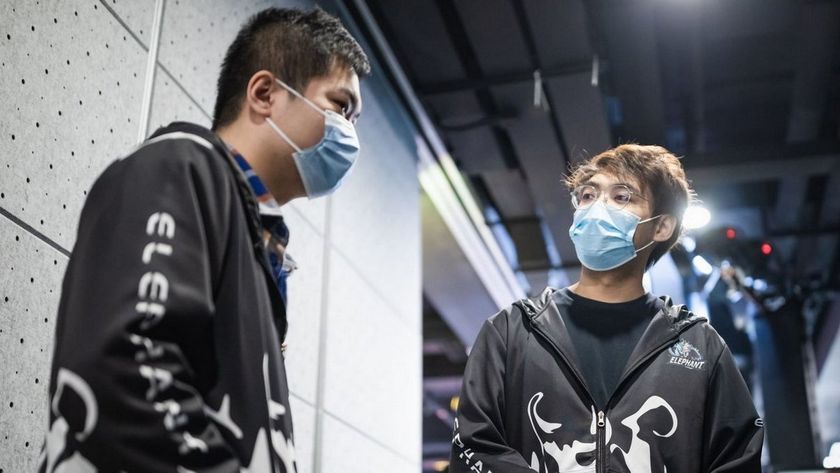 Elephant are going to The International 10
After a first year under the Elephant banner that unfolded with more lows than highs for some of China's finest players, The International 10 regional qualifiers concluded for Fy and co with the redemption they were seeking.
Despite having a star-studded line-up, Elephant haven't made it to any Majors of the 2021 Dota Pro Circuit. In fact, through their first year with the organisation, the TI8 grand finalists won just one local event and only the super high profile player names made everyone still believe that the team would pull it together in the TI10 regional qualifiers.
They marched through the upper bracket up to the finals, where EHOME inflicted the first big loss on them, sending Elephant to the lower bracket. They passed the elimination series against Team MagMa safe and sound, but the rematch with EHOME in the grand finals started with another loss.
 
After a fairly even laning phase, Elephant looked to have the first game of the series in their hands, especially after they managed to wipe out EHOME and even forced a dieback from Liu "Sylar" Jiajun on Medusa. However, EHOME had an ace in their sleeve, namely Pan "Fade" Yi on a long forgotten hero in the current meta. His Rubik was EHOME's last pick in the draft and it turned out to be the perfect tool in the team fights, as he was able to play with all the control spells Elephant had on their side and he created enough chaos to allow Sylar to make a full comeback in the late game.
Moving into the next match of the bo5 series, Elephant retaliated with Zhang "Eurus" Chengjun's Terroblade and Lu "Somnus" Yao's Leshrac, forcing EHOME to play a very fast-paced game. From there on, the drafts became a battle of who would get the TB, and although Sylar got his hands on it in the third game, and EHOME stayed in the lead for the first 30 minutes, they still couldn't even out the series as Elephant outmanoeuvred them with a Faceless Void.
A game away from qualifying to TI10, Elephant first picked Terrorblade and paired it with multiple hard lockdown spells to ensure a strong laning phase presence and superior firepower.
With the China region also deciding its qualifiers' winners, The International 10 final spot will be claimed later today, in the Western Europe qualifiers. Tundra Esports are the first grand finalist team and will play for a shot at stepping on the TI10 stage versus the winner of lower bracket finals held between OG and Team Nigma.
headline photo credits: Perfect World