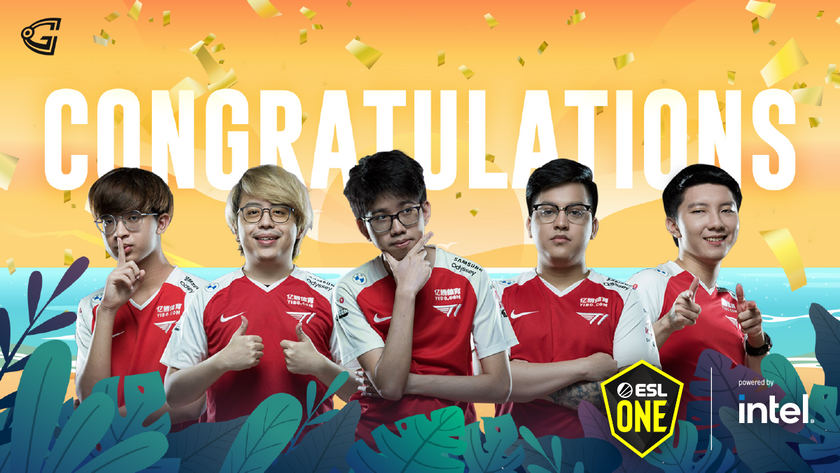 Kuku and co claim the first ever Dota 2 trophy for T1 at ESL One Summer 2021
T1 stopped the redemption story of Virtus.pro at ESL One Summer 2021 by winning the first Dota 2 trophy for the South Korean organization with dazzling coordination and the same superior team fights displayed at AniMajor.
From zero to hero, T1's growth through the last several months is absolutely spectacular. After changing the entire lineup ahead of the 2021 Dota Pro Circuit, T1 took third place in the first season of regional leagues, first place in the second season, reached top three at the WePlay AniMajor and claimed the championship title at ESL One Summer 2021, a month and a half ahead of The International 10.
In their quest for the ESL One Summer 2021 trophy, T1 dropped only two games. After going undefeated up to the upper bracket finals, they got bested there 2-1 by Virtus.pro, but they bounced back from the lower bracket final, where they made quick work of Alliance.
T1 flexed Doom in the mid and offlane positions in the lower bracket series, which perhaps was one of the main factors in Virtus.pro's decision to open the grand finals by first picking this hero. They tried to play it in the carry role while experimenting with a position five Silencer. However, the long cooldowns got them into trouble as T1 ran the simple and effective Phantom Assassin-Magnus combo and a mid lane Venomancer able to apply the early tower pressure and start fights with his poisonous AoE damage and slows. Given his instrumental role inT1's fights, the Doom ultimate had to be prioritized exclusively on Venomanacer, and that played in T1 favour. They were able to keep the fights under control with Winter Wyvern's saves and turned around each engagement made by VP to start the grand finals with a win.
Winter Wyvern continued to be a very highly contested hero at ESL One Summer 2021 and as it fits T1's playstyle like a glove, VP decided to first ban the Doom instead of playing it and to first pick WW for themselves in both game 2 and 3. They paired it with other powerful team fight oriented heroes and went with a variation of the 4 protect 1 strategy, where they moved around the map as a unit at all times, even when Egor "Nightfall" Grigorenko felt the need to linger a bit in the jungle for more farm.
Their overprotective map movement led to Nightfall slaying T1 in both games without conceding his own life a single time. He finished game two with 10/0/10 K/D/A on Juggernaut and game three with 11/0/11 K/D/A on Faceless Void.
One game away from claiming the title, Virtus.pro first banned both Doom and Winter Wyvern while T1 had the first pick of the draft and were quick to secure Viper and Nyx Assassin for themselves. The pairing proved to be a killer combo, although VP tried to salvage their draft with a  carry Abaddon last pick. The gimmick worked well only through the laning phase, as Nightfall was impossible to take down in the first 15 minutes of the game. But the mid and late stages favored T1, who had the initiation advantage with an offlane Axe, often infested by Lfestealer. Nyx Assassin's Aghanim's Scepter and Aeon Disk made all the team fights nearly impossible for VP to win and the series was pushed to decisive game five, where T1 outmanoeuvred Virtus.pro with Carlo "Kuku" Palad's Broodmother creating the lane disturbance needed for the rest of his team to successfully fight 4 versus 5.
ESL One Summer 2021 was the final big event ahead of The International 10 and while some of the competitors will now head to regional qualifiers for a last chance at stepping onto the TI stage this summer, T1 will head home to recharge their batteries and return to Stockholm, Sweden in August, where they might just write a history page if they carry on their incredible form, and not only for Southeast Asia region as whole but also for the South Korean organization that is known for their dominance in League of Legends where they hold three Worlds titles.
ESL One Summer 2021 final standings
1st place: $175,000 - T1
2nd place: $85,000 - Virtus.pro
3rd place: $45,000 - Alliance
4th place: $25,000 - OG
5th-6th place: $15,000 - Vikin.gg, Quincy Crew
7th-8th place: $10,000 - AS Monaco Gambit, Team Nigma
9th-12th place: $5,000 - Tundra Esports, Team Unique, Team Secret, Team Liquid 
headline image credits: ESL One