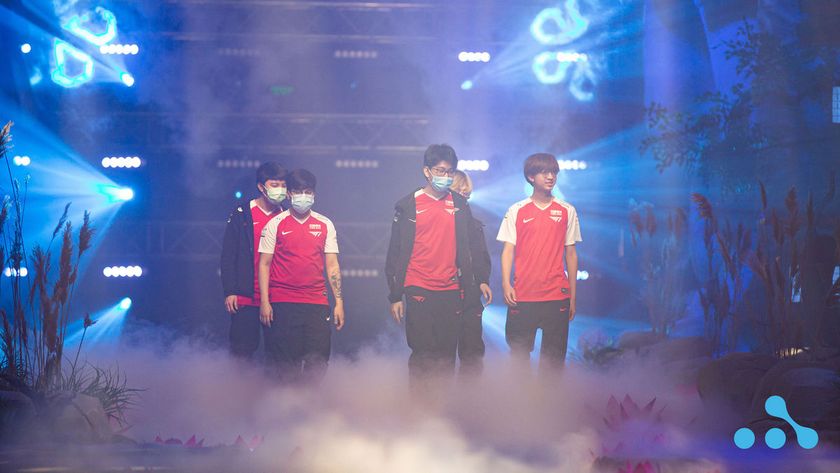 T1 and PSG.LGD advance to top six at AniMajor to secure tickets to The International 10
WePlay AniMajor playoffs kicked off in a spectacular fashion.
Probably the best opening ceremony witnessed in the competitive Dota 2 scene was matched by the clinical performances of both T1 and PSG.LGD who not only crushed their opponents 2-0, but also secured their spot at The International 10 within the first playoffs series at the Major.
T1 and Team Aster, both coming to the major as seed #1 teams of their respective regions had the honour of opening the playoffs battle. While most have China on their radar as the most competitive region of the moment and were looking at Aster to be at least as dominant in their gameplay as PSG.LGD were in the tournament group stage, T1 came prepared to shut down any doubters. 
First game featured an offlane Broodmother from Carlo "Kuku" Palad, who's been rather criticized for his performance on the hero during the DPC league season and a safe lane Morphling in the hands of Nuengnara "23savage" Teeramahanon and both were crucial factors in their team victory.
Kuku's aggressive stance and continuous pressure on Aster created the perfect intense farming set-up for 23savage and both became unstoppable forces. Aster got outplayed and outpaced in the second game as well, but by a Magnus-Lifestealer combo and a Viper that stayed on top of Du "Monet" Peng's Medusa in the team fights to make him almost a negligible unit.
Asked in the winner's interview about how much they prepared for this matchup and how much pressure they felt during the series knowing that a victory will basically send them to TI10, T1's captain, Kuku said that he and coach March have repeatedly said to the team "don't think about the result, just take it one game at a time."
Now that the pressure is off T1's shoulders it will be even more interesting to follow their AniMajor adventure and see how far they can carry the SEA flag in the tournament. Their next adversaries will be PSG.LGD who are yet to lose a series at this Major.
PSG.LGD reached the playoffs with an impeccable run through the group stage matches. They placed first in the group and came with an 11-3 game record achieved with their own interpretation of the current meta. Their carry Axe, the terrifying minus armor starts that they can pull off as well as the pristine game plan executions set a huge target on their back coming into the playoffs. But, the long practice under pressure they had in the group stage seems to have only prepared them even more for what was about to come and when pitted against Europe's first seed team in the playoff.
For the first half of the first game between Alliance and PSG.LGD, the former held the gold and experience advantage courtesy of early successful rotations from both Linus "Limmp" Blomdin on Death Prophet and his Lion and Winter Wyvern supports. PSG.LGD were invaded in their jungle, were losing map control and were forced to play from behind, but they never seemed too worried about that as they were playing around Morphling timings. A single Roshan fight around the 30 minute mark turned the tides in their favor and the game was over just 10 minutes later with Alliance going down 0-1 in the best-of-three series.
The second game started with a first pick Axe from PSG.LGD which triggered a couple of answers from Alliance in the form of strong AoE control over what could have been the Chinese team's signature carry at this major. However, PSG.LGD switched it to the offlane, while their plan was developed around a mid Razor and carry Drow Ranger. Although Alliance had direct counters to almost everything that PSG.LGD aligned, the laning stage went disastrously for them and the game went out of control pretty fast. Their long cooldown dependent Faceless Void had no time to recover and that sent Alliance to fight for survival via lower brackets rounds.
WePlay AniMajor first day in the playoffs continues with Team Nigma, coming from the wild card stage, taking on Virtus.pro and will close out with NA and SA seed one teams, Quincy Crew and NoPing Esports, going head to head at their first Major of the year.
headline picture courtesy of WePlay Holding