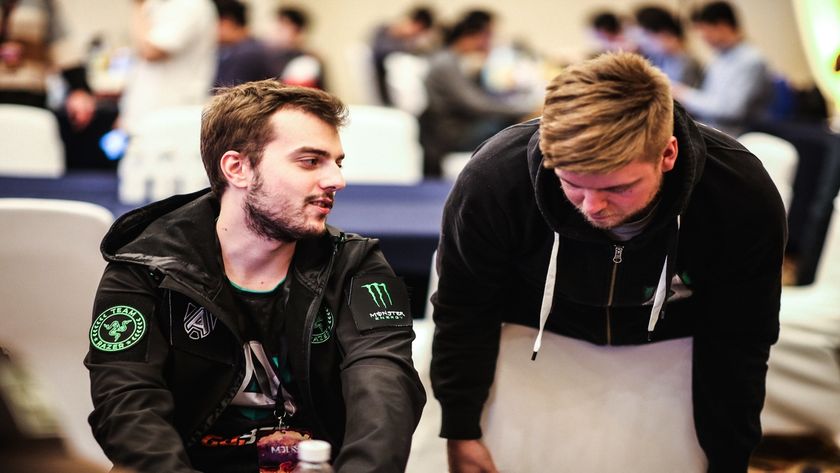 Team Aster reach Grand Finals at StarLadder Minor Season 3
Title image courtesy of Monster
The third minor of the season is quickly approaching its finale and Team Aster has continued to exude dominance over the field.
The day kicked off with a contest between Gambit Esports and BOOM Esports. Gambit topped Group B with an unblemished win – loss record. BOOM snuck into the playoffs by the skin of their teeth but kept Gambit busy during the series with a victory in the first game. Led by Kiyalbek "dream`" Tayirov's Morphling, Gambit rallied back overwhelming the SEA squad in games two and three.
Boom Esports was eliminated from the Minor by Alliance later in the day.
Team Aster's journey to the Grand Finals started with a series against Alliance. Song "Sccc" Chun came up clutch for Team Aster, refusing to die a single time in the series with a combined kill scored of 16-0-10. Song "Sccc" Chun has struggled to regain footing following his long and illustrious stint with Newbee. However, he and his teammates appear to be putting it all together towards cementing themselves as a formidable group. They have one last series to win for a Major birth.
Gambit Esports and Alliance will square off tomorrow at 14:00 CET for the remaining slot in the Grand Finals.
StarLadder Minor Season 3 teams
 Gambit

 ForZe

 business associates

 CR4ZY

 Alliance

 Team Aster

 Boom Esports

 NoPing e-sports

StarLadder Minor Season 3 brackets
StarLadder Minor Season 3 playoff format
Double elimination bracket
All games are Bo3
Bo5 Grand Finals
StarLadder Minor Season 3 playoff schedule
March, 7th 
• 10:00  Upper bracket semi-final #1
• 13:00  Upper bracket semi-final #2
• 16:00  Elimination-match #1
• 19:00  Upper bracket final
March, 8th 
• 14:00  Lower bracket final 
• 18:00  Grand Final
StarLadder Minor Season 3 broadcasts
StarLadder Season 3 prize pool and DPC points
*Since the minor winner also gets to participate in the major, they will only get points for the event in which they placed better (e.g: If they place last in the major, they will only get 140 points for winning the minor. If they place 8th instead, they'd get the 450 points for the major but not the 140 points from the minor)
StarLadder Minor Season 3
Between March  5-8th, eight teams determined via qualifiers will battle it out in Kyiv, Ukraine for the lion's share of the $300,000 prize pool and 660 DPC points as well as the highly coveted spot at the ESL One Los Angeles Major taking place in Los Angeles, California March 15-22nd.