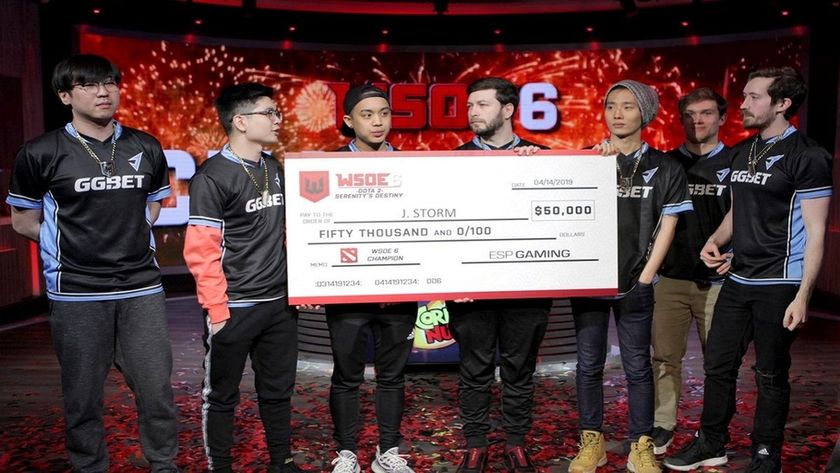 J.Storm snatches WSOE 6 championship title
In an intense five-game grand finals, J.Storm bested Team Serenity for the WSOE 6 championship title. 
Las Vegas, Nevada was the place to be this weekend, at least via twitch if not in person. The second iteration of WSOE for Dota 2 took place packed with some high-intensity matches and an entertaining showmatch where Artour "Arteezy" Babaev bested Evil Geniuses' teammate Syed Sumail "SumaiL" Hassan 2:0 in two 1:1 takedowns featuring first Pudge and then Axe. 
For the standard tournament, Infamous Gaming, J.Storm, ggng, and Team Juniper went head to head in the double elimination challenger brackets. After advancing through the upper brackets for the finals, J.Storm then took on Infamous Gaming who prevailed through the lower brackets. In reverse sweep with two overpowering matches, the NA team had advanced to the championship series where last season's winner, Team Serenity was waiting. 
Team Serenity and J.Storm went head to head in October for the title. Then, the Chinese team dominated over J.Storm for a clean 2:0 sweep for victory. 
Exacting their revenge, J.Storm was determined to not let history repeat itself. This time, the games were intense and the teams went back and forth claiming wins, pushing things to a full five-game series to determine a champion. 
The deciding game was a whopping 72 minutes long where Team Serenity the slight and often advantage over the North Americans. Unable to close things out, J.Storm turned the tables and seized the victory at the end, usurping the reigning champions.