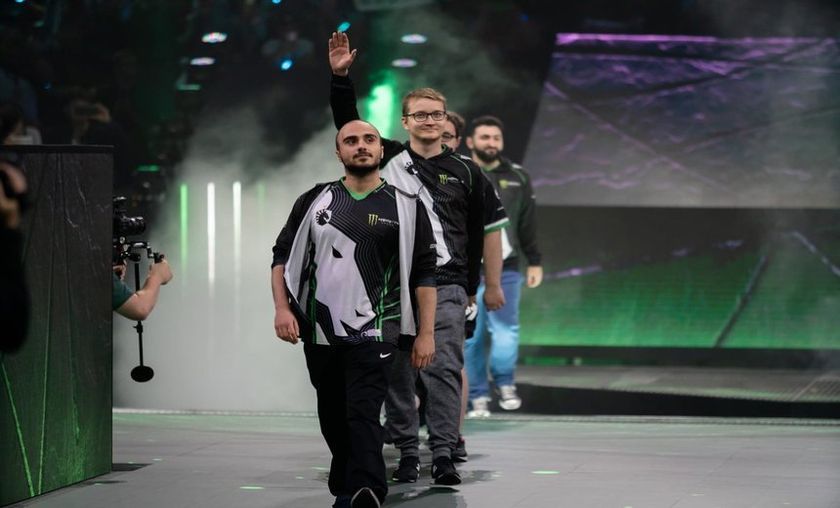 Team Liquid exit the International 2018; Evil Geniuses to face PSG.LGD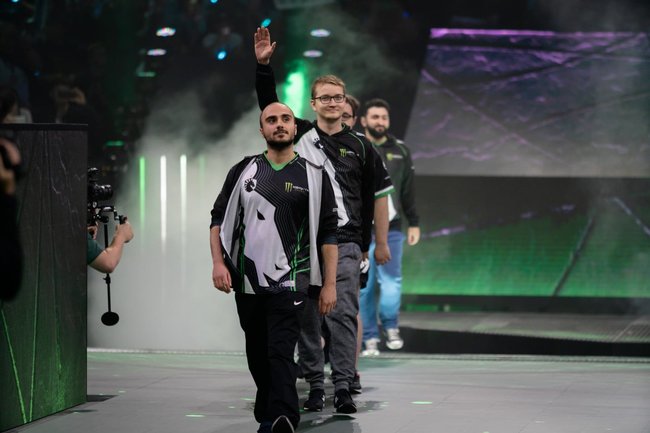 Gracious in defeat as they are in victory, Team Liquid exit the International 2018 falling to Evil Geniuses in the lower bracket semi-final.
Unfortunately, only one team could move on in this series and despite showing us some of the best Dota at TI8, the champions froms last year failed to overcome Evil Geniuses. Going into the series, Team Liquid were perhaps favoured to win, especially given their strong showing throughout the year, coming in second to Virtus.Pro in the overall DPC rankings, which includes their win at the DOTA2 China Supermajor. Yet the group stage saw EG and Liquid tied for first in their group, which left this series up in the air.

Game One
Bans
* This player was a stand-in for this match
In game one of the hotly contested series, both teams drafted relatively solid lineups, with Syed Sumail 'Sumail' Hassan on his signature Storm Spirit, and Maroun 'GH' Merhej on his equally infamous Io: both, who would become lynchpins for each team in the hour long contest.
Early on, Liquid was quick to push the pace, with Kuro 'KuroKy' Salehi Takhasomi's Ogre Magi and Lasse Aukusti 'Matumbaman'  Urpalainen's Venomancer pestering SumaiL in the midlane—a move informed, no doubt, by some healthy respect for the young firebrand. As the pressure mounted from Liqud in the sidelanes as Liquid began to rotate more and more heroes around the map, SumaiL seemed frustrated and fell a number of times to some great baits by Matumbaman and timely rotations from his teammates.
Continuing on into the midgame, GH seemed unkillable as EG continually failed to lock him down. Paired with the Amer 'Miracle-' Al-Barkawi's monstrous Chaos Knight, the pair wreaked havoc as the TI7 Champions pushed objectives with their mobility, EG unable to find an answer. However, despite Liquid's early aggression, EG stood firm and the gold remained relatively even, as both teams continually traded blows. As the match went on, it was EG who began to frustrate Liquid, constantly splitting the map and pushing the sidelanes, Liquid unable to trap Gustav 's4' Magnusson's slippery Weaver. Both teams exhibited a master-class in positioning, although EG would be the ones to come out better, as they constantly found unique angles of attack when approaching Liquid--rightly so, given the three Hearts of Tarrasque that sat on Io, Chaos Knight, and Enchantress.
As the game went into its final stages, it was clear that both teams would give no quarter. Miracle-, knowing the stakes of this match, gambled and purchased a Divine Rapier around 50 minutes. Unfortunately, a few minutes after, he would lose the valued item with a brilliant smoke play from EG that took Miracle- completely off guard. And despite reclaiming the Rapier once more a few minutes, an untimely Heart purchase for Matumbaman's Venomancer saw him without buyback as he was picked off. Shortly after, EG would charge forward, claim mega creeps and the first match on their road to the finals.
Game Two
Bans
* This player was a stand-in for this match
In game two, Liquid decided to draft what seemed to be a fairly mobile lineup once again, although denied the Io by EG's ban and instead, Liquid opted for a similar global presence in the Nature's Prophet for Kuroky. Denied a number of picks from game one, including the Weaver and Storm which were crucial to their success, EG drafted for the late game with a Spectre for Canada's own, Artour 'Arteezy' Babaev.
Unlike the start of game one, it was EG who pushed the pace as the aggressive offlane duo from s4 and Cr1t- managed to find a number of kills on Miracle-'s Terrorblade early on, slowing down the late game monster just a bit. EG's safelane was a similar story, as Arteezy fell a few times to rotations by Kuroky and aggression from Ivan Borislavov 'MinD_ContRoL' Ivanov. On his tanky Timbersaw in the midlane, however, SumaiL continued to farm seemingly unphased by Matumbaman's Viper—although the King would fall a number of times.
As the game continued from the lanes and into the early parts of the middle game, it was clear that this would be a game of supports and just as GH's Io became lynchpin for Liquid, it was Andreas 'Cr1t-' Nielsen and his Dark Willow who did the same, as he picked up a number of solo kills, facilitating some great space for Arteezy and SumaiL—at one point, Crit was also even in networth to Matumbaman's Brewmaster due to the sheer amount of kills. Despite the space made by Crit, EG made a number of miss-steps that kept the game close, even despite the North Americans having a tower advantage.
In the final stages of the game, both teams followed a similar trajectory to game one and continually traded blows. However, it was EG's story from around 26 minutes onward, as they found four from Liquid's lineup in a great teamfight and continually split the map, attacking Liquid's base from all fronts leaving no quarter. But the true nail in Liquid's coffin came at 30 minutes, as they were wiped by EG, who claimed a second Aegis. Liquid's demise would come only a few minutes after, as EG would charge forward off of a timely pick-off, claim mega creeps, and despite a Herculean effort by Liquid in their base, claim the victory in just under 35 minutes ending Liquid's chance at a second Aegis of Champions.
While we bid farewell to last year's champions, three teams now remain in contention for the prized Aegis. Tomorrow, EG take on PSG.LGD in the lower bracket final. The two teams will fight it out for the last shot at the Aegis of Champions, and for EG: a chance for revenge. The penultimate match starts tomorrow at 1900 CEST.
Upper Bracket
Round 3 - Best of 3
Round 4 - Best of 3
Lower Bracket
Final
The International 2018 Format:
Main Event - August 20th - August 25th, 2018

Sixteen teams play in a double-elimination format over six days

Eight teams begin in the Upper Bracket, eight in the Lower Bracket
First Lower Bracket round is Bo1, Grand Finals are Bo5, all others rounds are Bo3
The International 2018
The International 2018 playoffs will take place starting August 20th. For the first time ever, The International is being held in Vancouver, Canada with a total of 18 teams competing. Currently, the prize pool is over a staggering $25 million.