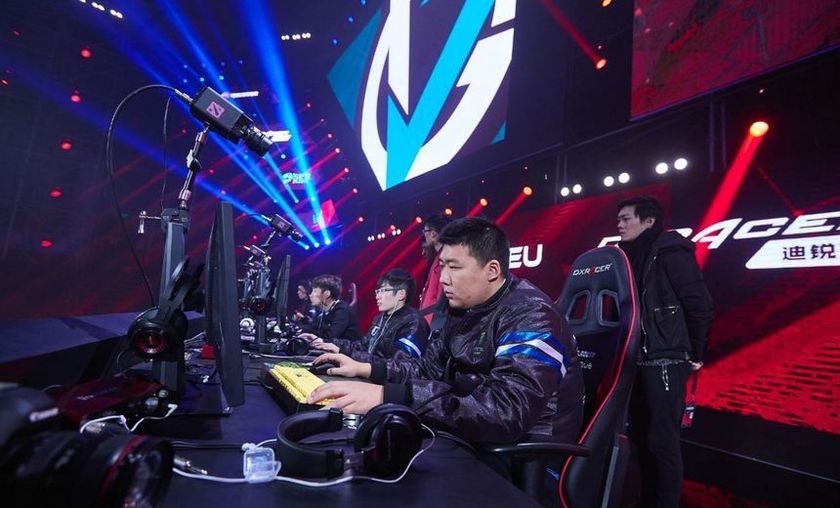 Vici Gaming J pull out all the stops to secure a semi-final spot at SL i-League Season 3

picture courtesy of StarLadder 
After the action of Group A concluded, Group B would see Vici Gaming J, Digital Chaos and Wings Gaming fight it out in the lower bracket for a semi-final spot.
Vici Gaming J versus Digital Chaos
The first series of group B would see Vici Gaming J taking on Digital Chaos in an elimination match up. 
A magnificent series from both teams, with game two being one of the most exciting matches of the event. VGJ took game one in quite a strong manner but game two looked to be the DC show as they picked up Anti-Mage, Tiny and IO. But the unpredictable strategy and line-up that came out of VGJ as they drafted Doom alongside Warlock, Juggernaut and Storm Spirit made for a spectacular game.
While DC controlled most of the early to mid-game and managed to even push their opponent's high ground and claim a barracks, VGJ's line-up and team play proved to be far too strong. With all the lock down required to counter the DC line up, the Chinese team with the home crowd at their back took down DC in game two after almost an hour.
This meant that they would be going forward to face Wings Gaming in a China vs China Dota 2 brawl, which the home crowd would go wild over. Unfortunately for DC gaming, this would be the end of their SL i-League Season 3 journey after suffering two consecutive 2-0 defeats at the hands of Chinese opposition.
On the back-end of their defeat, Roman 'Resolut1on' Fominok announced via his Twitter account that he would be taking a break from Dota 2 up until the Major.
Vici Gaming J versus Wings Gaming
The second elimination series of Group B would see Wings Gaming going up against Vici Gaming J - in a series that had the home crowd screaming at all times.
Game one of the series saw VGJ continue on their domination path that we saw against DC. They picked up an Ember and Weaver which destroyed the Wings line-up in under forty minutes. The Underlord pick from Bai 'r0tk' Fan along with Sun 'Agressif' Zheng on the Weaver – who secured himself a rampage – were definitely too much for Wings to deal with as they dropped game one.
Game two would see Wings put up more of a fight but once more, in under forty minutes, VGJ would get the better of them. Again, Agressif on a Terrorblade this time around, would dominate Wings as they tried to make a Rexxar work in their favour but in the end, they were eliminated by the far more dominant Chinese team.
Wings would unfortunately be eliminated from the event while VGJ, who look to be playing some amazing Dota right now, would go up against OG tomorrow. Are they the team that can stop the OG train?
Tomorrow we will see the semi-finals and finals following that – OG, Team Liquid, VGJ and TNC will be battling it out for top honours in Shanghai at SL i-League Season 3.