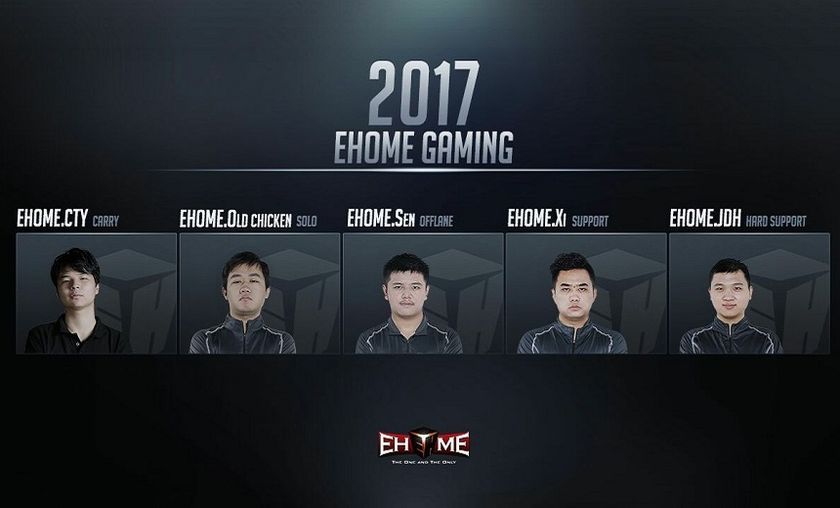 EHOME rebuilds their team
EHOME underwent a complete overhaul of their main roster, replacing four of the five players originally on it.
With the caption "new year, new roster", EHOME announced their team composition for the next season. The only player continuing his time on the active bench, Wang 'oldchicken' Zhi Yong, will be joined by former VG player Chen 'CTY' Tian Yu and three players from EHOME's sister squads.
Of the four players released from the team, only Zhang 'LaNm' Zhi Cheng and Ren 'eLeVeN' Yang Wei will be staying with the organization; LaNm will be taking the role of coach, while eLeVeN will be a sub for the team.
EHOME's roster: (1st position to 5th from top to bottom)

Chen 'CTY' Tian Yu

Wang 'oldchicken' Zhi Yong

Hu 'Sen' Sen

Luo 'Xi' Yin Qi

Jiang 'JDH' Dong Hao
Placing last at the Boston Major and suffering a string of loses in the Dota2 Professional League Season 2, EHOME's post-TI6 roster, which consisted of several TI podium finishers, was underperforming. Going into the next season, EHOME chose to go with a mix of new and old players, a formula for victory, that was quite successful, when used by older EHOME compositions and other Chinese teams.
Source: EHOME's Facebook
Headline and banner image from EHOME's Facebook