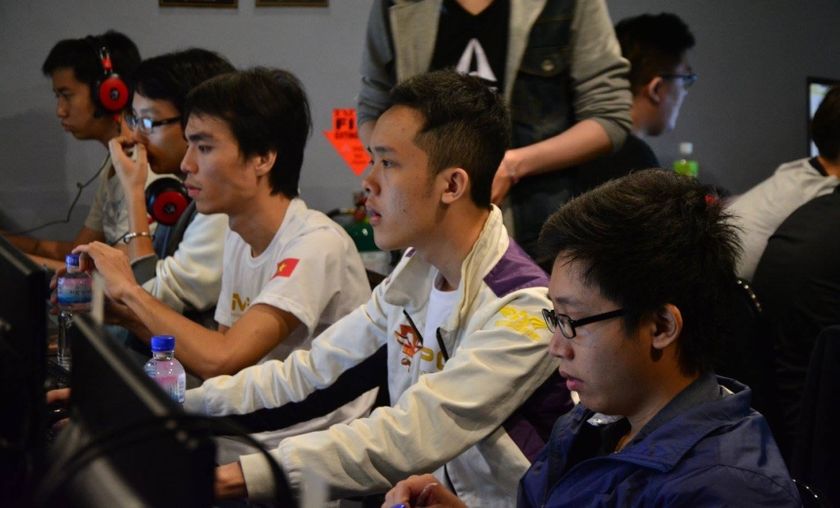 Aces Gaming admits former teammates 322'd

Aces Gaming in MPGL VI. Misa is the first on the right. Picture by Eric Khor.
In a series of Facebook chatlog photos posted by Vietnamese caster PewPew, Tai, current Aces Gaming player admitted that some members of the previous Aces squad was involved in fixing their match against G-Guard (Starladder) on March 27. The alleged players are Misa, and new recruits Sph and Kua.
Tai claimed that he did not know that the alleged three were intending to throw the game while he was playing in it. According to the story, Sph received the deal from his friend in Hanoi and told Fox, Misa and Kua about it. While the rest are complacent in taking it, Fox told Sph that he want to talk it over with Tai first before splitting the VND 60 million (~$3,000)
Tai only found out after Fox told him in Bienhoa that each player will receive VND 12 million (~$600) for losing the match but Tai urged Fox not to take the money. Eventually, Fox refused it as well.
We reached out to Dang 'Yuki' Khoa, manager of Aces Gaming, and he admitted that Misa, Sph and Kua were indeed involved in fixing the match against G-Guard. Khoa said that he was left in the dark about the issue and only found out about it when Fox and Tai told him that they want to leave the team. Digging further as to why they want to leave, Tai and Fox confessed the involvement of the three players in the match fixing. 
"I did not know that they fixed their match. They did eventually apologize and promise they won't do it again but the risk is too huge. I have to remove them," said Khoa.
Two days after the incident, Khoa kicked the three involved and replaced them with three Vietnamese players Secret, Hanbin and Red. "It was a shame, they were the top MMR players from Vietnam," Khoa disappointingly told GosuGamers.
It is unknown at the time of writing what sort of action Valve and third party organizers would take against the offenders from Vietnam.
Former expelled teammates:
 Dinh Viet Thanh 'Misa' Nguyen

 Duc Trung 'Kua' Nguyen

 Trung Hieu 'Sph' Nguyen
Aces Gaming current team roster:
Minh Nhan 'Secret' Nguyen

Hoang Thong 'Hanbin' Nguyen

Tien Phat 'Red' Nguyen

Thien Tai 'Tai' Vuong

Quoc Vuong 'Fox' Vo
This is the fourth match fixing incident that has plagued the South East Asian scene in less than 12 months. Prior to this, MSIevoGT, Mineski and Arrow Gaming was caught in a huge betting scandal involving ring leader Michael Vincent Vallejos and Jonathan Radores. While MSIevoGT and Mineski immediately removed the involved players after further investigation, Arrow Gaming tried to cover it up with photoshopped chatlog. 
The community later figured the flaws in the photoshopped pictures and pressured the players to stop lying. On October 20, Arrow Gaming player ddz and Lance publicly apologized for fixing their match and claimed that they were told to forge the evidence by their manager Jaren Gan. Ddz and Lance was also quick to state that all the members of Arrow Gaming were involved in the match fixing scandal, not just the both of them.
Due to that, Arrow Gaming and its players were handed a indefinite ban from Valve from all Valve related events for their foolishness including The International. Mineski and MSIevoGT on the other hand, were not banned but the involved players have widely been banned from international tournaments worldwide.
Arrow Gaming players banned: 
 Yi Liong 'ddz' Kok

 Hsien Wan 'Lance' Fua

 Soon Siang 'Xiangzai' Chok

 Kah Sheng 'Mozun' Chung

 Matteru 'Mtr' Xing
Mineski players banned: 
Mark Anthony 'Jacko' Soriano

 Joven 'jvn' Pancho

 Richard 'Paseo' Minowa

MSIevoGT players banned:
 Jo 'Jotan' Tan

 Carlo 'Chin' Rivera

 Mark 'Byb' Gavin

 Denver 'yNd' Miranda

 Patrick 'JyC' Pascua
Source: Reddit, Mineski and MSI match fixing, Arrow Gaming match fixing