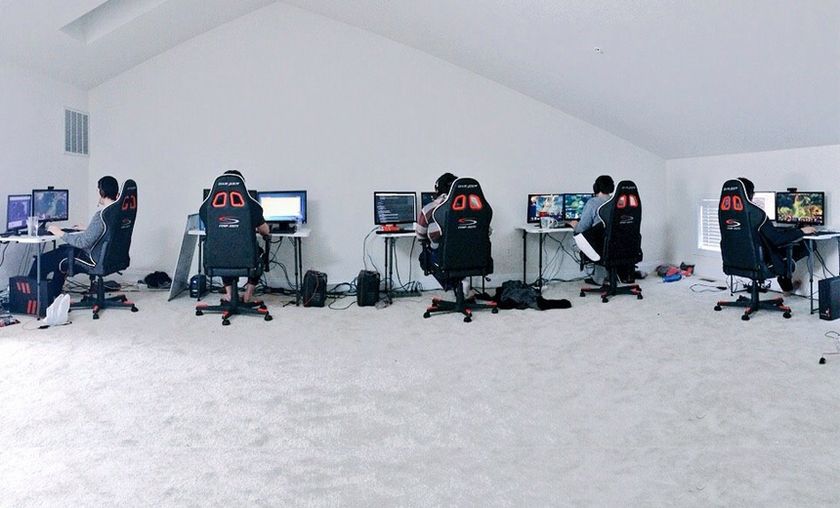 CompLexity claims American spot after lag-studded finals
After a long day, although not too much of it being actual game minutes, compLexity find themselves winners of the qualifier after having beaten North American Rejects 3-0. No TI-participation for mousesports this year who ends third place in the qualifier.
History did not repeat itself this year. The organisation mousesports did not win a TI qualifier, Black did not finish second to compete in Seattle, neither did Bulba or Qojqva. Many compendium predictions fell short as North American Rejects put mouz in third place after a 2-1 series. This was despite NAR receiving maximum draft penalty (no bonus time and mouz deciding first/second pick all three game), for being late.
Neither did the history repeat itself in terms of the winner though. North American Rejects qualified last year but this year they had to settle for second place. The team compLexity who has been more or less without success since their return to Dota 2 has been going under the radar for a while but really re-appeared with a bang this qualifier by dominating both the group and the bracket to follow. It is of course possible that NAR were not playing up to their full potential due to the technical issues they faced as well as the lags and server problems of the grand final's first game.
Regardless compLexity qualifies directly to The International 2015, well deserved after their impressive qualifier run. This also means a couple of fresh faces at TI5 as only Fly is the only player on coL's roster who played a TI before. North American Rejects will be receiving a second chance as they get to join CDEC in the wildcard qualifiers in Seattle just days before The International.
Next, the qualifiers for South East Asia is just about to start with Europe rolling out at noon, European time.
Upper Bracket
Lower Bracket
Round 1 - Best of 3
Round 2 - Best of 3
Final
LB final: NAR vs. mousesports
Mousesports were the favourites coming into the match and they showed in the first game that they were indeed worthy of such prediction. Both teams picked signature heroes but mouz utilized their efficent map control strategy better. With mouz having both Beastmaster and Bounty Hunter , it was hard for NAR to surprise mouz and dictate the tempo. Mouz controlled the game from early on and while it wasn't a stomp, it was their game to win. And win it they did.
Game two started as a repetition of game one, with mouz picking decent laning heroes to secure an early lead. Their mid game strategy would be to pressure and pick off opponents globally with their mobile heroes. NAR had a good team fight presence though which made things harder for mouz despite NAR losing early game. They smoked towards Roshan to claim the rewards he was carrying and mouz overcommitted slightly in an attempt to win the following clash which set them back a bit as Storm Spirit suffered a die-back. NAR started grouping up as five and mouz could not apply pressure any more outside of split push attempts. NAR kept pressuring, took down a set of barracks using the Aegis advantage. Eventually they won a clash at the next set of barracks and mouz called it quits.
The third game was an initially even game where the teams traded back and forth, taking turns winning clashes based on a combination of sloppy plays and well calculated moves on both sides. Eventually NAR just stopped losing fights however, they deployed a better map control, positioning and strategical decisions whereas mouz sent in there heroes one by one, without causing any real damage, often losing heroes in the process. Eventually the energy left mouz and NAR could happily close out the game, thus they also guaranteed their attendance in Seattle as well as The International this year.
Draft of the games are available here.
Grand final: compLexity vs NAR
The first game was a lag-studded pause fest where the servers went haywire unfortunately making the players frustrated and ruining their flow of the game. After an early game, coL seized control of the game and carried it to victory in the end. Despite the frustration both teams were mannered and showed great sportsmanship. And despite losing the first game, one could suspect a sign of relief from NAR being rid of the troubled game and starting a new with a fresh game two.
Similar to game one, compLexity had a better laning phase than North American Rejects, with the offlane Prophet getting a lot of more experience and gold than the counterpart of the other team, being Nyx. CoL were also running a Queen of Pain mid to great use, setting up ganks with the Blink and Shadow Strike while dealing great damage with her ulti in clashes. Having push down all six outer towers at minute 18, coL were in great control of game two. In a sneaky gank in the Radiant jungle close to the base, coL found NAR unprepared and swiftly took them down followed by claiming their mid barracks. NAR acknowledged the game being over and looked to reload for game three.
After a rather even laning phase in game three, once coL started rotating and going for objectives, NAR found themselves outplayed time afer time. The team co-ordination was not on pair with that of coL who seemed more prepared and more confident. In all games at this point, NAR was not really responding to the playstyle of coL and it seemed like they were mostly focusing on countering and playing around the heroes picked by coL. NAR tried to adapt to the game at hand by responding to coL but it was not enough, coL were always one step ahead and won clash after clash, skirmish after skimish, push after push. The game (and series) ended shortly after and compLexity takes the American direct qualifier slot at The International 2015.
Drafts of the games available here.
Photos from Complexity Gaming's facebook