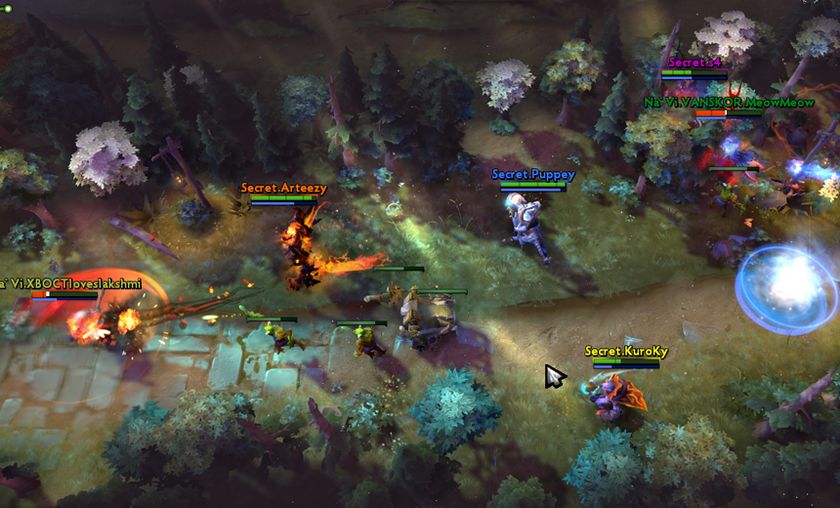 DAC Day 1 - NewBee, HGT and Na`Vi struggling

The Dota 2 Asian Championship is finally in the running after weeks of anticipation. The first three rounds of games are done and every team has tried their luck once currently. LGD and Rave are the only teams that played two games so far in the first three rounds. 
Read quick summaries about the played games:
- Day 1, part 1: Round Robin, round 1-3
- Day 0: Wildcard qualifiers
Summaries for round 4 - 6 will be provided below.
 
ROUND 4
The TI4 champions are off to a rough start, dropping first to MVP and now to Vici Gaming. NewBee drafted a rather greedy line-up and got punished for it, Vici bouncing back after their loss against Secret and takes this game convincigly.
Invictus Gaming vs. Tongfu: 1-0
The game was a bit back and forth but as it went later, iG got a better grip of the game and their cores were too hard to deal with for Tongfu. Tongfu still put up a fight though and will probably be able to pull a few upsets throughout the stage.
Evil Geniuses vs. MVP.Phoenix: 1-0
After an even start, Evil Geniuses took control of the game but MVP had the more late game oriented line-up and edged their way back into the game after a pick-off on Fear as well as a great clash at Roshan. However, after having their two most important cores caught in their own jungle without buyback, EG could walk in and trash the base and finish the game.
ROUND 5
Team Secret vs. Natus Vincere: 1-0
Secret proves for the second time that their new roster is well prepared, the roles working fine and once again they put Arteezy mid for the hard carry role, leaving s4 safelane as some sort of tempo controller. Secret drafted a line-up with high lane pressure and push factor, Na`Vi's drafts and laning had no answer for it and Secret directed the game from square one.
Cloud9 drafted a line-up heavy on vision with Beastmaster and Riki, whereas CDEC picked a more default kind of line-up with Brew, Morph and QoP. FATA's Beastmaster had a great start and Cloud9 overall used the map well to farm and rotate, CDEC could not really keep up at any stage of the game. In the end the massive Tiny of EternalEnvy was too much.
Mushi's Outworld Devourer makes a reapperance, being the classic that it is. HGT drafted around shutting down opponent cores and outmaneuvering them but failed to do so in the actual game and all three cores of EHOME got the start they wanted and needed to secure the victory.
ROUND 6
LGD picked a rather heavy early to midgame line-up but didn't really executed it that well in that timespan. They didn't get ahead and at most they were even with Tongfu despite a great Batrider by InJuly. After a fight won for Tongfu at the Rosh area, it was an uphill battle for LGD and Tongfu claims their first their victory at the Dota 2 Asia Championships 2015.
After losing to Secret earlier today, Big God takes their first victory when beating Hellraiser. Hellraisers could not get off the same level of brutal aggression as they could versus Na`Vi, Big God didn't give them the opening and had a great responsive and lane controling heroes to get a grip of the early game.
Rave showed why they deserved the direct invite, playing disciplined and well. Their Spiritbreaker pick worked wonders in this game, constantly managed to disrupt the pace of iG's game. Rave was in the driver seat throughout the game, but required some time before they managed to break base and claim the victory.
Team
G
W
L
P

15
15
0
15

15
11
4
11

15
11
4
11

15
11
4
11

15
9
6
9

15
9
6
9

15
8
7
8

15
8
7
8

15
7
8
7

15
7
8
7

15
6
9
6

15
5
10
5

15
5
10
5

15
5
10
5

15
2
13
2

15
1
14
1
Matches and results
---
More content on GosuGamers