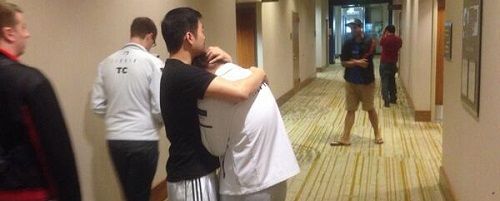 Liquid eliminated, LGD moving on to face Cloud9

LGD continued their strong play to salvage a dismal first day, defeating Liquid 2-0 and securing a top 8 finish on The International 4. They will be going up against Cloud9 on the second round of the bubble race.
The valiant TI4 run of Team Liquid comes to an end as they were knocked out of the tournament by LGD on the only elimination match of the day. The Chinese team brought their A-game in this series, and they had two convincing victories. No game eclipsed the 28-minute mark, and LGD had two heroes without deaths in both games.
Despite differences on a number of the players, the match-up is reminiscent of last year's battle between these two organizations. Team Liquid took an emotional victory over LGD last year to break into top eight where the Chinese team had to walk away empty handed. Today, LGD extracts sweet revenge as they knock out Team Liquid out of the competition and move on to the next round and the main event.
With the defeat, wildcard winner Team Liquid gets eliminated and finishes with a joint 9th/10th place finish, good enough for around $48,000+. LGD, on the other hand, secures a trip into the main event and at least a 7th/8th finish, which has a purse of more than $500,000. This is the biggest single prize differential on any elimination match except for the grand finals.
LGD will now move on to face Cloud9 on another best-of-three. The loser of that match will be seeded into the lower bracket come the main event, while the winner will advance to fight DK for a shot to be seeded into the upper bracket.
The other four teams will also have a bubble-race tomorrow. You can find the bracket of that other half here.

Headline photo from Dota 2's twitter
It's the holy grail of The International 4 coverage!

Highlight cliips are aviailable on our YouTube channel. You can also visit our wiki page for more information on The International 4.