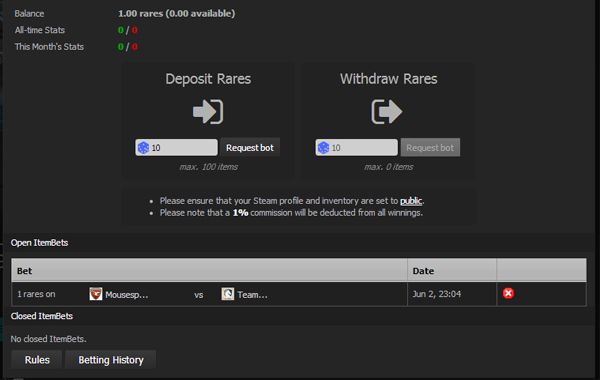 Try item betting at GosuGamers
For a long time now, users have been able to bet the "fun money" known as branches, runes, tangoes, dusts, minerals, what-have-you, but now we add yet another currency to the repertoire - rares. It refers to the in-game Dota 2 item type.
By depositing rares at GosuGamers, you will convert each rare to "one" rare, used to bet at selected matches. It works just like branches, except that instead of getting provided with 50 as a start capital, you would need to deposit some in order to place bets. Below are some general key points listed:
You can bet on a match up until 30 minutes before it starts. You can remove your bet at any time before that.
You can request a bot for deposit/withdraw with 15 minutes interval.
GosuGamers will collect a commission of 1% of your winnings.
You can not only win whole rares, but also part of rares. This means you can end up having for instance 4.26 rares in your inventory. Out of these you can only bet and/or withdraw 4. But the decimal rares (0.26 in this case) can be used when they form one whole rare.
You can bet up to 10% rares of the total amount placed on the bet. You can always bet up to at least 50, no matter how many rares previously were placed.
Find the rules for item bets here.
How to bet
First off, you need to register and login at GosuGamers. By clicking your name in the top right corner, you will trigger the user menu. To access the itembets, click "My Itembets". There you will have to confirm you agree with the rules and conditions. GosuGamers may also ask you to change your password into a safe password, for the safety of your inventory.
Next step is to connect a Steam account to your account, if that has not been done already. After successfully doing so, you can request access to use the bots. You will then be placed in a queue since we are starting off slowly, providing more and more users with the option to deposit rares. Once access is provided, you may enter how many rares you want to deposit (possible to transfer up to 100 rares at the time). You will then be asked to add a steam bot by a steam plugin. After the bot requested the add, it will ask you to trade with it. In the trade, add the amount of rares you specified when requesting the trade. When the trade is complete, the rares will be added to your balance at GosuGamers.
If you have at least 1.00 rares in your GosuGamers Itembet balance, you may use them to bet at matches. At first, we will only provide the itembet service for certain selected matches, those can be found listed below. The process to withdraw rares is the same as when you deposit, except that the bot will trade you the number of rares you requested, provided your balance allows it. Note that the rares withdrawn are random and likely not the same you did deposit.
Matches currently eligible for item betting
Tuesday, June 3
21.00 CEST -- mousesports vs Team Liquid, American Dota League -- best of 5
Wednesday, June 4
12.30 CEST -- Pokerface vs Rave, Korea Dota League -- best of 3
Thursday, June 5
Friday, June 6

Keep track of other upcoming matches eligible for item betting in this thread.
If you face any issues or have any questions, please post a thread in the Itembet support forum.
Thanks for visiting GosuGamers!