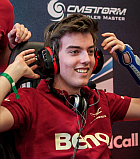 RoX.KIS replaces Flipside.Quantic in Star Series VII playoffs, FATA in no condition to play

Flipside.Quantic has pulled out of Star Series VII playoffs because FATA-'s is in no condition to play. RoX.KIS will be replacing Flipside.Quantic and will face Alliance in the first round.
With two days left before Star Series VII offline playoffs in Kiev, Flipside.Quantic has decided to pull out of the tournament because their solo mid player Adrian 'FATA-' Trinks is having complications with his hands in which will affect his performance in games.
According to Joakim 'Akke' Akterhall on his Twitter, Flipside.Quantic will be replaced by RoX.KIS and they will be facing the defending champion Alliance in the first round. Toby 'TobiWan' Dawson stated that the notice for the groupstage fifth placer Rattlesnake.Int was too short and they are unable to arrive in Kiev in time for the tournament.
More surprising in this replacement is StarLadder allowing Alexey 'Solo' Berezin, previous betting offender in Star Series VI to stand-in for RoX.KIS.
The full schedule of Star Series VII will be released tonight.
Teams in Star Series VII playoffs:
Alliance

Na`Vi

Team Empire

RoX.KIS
Source: Akke Twitter, TobiWan Twitter
GosuWiki: StarLadder