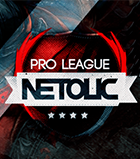 Netolic Pro League Season 4 West announced
Netolic Pro League returns to the Western Scene, with eight teams being invited to compete for the $15.000 prize pool. The tournament is scheduled to take place from October 7 to November 20.
The European and NA squads will have the chance to test themselves once again in Netolic Pro League Season 4. The tournament features a $15.000 prize pool and promises more than a month of games between the eight invited participants, starting from October 7.
The first five weeks will include weekly best-of-three games with a Round Robin format, offering $1000 to the first team on the scoreboard each week. This is a twist in the tournament plot introduced by Netolic, attempting to encourage the teams to provide a high performance in their Round Robin games.
With the Round Robin stage of the tournament concluding, the tournament will enter the playoffs on November 16 - with the finalists battling each other in a Double Elimination bracket. The playoffs will end on November 20, with the Grand Final.
List of participants:
 RattleSnake.int
 Fnatic
 Team Empire
 Team Life
 Evil Geniuses
Dignitas
TBA
TBA
Live broadcasting of the matches will be provided by NetolicTV.