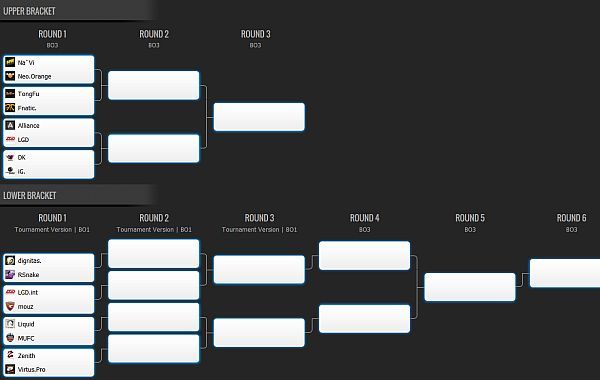 The International 3 playoffs bracket released

The playoffs bracket for The International 3 is out and Na`Vi will take on NeoES.Orange to kick it off. Alliance and LGD, the most highly anticipated match, will start on the 8th of August.
Upper Bracket
Round 2 - Best of 3
Round 3 - Best of 3
Lower Bracket
Final
Every playday will begin at 21:00 CEST and play till the matches for the day are done. All the winner bracket games will be played in best-of-three while the loser bracket will start as best-of-one and enter best-of-three from round four onwards.
 
Schedule:

7th August

Na`Vi vs Orange (bo3)
TongFu vs Fnatic (bo3)
Dignitas vs Rattlesnake
LGD.Int vs Mouz
LB Round 2 #1
LB Round 2 #2

8th August

Alliance vs LGD (bo3)
DK vs iG (bo3)
Liquid vs MUFC
Zenith vs VP
LB Round 2 #3
LB Round 2 #4

9th August

WB semi-finals (bo3)
LB Round 3
LB Round 4 #1 (bo3)

10th August

WB Final (bo3)
LB Round 4 #2 (bo3)
LB Round 5 (bo3)

11th August

LB Final (bo3)
Grand final (bo5)

Source: Dota 2