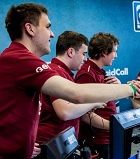 Mousesports takes EMS Cup #2 and leads the rankings

Mousesports takes first place in the second cup of ESL Major Series One. The success of the cup places them in first place as far as the cup rankings go; the top twelve will move on to play the group stage after all four cups are done.
After a strong performance two cups in a row - 3rd/4th in Cup #1 and 1st in Cup #2 - mousesports are now leading the charts, followed by Absolute Legends and RoX.Kis. Absolute Legends have also delivered steady results in these cups whereas RoX.KiS and rat in the dark seem quite more uneven in their results. Nevertheless, all four teams are high up on in the cup ranking where the twelve highest ranked move on to the group stage. Last season this sage was topped by Alliance.
Out of the top eight of last season, Alliance, Natus Vincere and dd.Dota have not marked the chart yet with any points whatsoever as neither of the three teams have participated in any of the cups yet. The same goes for Virtus.pro who were ranked in the top eight before the Playoffs last season, but in the end they had to surrender their place since they could not attend the offline event. Cup #3 takes place on Monday and Tuesday next week.
TEAM

POINTS

Cup 1

Cup 2

Cup 3

Cup 4

mousesports

150

50

100

 
 
Absolute Legends

125

50

75

 
 
RoX.KiS

110

100

10

 
 
rat in the dark

85

75

10

 
 
Imaginary Gaming

60

10

50

 
 
Infernity Gaming

55

5

50

 
 
Keita

50

25

25

 
 
4 Friends + Chrille

50

25

25

 
 
uebelst

35

10

25

 
 
iCCup

35

25

10

 
 
Fnatic

25

25

-

 
 
uniQ

25

-

25

 
 

---

QWERT

20

10

10

 
 
Remember the Name

20

10

10

 
 
Netolic.ru

20

10

10

 
 
Authentix

10

10

 
 
 
RGESC

15

5

10

 
 
Aurochs

10

10

 
 
 
VideoGamers

10

10

 
 
 
Awesome Gaming

10

5

5

 
 
Baguette

10

-

10

 
 
Non-eSport

10

5

5

 
 
VeniVediVici

5

5

 
 
 
Druidz

5

5

 
 
 
VisionGamingTeam

5

-

5

 
 
AreYouReady?

5

-

5

 
 
Venom

5

-

5

 
 
CauseWeCan

5

-

5

 
 
Imperium Gamers

5

-

5

 
 
Can't Describe

5

-

5