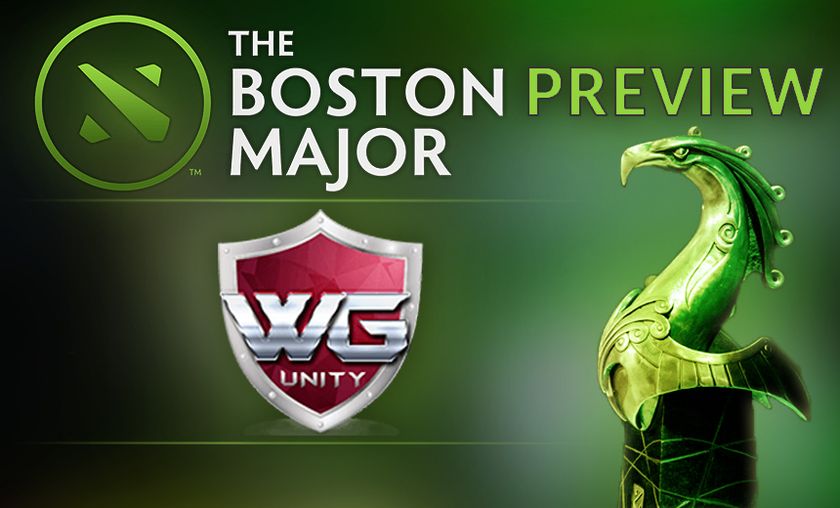 Boston Major: WG.Unity, the new SEA faces
Introduction:
Overshadowed by Fnatic and MVP.Phoenix for most of the year, WG.Unity has been lurking in the background of the SEA scene, quietly securing top four in most qualifiers they participate in. The team's step into the SEA scene's spotlight came after the TI6 shuffle, a time which saw large changes to the rosters of MVP.P, Fnatic and TNC, and the rapid improvement of WG.Unity after the addition of two new players, Chua 'KaNG' Soon Khong Raphael in August, and Yap 'xNova' Jian Wei in September.
Early on in the season, WG.Unity looked to be once again overshadowed by Fnatic after their loss to them in The Summit 6 qualifiers and MGPL. However, WG.Unity improved quickly and eliminated Fnatic in the Boston Major's SEA qualifiers playoff stage when matched in the lower bracket. Since then, the team has put up consistent performances and currently holds a 71% win rate for official games played in November.
Starting from the open qualifiers, WG.Unity's road to the Boston Majors was a long one. During this journey, WG.Unity won against Fire Dragoon in the first SEA open qualifier finals, finished tied third in the closed qualifier's group stage (the minimum criteria to advance), and took the second Boston Major SEA invite after a 2-0 victory against Mineski.
Since their qualification to Boston, WG.Unity has maintained their high level of activity, playing over 90 official matches over the last three months. According to their schedule, WG.Unity will keep their activity up after the Boston Major as well, playing in the WCA 2016 LAN finals, and the ESL Genting Malaysian qualifiers.
Roster:
 Lai 'Ahjit' Jay Son

 Kam 'NaNa' Boon Seng

 Chua 'KaNG' Soon Khong Raphael

Tue 'Ahfu' Soon Chuan (Captain)

 Yap 'xNova' Jian Wei

 Neng 'Wenn.' Ee Wooi (Sub)
Achievements:
- 4th ProDota Cup SEA #3 (November)
- 2nd Boston Major SEA qualifiers (October)
- 1st ProDota Cup SEA #2 (September)
- 5th-6th MGPL (September)
- 1st ProDota Cup SEA #1 (August)
- 7th-8th Nanyang Championships (July)
- 4th TI6 SEA qualifiers (June)
- 1st WCA 2016 qualifiers (May)
The team's players and draft:
With an average MMR of 7415 (as of 22/11/16), WG.Unity has no shortage of individual skill, especially when both their mid, Kam 'NaNa' Boon Seng, and carry, Lai 'Ahjit' Jay Son, have MMRs around the 7900 range. These numbers are reflected in the team's drafts, which usually features a dual core setup with an offlane initiator and two roaming supports.
Standing at 8 and 15 picks in WG.Unity's 44 games played, Timbersaw and Juggernaut are the team's most picked cores. In games featuring either or both heroes, WG.Unity utilizes the heroes' strong damage output in the mid game and solo laning potential to allow their supports to roam without trading the threat of their cores snowballing. 
As for the team's support choices, Tue 'Ahfu' Soon Chuan and xNova are frequently picked Shadow Demon and/or Elder Titan, the two heroes currently have 15 and 12 plays respectively. These two supports are prioritized for different reasons, Shadow Demon requires little farm and XP to contribute in the mid game, making him a strong roamer, and Elder Titan's abilities can either help the offlaner secure his core items quickly or ensure himself some farm in the offlane.
With the carry and support roles filled by the other players, WG.Unity gives kaNG, their offlaner, the role of an initiator. In order to fulfill this role's requirements, heroes such as Axe, Batrider and Beastmaster are commonly drafted; another reason for picking these heroes is their jungle capability, which WG.Unity frequently uses to free up a lane for their supports to farm when the need arises.
From time to time, WG.Unity uses other strategies to supplement their play style. Interesting recent drafts by them include a Tinker-Juggernaut pairing, and the pickup of Naga Siren, a hero which the team plays either as a support or a carry. As a result of a solid draft structure and line-up plans, WG.Unity is a team that is rarely out-drafted but also rarely out-drafts.
Style:
WG.Unity usually starts the game with two solo lanes, one dual lane, and a roaming support, or three solo lanes and a roaming support duo. As the game progresses, NaNa and kaNG will surrender their lanes to the supports after finishing their core items and getting their key levels. From this point in time on, the team relies on their strong team fight execution and ability to control the tempo to achieve objectives. As a result of playing this style, WG.Unity is strong at making the most out of a small lead, a fact that is supported by their average net worth lead of 45% over their opponents when they achieve victory. 45% is 11% less than the average net worth lead after victory when calculated for eight randomly selected teams participating in the Boston Major (called global average from here on).
Although NaNa and Ahjit play the farming cores on the team, their roles differ significantly. NaNa takes on the role of a space creator, giving his last hits to Ahjit while hunting for kills with the team. This results in NaNa playing heroes such as Lifestealer and Storm Spirit, and Ahjit playing heroes like Morphling and Drow Ranger. Because of this set-up, NaNa, on average, takes parts in 73.1% of the team's kills and is allocated 32.4% of last hits on the team. Compared to the global average, NaNa participates in 6.2% more kills than other mid players and gets allocated 6% less last hits than average. As for the recipient of NaNa's farm, Ahjit gets allocated 4.2% more than last hits than average and has an impressive 8.28 cs per minute average, 0.8 cs more than the first position global average. It should be noted that Ahjit and NaNa sometimes switch roles, causing Ahjit to have a high last hit allocation variance of 0.65%.
On the subject of farm distribution, the GPMs held by WG.Unity supports are nearly double the global average. Each support on WG.Unity has a GPM worth 13.2% of the team's total, and a low GPM distribution variance of 0.06% and 0.04%, a testament to the stability and monetary benefits a solo lane gives to the pair.
In games where WG.Unity was defeated, they usually lost to two things: kaNG being shut down from getting levels and farm, forcing Ahjit to initiate and sometimes die early in a fight, or being forced to play reactionary Dota in a fast paced game. These two types of games seem to drag WG.Unity out of their comfort zone, resulting in many one-sided team fights and quick losses, which are reflected in the statistics. On average, WG.Unity loses games with a 32% net worth deficit (relative to the enemy) after 38 minutes, comparatively, the global average for net worth deficit upon loss is smaller, at 27%, and time taken to lose a game is longer, at 40 minutes. The distribution of time taken to lose also show that a significant amount of losses by WG.Unity are before the 40 minute mark.
Going into the Boston Major, WG.Unity will be face to face with some of the best teams in the world, and whether they will allow WG.Unity to push their advantage remains to be seen. However, what is certain is that WG.Unity has the individual skill, experience and team fight execution to defeat most teams at the event.
Statistics:
The statistics used in this article were collected from Dotabuff and calculated in excel. Games played during version 6.88f and 6.88e within the past three months were the source of the raw numbers; a majority of the games used were from the past month. The statistics for WG.Unity were calculated from a sample of 18 wins and 15 losses, and the global averages were calculated from a sample of two wins and two losses for all eight teams, totaling to a sample set of 32 games.