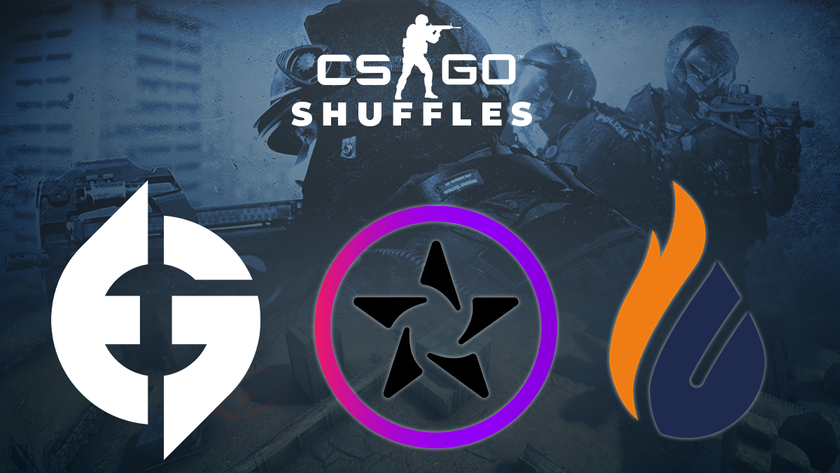 CS:GO Shuffles: Evil Geniuses announces 15-man roster
Copenhagen Flames to rejig their roster, and ORDER returns to CS:GO
As the CS:GO season comes to a short lull after the end of IEM Dallas, teams are recalculating strategies as they head into the rest of the season. Several teams are looking to redo their roster for the rest of the season, and it includes a massive shakeup for some of the teams.
As a continuation of their strategizing for 2022, Evil Geniuses has announced that they will be deploying an astonishing 15-player roster for the rest of the year. The team has signed on Party Astronauts and Carpe Diem, two previously organization-less NA teams.
This signing is their attempt to re-invigorate their performance this year, as well as develop home-grown North American talents. This signing is inspired by their League of Legends structure, with their academy teams and mainline teams – which led to the team winning the latest LCS season in North America.
Talking to Dotesports, chief innovation officer Chris DeAppolonio and director of gaming excellence Danny Engels said that the approach is for EG to widen its competition and event attendance in CS:GO. The larger team will allow EG to simultaneously deploy teams in both larger events (ESL Pro League) as well as smaller regional events (ESL Challengers, Fragadelphia).
"Now all of a sudden, we will have Evil Geniuses potentially playing in three different tournaments at the very same time. Nothing holds us back. Our RMR roster could focus fully on giving us the best possible performance going into the Majors." - Director of gaming excellence, Evil Geniuses, Danny Engels
By spreading out the team, EG also hopes to combat fatigue as well as face the challenge of the non-stop CS:GO gaming circuit.
The new EG roster consists of:
Will "RUSH" Wierzba
Timothy "autimatic" Ta
Jacky "Stewie2k" Yip
Vincent "Brehze" Cayonte
Tsvetelin "CeRq" Dimitrov
Colby "Walco" Walsh
Jerric "wiz" Jiang
HexT
chop
Anthony "CLASIA" G.
Jonathan "djay" Dallal
Jonji
ben1337
Josh "PwnAlone" P
viz
---
Copenhagen Flames will be looking to restart their roster as the team saw Nico "nicoodoz" Tamjidi and Fredrik "roeJ" Jørgensen departed the organization to join Fnatic. At the same time, the team also announced that they will be looking for new placements for the other members of the roster, Jakob "⁠jabbi⁠" Nygaard, Rasmus "⁠HooXi⁠" Nielsen, and Rasmus "⁠Zyphon⁠" Nordfoss.
With the previous roster, Copenhagen Flames had their best run in CS:GO thus far – where they notably played in the quarterfinals of the PGL Major Stockholm, where they lost to ENCE. In the recent PGL Major Antwerp, they were seeded as part of the Legends teams.
The team were trying to sell off their roster at the end of 2021 as they face a lack of financial resources to support the team, but eventually, no orgs stepped in to pick up the roster. A talk with Complexity fell through last year.
"Going forward, our aim is to maintain our current level of play and results. Our next lineup will be one full of potential, and although we know the road back to the Major and the elite CS:GO teams will be tough, we have high hopes and plenty of confidence stating that this is our goal. We have plans to work even closer with our partners utilizing their resources in both data and science to accomplish this goal." - CEO Steffen Thomsen.
This is not the organization's first rebuilding exercise and they have successfully gone through a rebuilding exercise in the past.
---
The CS:GO organization ORDER has re-entered the game, as they just signed on the entire squad of Renegades as part of their roster. The current roster of the Renegades squad has previously played for ORDER in one form or another.
"With the challenges of the last two years behind us, the team will be able to more freely and regularly compete alongside the best in the world, and we have no doubt this will result in the ability to go deeper in international tournaments, climb the HLTV rankings, and provide the entire Oceanic esports community with a team they are proud to support." - ORDER CEO Marc Edwards
The new ORDER roster consists of:
Jordan "Hatz" Bajic
Jay "liazz" Tregillgas
Alistair "aliStair" Johnston
Simon "Sico" Williams
Josh "INS" Potter