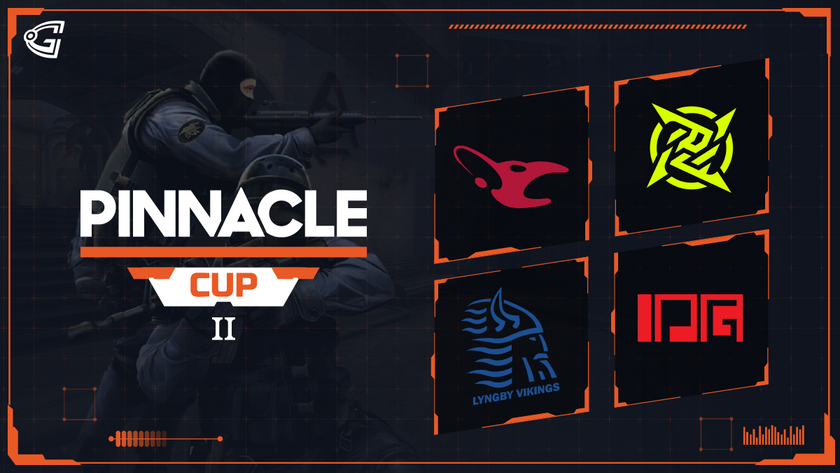 Pinnacle Cup II Play-in stage: Next generation of competitive players show their stuff
The next generation shows that they have the mettle to be in the CS:GO rat race
Pinnacle Cup II has begun. The three-week competition kicked off on the 28th of June as the circuit starts with a play-in to see the top 4 teams that will move on to the Swiss System round later on. 16 hopeful teams battled it out to see which four will be heading to the next stage of the competition.
The play-in is a single-elimination bracket, where the opening matches are best-of-one matches, and the following matches are played as best-of-three. After going through two rounds, 4 teams are picked and will move on to the Swiss System round where they will meet up with 8 seeded teams.
In the play-ins, many of the big names sent out their younger teams to represent the brand in the Pinnacle Cup II. Names like NAVI Junior, mouz NXT and Young Ninjas are just some of the young teams who were fielded.
The first team to qualify was the

ECSTATIC, where they fought
Sharks Esports in the previous round. They beat the Sharks 2-0 to secure the spot. While the Sharks put up a valiant fight to win the match, the Vikings were better and controlled the narrative of the match.
Next up,

mouz NXT took the second spot as they beat

Spirit Academy(old) to secure their place in the Swiss System round. They also won 2-0. mouz NXT had a bit of an easier time battling Spirit Academy, where they took charge in both maps that were played – Nuke and Mirage.
Young Ninjas, from the successful Ninjas in Pyjamas team, took the third spot as they beat

Sangal Esports 2-1. They faced a little bit more of a challenger here, as Sangal gave them a bruiser of a match. The last map, Nuke, was even played in extended time as the two teams battled for supremacy. In the end, Young Ninjas took the spot with a 19-17 win in Nuke.
Lastly, the final spot belongs to

100pingGODs. They went against
1win with a 2-1 win. 100PingGods also faced a challenge as 1Win actually won the first map, Mirage. However, 100PingGods clawed back for victory in the subsequent two maps to win the spot for the Swiss System.
The four teams will now face 8 invited teams in the Swiss System round. The 8 teams are:
The first match under the Swiss System rounds will commence on 1 July. Don't forget to visit out hum on Pinnacle Cup II, right here, for the latest info on the tournament.