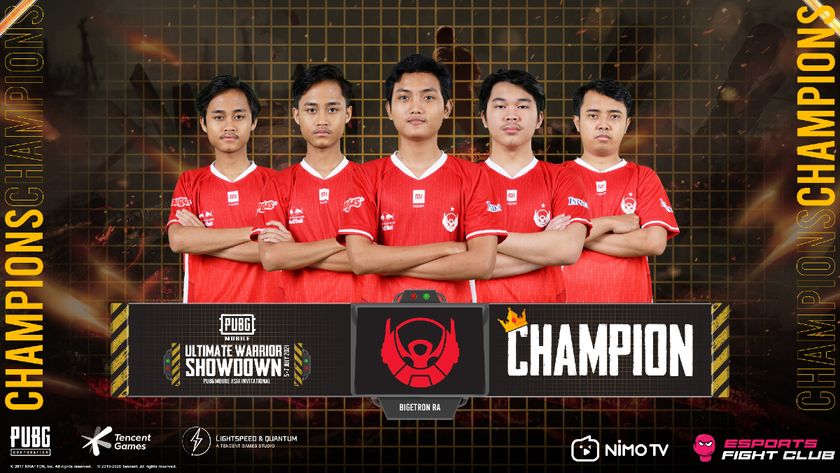 Bigetron RA become the champions of the Ultimate Warrior Showdown
PUBG Mobile's Ultimate Warrior Showdown came to a close yesterday, with Bigetron RA managing to take the top honours for the event.
 The Ultimate Warrior Showdown: PUBG Mobile Asia Invitational saw a massive change this year, with the prize pool being bolstered up to $90,000 and the entire event taking place over a three-day period. The tournament featured 16 of the best teams from 14 countries within the Asia region, including: Taiwan, Pakistan, China, Nepal, Malaysia, Indonesia, Philippines, Vietnam, Thailand, Bangladesh and Cambodia all fighting it out for a chance to claim their share of the winnings on offer.
While Bigetron were not placing high in the first few rounds, the team managed to constantly get themselves kills, and with a point per kill, plus a few top place finishes over the 12 rounds, they pulled themselves into the lead. After some intense battles, they came out on top with 161 points in total, with the team earning $27,000 for themselves, while Zuxxy picked up the Most Valued Player (MVP) award, scoring an extra $2,000 for himself. FaZe Clan found themselves in a close second place at 159 points, while LIT Esports took third at 130 points.
RJ Mark, Founder and CEO of Esports Fight Club and Verasity, the event organisers, had the following to say about the tournament,
We cannot express how proud we are of the support we received from the gaming community for the Ultimate Warrior Showdown series. This definitely serves as a motivation for us to continue our commitment to the gaming community with more world class activities."
With PUBG Mobile growing at an amazing pace, we are sure to see many more tournaments popping up around the globe as time goes by, especially with the PUBG Mobile Global Championship Season 1 set to take place towards the end of this year. We will continue to bring you all the updates and information on PUBG Mobile as the game continues to grow.