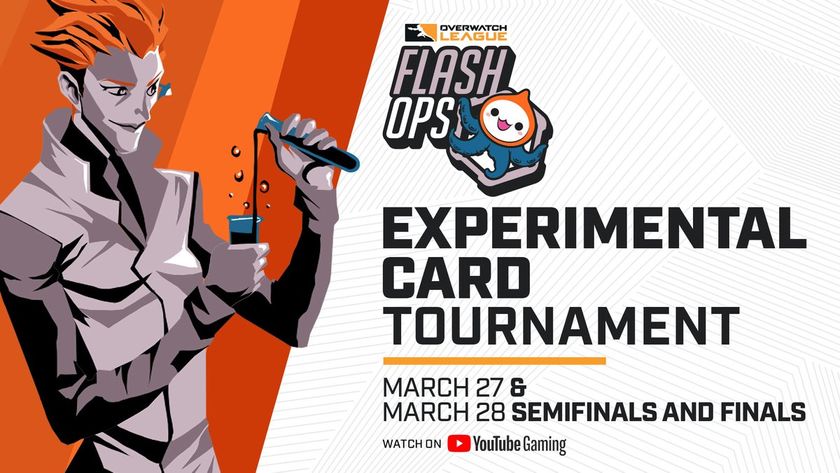 Pros and casuals face off in the Flash Ops: Experimental Card Tournament
Overwatch League talent proves victorious across three regions, highlighting wacky hero changes.
After the drafting of the new Experimental Card on March 14th, Blizzard ran a tournament to test out the new patch. Casual fans and pro players alike clashed across three regions (North America, Europe and Korea) in single-elimination brackets on March 26-28th.
The Flash Ops: Experimental Card Tournament boasted a total prize pool of $30,000 USD across the three brackets. Throughout the competition, fans got a chance to see what organized Overwatch might look like if balance changes were decided by the community.
The North American Finals pitted JOOKGA, a team of six members of the 2021 Boston Uprising, against ReaperFriday, comprised of Atlanta Reign players.
JOOKGA swept their way through the Top 16 without dropping a single map to any of the community teams they played.
ReaperFriday's march to the finals, however, was not so easy. In the Quarter Finals, they faced American Tornado, the Tier 2 team who dominated North American Contenders in 2020. The Atlanta squad was unfazed, though, and beat AT 2-1. In the Semifinals, ReaperFriday met Team Tazmo without Tazmuyaho, the new core of the Dallas Fuel. Again, ReaperFriday proved their strength, winning in a convincing 2-0.
The Finals displayed a number of philosophical differences between the two competitors. For one thing, ReaperFriday notably switched up their roles. At Tank was the lethal DPS duo of the Atlanta Reign,
Kim "Edison" Tae-Hoon and
kai "ksp_ow" collins. Rookie DPS, Pelican played signature picks like Genji, Tracer, and Echo. He was joined, surprisingly, by
Gator, Atlanta's Main Tank, who tried his hand on hit-scan heroes like McCree and Ashe. ReaperFriday's backline consisted of Main Support
Petja "Masaa" Kantanen and Flex Support
Kim "Ir1s" Seung-Hyun on their usual roles.
JOOKGA, on the other hand, seemed to take things more seriously. Their lineup consisted of
Seo "Stand1" Ji-Won and
Punk.au on Tank,
im37 and
Kim "Valentine.kr" Byoungju on DPS, and
Faith.kr and
Myunbong on Support.
JOOKGA's team compositions were also much more traditional than their opponents. The Uprising players focused exclusively on straightforward dive and rush compositions. It seemed that rather than testing out all the quirky new hero changes, JOOKGA cared more about winning the $5,000 first place prize and the accompanying bragging rights. Perhaps this new roster felt they had something to prove to the Overwatch League community after years of weak performances.
ReaperFriday played some Reinhardt-centric rush compositions, but also frequently opted for off-meta strategies, featuring Gator on Symmetra and Pelican on Bastion. This teleporting bunker composition initially caught JOOKGA off-guard and won Numbani for the Reign players.
Ultimately, the Reign's antics proved no match for the Uprising's safe and coordinated approach. JOOKGA beat ReaperFriday 3-1 to win the North American Finals of the Flash Ops: Experimental Card Tournament.
In Europe, Best Nightcore Mix 2021, the core of the 2021 Paris Eternal, took home gold. Along the way, they beat European Contenders teams New Kings and Raspberry Racers and a conglomeration of Danish Overwatch League talent, fittingly named Danish Mafia.
In Asia, Peek-a-boo, featuring members of the Chengdu Hunters, defeated C级阿龙烧烤, a mixture of Shanghai Dragons and Team CC players, in a close 3-2 series.
It's difficult to put too much stock into the results of these brackets since the tournaments were not official Overwatch League matches and featured hero changes that will likely never be seen in pro play. Still, The Flash Ops: Experimental Card Tournament demonstrated promising coordination and execution for the Boston Uprising (JOOKGA), the Paris Eternal (Best Nightcore Mix 2021), and the Chengdu Hunters (Peek-a-boo), all of whom have intriguing but unproven rosters heading into the 2021 season of the Overwatch League.