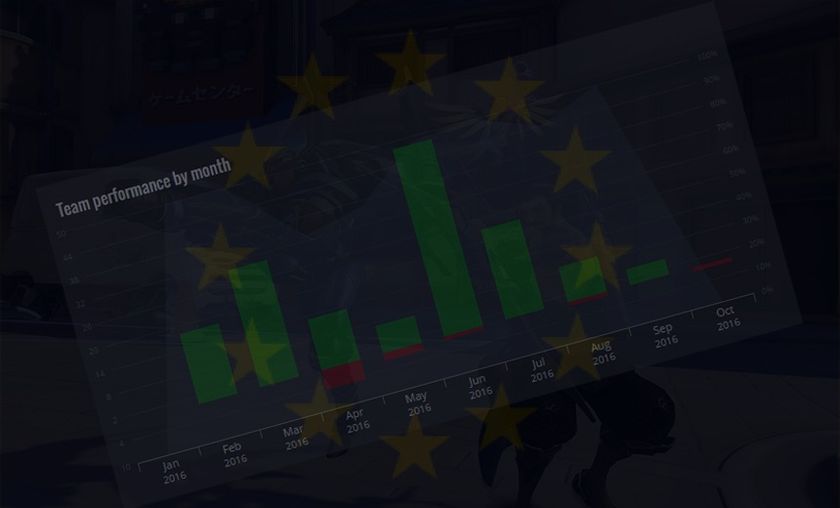 Monthly GosuRanking Review: Europe Edition (April)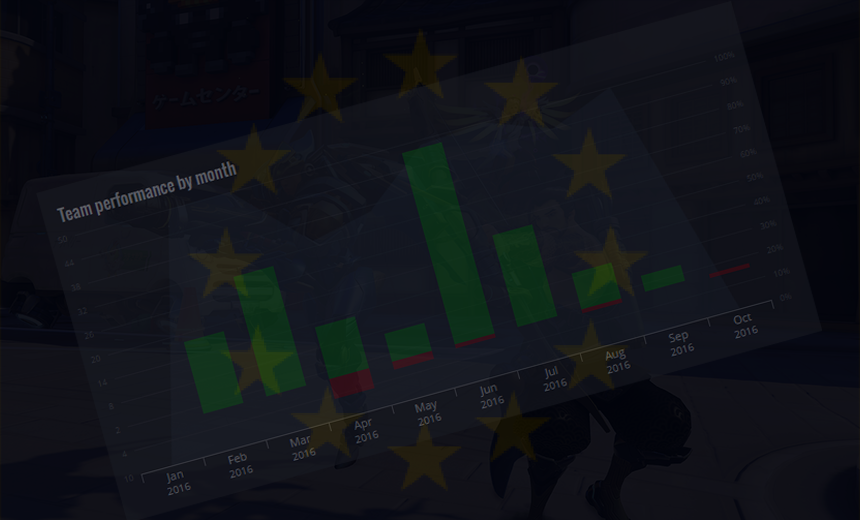 April held quite a few swaps in the rankings, with two new teams rounding out the top eight while a fan-favorite team has risen the ranks consistently to be the third best EU team.
Ranking Review:  September '16 - October '16 - November '16 - December '16 - January - February - March
The top of the rankings for EU are relatively stable, save for Spain's Movistar Riders leaping into third place. The Overwatch PIT Championship Europe helped to bring some lively compeition into the EU scene, with all but two of the top eight teams having participated. Take a look at the updated rankings below to see who was on top at the end of April.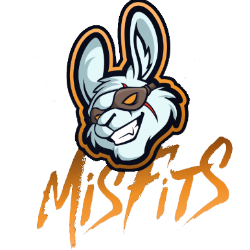 Misfits maintained their number one spot in EU despite a not-so-stellar fourth place finish in the Overwatch PIT Championship Europe. The team's current rough patch may just be the roster getting used to their new support, Mineral, after dropping Zave on April 20. Seeing as it usually takes some time for a new player to get used to the new team (and vice versa), May could be the month that we start seeing the results that have been expected from Misfits.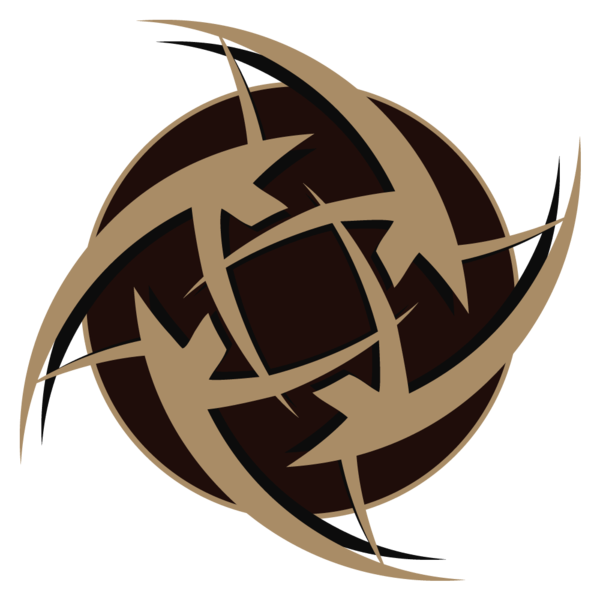 NiP had a quiet month, only having participated in the Overwatch PIT Championship and placed in the 5-6 range. Despite losing to Dignitas 1:2 to mark the end of their return to Overwatch, the team is still one of the oldest around, with legends like hymzi and zappis on its roster. Count this month up to them shaking off the rust; they're sure to make a stronger impact soon.
3. Movistar Riders (+3)

Movistar Riders has once again massively improved on its rankings, having finished March in the 6th EU spot. The team was on fire during April, picking up wins at the HND Overwatch Invitational Monthly and the Overwatch PIT Championship EU, taking out eUnited in a very close 3:2 battle. With the team having qualified for Overwatch TaKeOver 2 just this past weekend, Movistar Riders has a lot of momentum going for them moving into May.
4. eUnited (-1)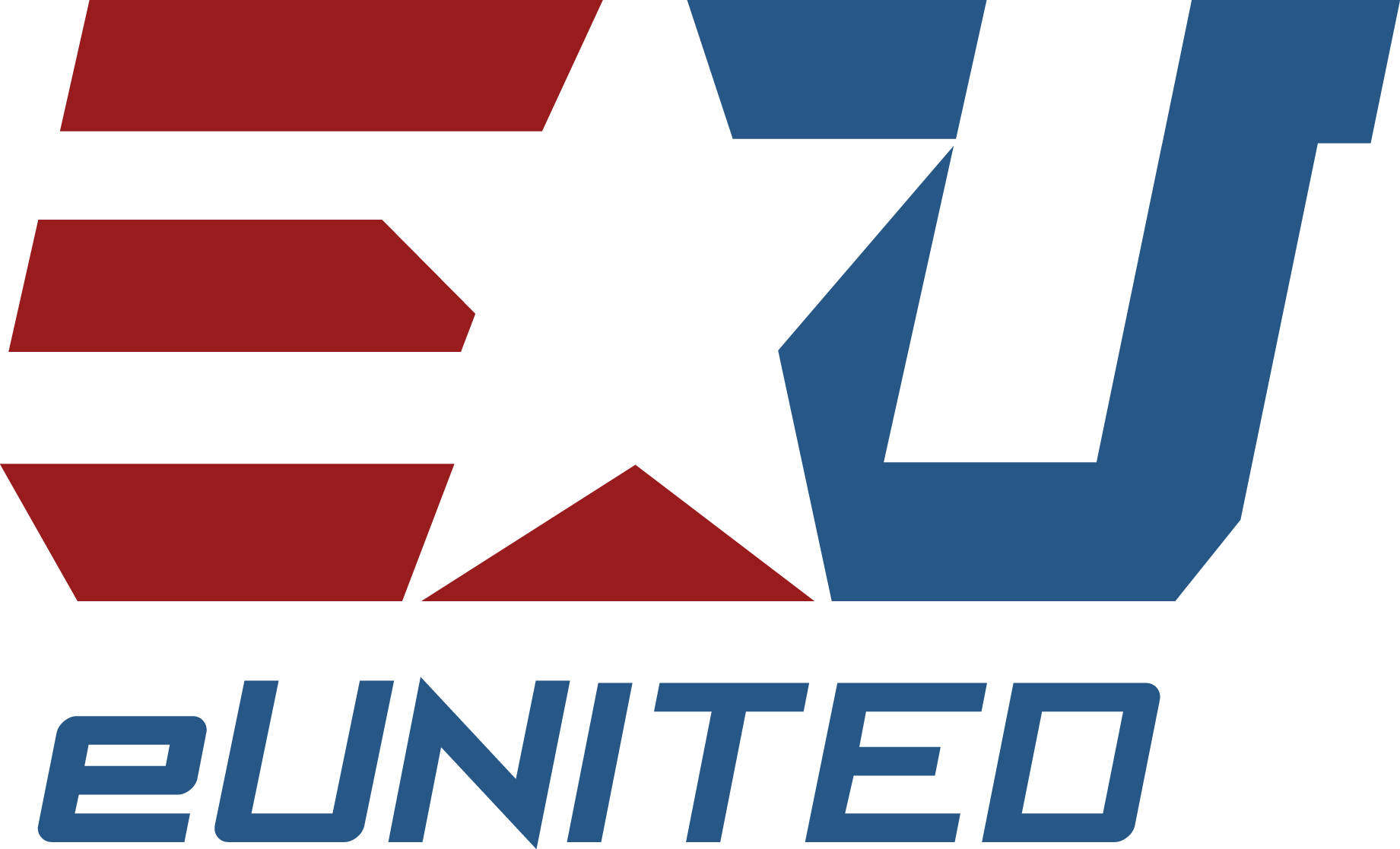 Despite a heartbreaking 2:3 loss against Movistar Riders in the Overwatch Pit Championship EU, the team has their hands full in their preperation to move to North America soon. Valutaja's DPS has been a godsend for the team, while Morte's clutch support play has also given eUnited the second chances they've needed in key fights to keep the tide rolling in their favor. Though the team has only been together under the eUnited banner for less than two months, that doesn't seem to slow them down in their preperations. Expect them to remain a solid contender for Top EU Team as they push forward.
5. Team Dignitas (-1)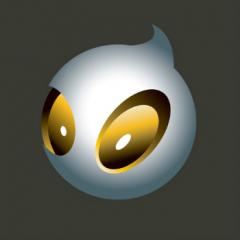 Despite getting a solid footing last month, Dignitas has yet to truly capitalize on that solid ground. They took third in the Overwatch PIT Championship Europe, losing to eUnited in a 2:3 fight. LiNkzr continued to be the saving grace for the team, having been able to bail Dignitas out of very close matches, but the DPS player can only do so much, especially now that teams seem to recognize him as the major threat. Hopefully, moving forward, the team can get some more tournaments under its belt to smooth out the kinks.
6. Ex-Cyclone (-1)

The only reason Ex-Cyclone dropped a spot was due to Movistar Riders' sudden rise. The team had a very solid May, grabbing first place in both the Go4Overwatch Europe Cup weekly and the Go4Overwatch Europe Monthly. They also managed second place in the HDN Overwatch Invitational, having been taken out by Movistar in a 1:3 fight. Despite that one blemish, the team has won five of the six tournaments they've most recently entered - including two in May, having qualified for the Overwatch TaKeOver 2 and won the second Go4Overwatch Europe Monthly final in a row - so expect them to either keep their spot or to overtake a team or two in May.
7. Team Singularity Ninjas (new)

Team Singularity Ninjas earned their spot in the top 8 this month, thanks to a first and second place finish in the Copenhagen Games 2017 and Go4Overwatch Europe Monthly, respectively. They also participated in the Overwatch PIT Championship - but lost to top dog Misfits - and HND Overwatch Invitational, but lost to Ex-Cyclone. Despite that, though, the team certainly has promise, being able to knock out former-top-eight-EU-team Vivi's Adventure in the Loser's Round 1 of PIT. Expect their hard work to pay off further at the end of May.
8. Hammers Esports (new)

The former Chavs squad has certainly made an impact since their aquisition to Hammers at the start of March, taking first place in a Rivalcade Weekly and snagging third away from Lazer Kittens in the HND Overwatch Invitational. They've currently hit some hard times this current month - having just barely missed qualifying for the Overwatch TaKeOver twice, losing to Ex-Cyclones in the first qualifier and then Movistar Riders in the second - but expect them to be able to bounce back from their narrow loss and be able to climb further up the ladder moving into May.
Keep current with all the latest competitive news via @GosuOverwatch on Twitter.