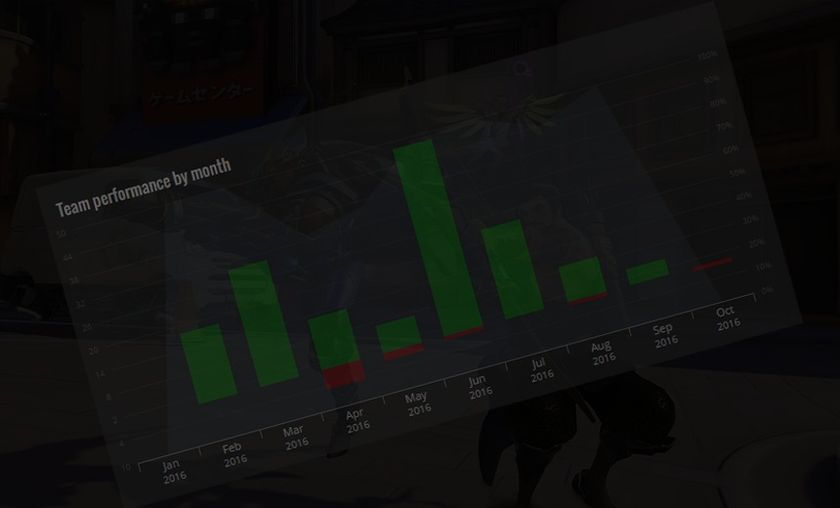 Monthly GosuRanking Review: North America Edition (December)
Round out the end of the year, we take a look back at our last snapshot of the competitive scene in North America.
Ranking Review: November - October - September - August
Continuing our series of GosuRankings snapshots, taken at the start of every month, is this edition for North America. December was a solid month for Overwatch but so much has happened since. We are just waiting for the big matches to start showing up again, when the PTR changed go live and we might finally see a new meta, but until then take a look at what the top 8 of NA was at the start of January.
1. Envy (-)
When we look back to reflect on the first year of Overwatch, we'll probably forget about the few weeks where EnVyUs was not the best team in the world. Their performance at MLG Vegas capstones an extremely successful year, which includes multiple online titles and a victory at OGN APEX Season 1. Anything and everything about this team has been said, but I'll take this opportunity to look at some minor adjustments EnVyUs could make for the next patch.
Mickie's inclusion into the team has been extremely successful, but Mickie's true skill has yet to be revealed. With D.Va being nerfed on PTR, Mickie may find some luck transitioning onto other heroes within the flex role. Zarya remains the primary target, as long as Cocco remains the Reinhardt player, but Mickie has shown an extremely strong Genji and Widowmaker, which could be used as a change up for the DPS position. The team's additional lack of a true projectile player might be remedied by Taimou's transition to more of an all-around player, instead of the hitscan legend we know him as. Nonetheless, EnVy has proven time and time again to be a dynamic roster. We expect no less from them in the following months.
2. Cloud9 (-)
Despite being together for a relatively long time, C9 remains one of the most untested squads on our list. While their dominance in North America has long been recognized, their lack of results against the top European teams prevents us from gauging what their true potential is. Their result against EnVyUs at MLG Vegas was frustrating to say the least and wasn't a true indicator of how they played
C9 remains one of the most threatening teams due to the high ceiling of their roster overall. Mendo and Surefour function as the paradigm of DPS duos, able to realistically play any combination of heroes between them. Especially with changes in the meta being so impactful, the variety available for their damage options is crucial for the development and longevity of this team. While there are no clear weak points in the rest of the roster, a combination of an unfavored support meta and a slight decrease in peak performances has limited what they can show us. We await the return of the NA kings in 2017.
3. Faze (+1
To say FaZe lives and dies by Shadowburn, ignores the contributions of the rest of the team. To say FaZe doesn't live or die by Shadowburn, ignores reality. A Grand Finals appearance (MLG Vegas) by FaZe to close out the year seems to be a perfect way to wrap up what has been a oddly inconsistent season.
Notorious for being able to beat and be beaten by most of their closest competitors, FaZe has had a relatively successful year, winning the second October Monthly Melee and showing very strong results at MLG Vegas. The largest worry for the team must be the role Shadowburn will play in lieu of the upcoming patch. While the DPS player has been stuck on D.va for the good part of his recent tournament play, his exceptional Pharah against Fnatic in the MLG Vegas semifinals illustrates exactly how impactful this player can be beyond his role on Genji. Luckily, his team is more than happy to have his back. Besides being an incredibly attractive player, Rawkus has been a superb Ana, allowing his team to run the meta's dominant triple tank composition. Realistically, the biggest goal for FaZe this upcoming year will be consistency, but if their growth recently is any indication, I expect them to knock it out of the park. That is, if they can find a replacement for recently kicked TwoEasy.
4. Fnatic (-1)
Fnatic in 2016 was a story of two teams. While the first iteration captained by iddqd was by no means unsuccessful, the second iteration seems to have significantly more upside. Powered by a second place showing at Dreamhack Winter and a joint third placing at MLG Vegas, Fnatic powers into the fourth place slot to round out the year.
The method to the madness has been diversity and adaptation. As one of the teams confident enough to utilize the full potential of their players' flexibility, Fnatic has been able to bring CoolMatt69 back into the DPS fold, while allowing their newest acquisition, Hafficool, to explore his boundaries as an extremely strong projectile player. Their dominance was evident during their extremely close semifinal against FaZe in Vegas, and they definitely have more room to grow. Fnatic poses an interesting problem for many of the top teams due to their ability to throw a very distinct offensive profile, which makes it hard to counter in a blind pick scenario. There is a lot of potential in this team, but given how crowded it is at the top of North America losing is not an option.
5. Complexity (-)
compLexity is a complex squad to quantify. While their consistency is a merit, I cannot imagine they are pleased with their results over the past few months. Sure, a semifinal appearance at DreamHack Winter and a respectable showing at Vegas may be something to be proud of, but I guarantee the boys are not satisfied.
This doesn't take away from anything the team accomplished in their 2016 run. During the early era of Overwatch, coL proved they were more than able to play amongst the giants of the scene by being the first team to take wins off of Cloud 9 and the old Luminosity Gaming roster. They have since become one of the biggest innovators in the game by utilizing Sombra consistently on offense. They definitely have the firepower to match their strong tactical emphasis, yet it seems as though the team is still looking for the magic, which propelled them to big wins in the past. However, with this all being said, I expect compLexity to be running on all cylinders in the new year, looking for the big title to call their own.
6. Immortals (+2)
As our Promising Team of the Year, Immortals has honestly shattered expectations. Starting the year off as Sodipop, the Immortals roster has improved at a breakneck pace, going from a no name tier 2 team to claiming their first Alienware Monthly Melee in December over Cloud 9.
A large part of their rapid improvement comes from the growth of key DPS players: GrimReality and Agilities, who have both been growing into their roles as star players. Moving Chance to a coaching position, while bringing in Verbo to fill in as support, has strengthened this lineup by adding a more technical backing to the rest of their repertoire. Of course, this team has yet to show great results in a major, failing to make it out of groups at the Overwatch Open and missing the invite to MLG Vegas. Until we see more quantifiable results, Immortals will be still be classified as the underdog, but with their rate of improvement, I fully expect a great year for this growing team.
7. Luminosity Gaming (-1)
LG seemed a little out of place in the three-team-trade involving both Rogue and Misfits, but they made out like thieves. The addition of Hidan and KryW to the roster added the necessary veteran presence to a roster full of extremely promising young talent. SuperPlouk has been touted as one of the most promising players in the European scene, which adds to the hype behind this new team.
The team has been playing with Ube in the Winter Premiere, yielding strong results by taking games over rising stars, Citizen 7 and Kungarna. Considering the extremely limited time this team has had to build synergy, they are way ahead of schedule and definitely has room to grow. While the LG hasn't formally shown the progress of their roster in a Major, the future looks very bright for a team full of expectation.
8. NRG (-1)
Coming in at the eight spot is NRG. The organization behind this team has all the pieces, and the potential to acquire different pieces, but they haven't figured out the puzzle yet. NRG's initial successes are keeping them in the top 10, but they have already dropped a spot since January started.
Honorable Mentions to  Renegades and Liquid for rounding out our top 10.
So did your favorite team make the list? Disagree with how we ranked our teams? Let us know below in the comments!