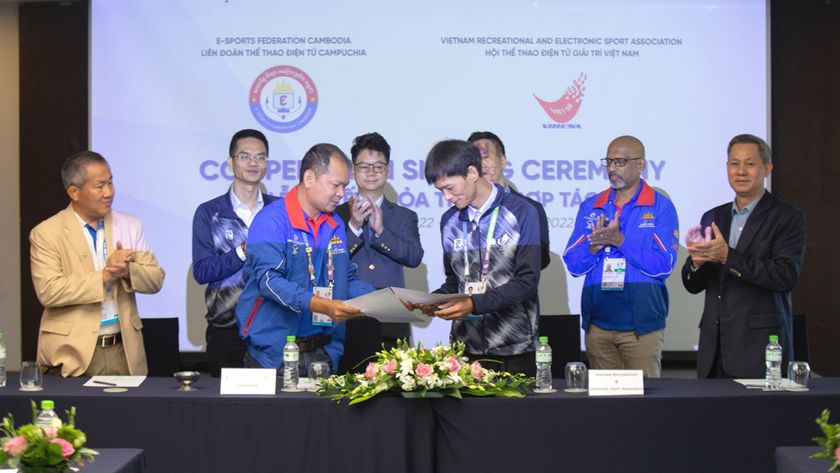 VIRESA agrees to fully support the EFC for the 32nd SEA Games
Image: VIRESA
VIRESA has signed an agreement to fully support the EFC for the 32nd SEA Games. 
Following this year's successful esports events at the 31st SEA Games, the Vietnam Recreational and Electronic Sports Association (VIRESA) has signed an agreement to support the Esports Federation Cambodia (EFC) as they organise esports events for next year's annual SEA Games. 
President of VIRESA Mr Nguyen Xuan Cuong said: 
With our resources, experience and companions at SEA Games 31, we are ready to support EFC at all stages, from choosing contest content. competition, issuing technical books, assisting in national team selection and training, training coaches - referees, introducing sponsors to organizing esports events in SEA Games 32 with the highest quality.
Mr Vatha Chamroeun, secretary general of the Cambodian Olympic Committee and permanent member of the 32nd SEA Games Organising Committee (CAMSOC) also said, "This support of VIRESA has great significance, especially when Cambodia first holds the position as the host country of the SEA Games."
Esports events at the 31st SEA Games came to a close last weekend, running from May 13 to May 22, 2022. Vietnam scored four gold medals and three silver medals at the event. The 32nd SEA Games are set to run from May 5 to May 16, 2023 in Cambodia with a total of 11 participating countries. Esports will once again be one of the 40 sports participating countries compete in for medals, making it the 3rd SEA games in a row where esports has been part of the competition.