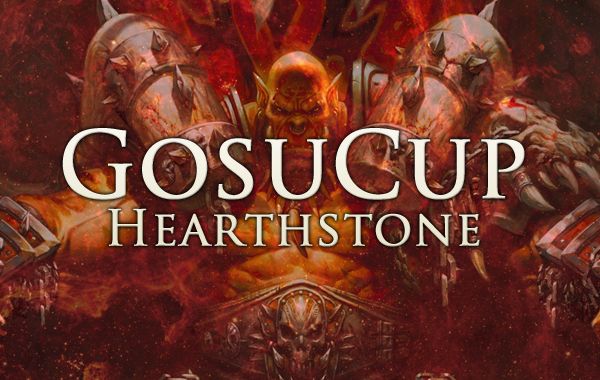 GosuCup goes Hearthstone! $100 up for grabs every week

Click to register! Please enter your full Battle.tag i.e. Nydra#0000! Message Nydra if you haven't/forgot
GosuGamers' involvement with Hearthstone continues to grow. After we launched our Hearthstone section not one week ago, today we're happy to announce GosuCup Hearthstone - a weekly tournament that will bring the winner a check of $100.
The GosuCup is a GosuGamers tradition back from the Brood War days, a tradition that spanned to cover not only StarCraft 1, but also StarCraft 2 and, of course, most notably Dota 2. Today, we add another game to the GosuCup family - Blizzard's card game Hearthstone.
GosuCup Hearthstone will run every week, featuring a $100 winner-takes-all prize pool. The first paying GosuCup will take place in the first weekend of March and will return every Saturday. The tournament is open to anybody who has a GosuGamers account and will be played on the European server with plans to expand to NA in the future!
Before we start with the $100 cups in March, however, we're inviting you to GosuCup #0 that will take place this Sunday, February 23rd. GosuCup #0's purpose is to acquaint GosuGamers users with the new tournament system and stress test and tweak it for the March cups.
Of course, we want GosuCup #0 to be more than just a test cup. That's why, the top eight finishers in it will receive high seedings in GosuCup #1 (should they choose to register), which means they'll have priority when allocating byes in the first round. They're also guaranteed not to face each other in the early rounds as they'll be spread evenly across the bracket. 
>> Register for GosuCup #0: Seedings Cup <<

When:
 
Sunday, 23 February 2014

Played on the European server

Cup start time: 14:00 CET

Registrations open: Now!

Registrations close: 23 February 2014, 13:30 CET

Check in period: 13:30 CET - 14:00 CET
Format:
 
Open to anybody with GosuGamers account. Player limit at 256

Single elimination

Best-of-3 matches till semi finals

Best-of-5 matches for semi finals, grand finals and 3rd/4th place

Time limit of 45 minutes per Bo3 round. No time limit for Bo5 rounds.
Prizes:
 
The bragging rights to call oneself the first ever GosuCup champion

Top 8 players will receive the high seeds for GosuCup #1. This means that:

They will receive priority when first round byes are allocated

They are guaranteed to not face each other in the early rounds
Rules and requirements:
 
Players must have a valid Battle.net EU account

Players must provide their accurate Battletags for the Europe server (example: Nydra#0000)

Players are responsible to result the matches themselves. A detailed how-to guide is provided here
Players are required to upload a screenshot of their victory or the match cannot be resulted

Players can play any class

Winner must keep his class, though unlimited sideboarding is allowed

Loser can choose to keep or swap his class or deck

The top four finishers are required to submit their decks through the GosuGamers deckbuilder and alert GosuCup admins

The remaining players are encouraged to do so too. Every GosuCup deck that's submitted will be featured in a summary article after the event is completed

Streaming is not obligatory. However, if you do stream your games, please contact GosuCup admins and we'll be happy to upload the VODs to our database

[card]Nat Pagle[/card] is banned

If you catch your opponent playing it, make a screenshot and alert a GosuCup admin

Players who are caught using [card]Nat Pagle[/card] in a game will receive a game-loss for that particular game (not the series)

Because of lack of reconnect feature,

disconnects 

lead to a game-loss (not series-loss). In the spirit of the fair-play, however, we encourage GosuCup participants to communicate with each other and agree on a re-game when appropriate.

?Because the disconnect leads to a game-loss only (not series-loss), the disconnected player can return to the match when he re-connects if the match is not already over score-wise

Players have until fifteen minutes before the end of the round to re-connect

?Rounds officially start every full hour (14:00 CET, 15:00 CET, etc)
Walkover rules:
 
If your opponent doesn't show 15 minutes after round's start, you're required to message a GosuCup admin

Officially, rounds start at every full hour (14:00 CET, 15:00 CET, etc), though you're free to play out your match once you learn your opponent. 

This means walkovers are due after:

Round 1: 14:15 CET 

Round 2: 15:15 CET

Round 3: 16:15 CET

Et cetera...

?This allows bracket and match flexibility. You can play your match automatically but you're not obligated to do so and can take a break if you want: Walkovers and def-losses are only given after the listed hours for every round.
How to: (guides and forum threads to help you get around)