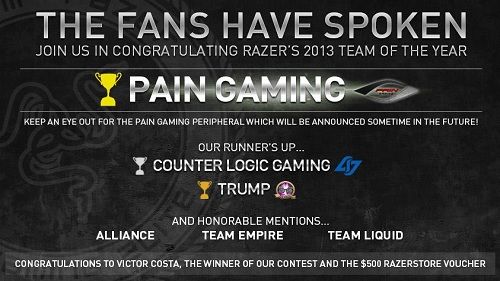 paiN Gaming was chosen as Team Razer 2013
Brazilian organization "paiN Gaming" won a public poll between thirty two others team, passing over big names such as CLG, Trump and Alliance.
With the help of their fans, the Brazilan organization, paiN Gaming, who have divisions of League of Legends, Cross Fire and Street Fighter, was chosen yesterday in a public poll as Team Razer 2013.
PaiN Gaming, who recently won a poll for Global Challenge São Paulo and was chosen as the best team of Brazil at CNB Awards, won against thirty two teams in the Razer poll, including Counter Logic Gaming, Alliance, Taipei Assassins and others.
League of Legends Roster
Fábio "Venon" Guimarães - Top Laner
Thúlio "SirT" Carlos - Jungler
Gabriel "Kami" Santos - Mid Laner
Felipe "brTT" Gonçalves - AD Carry
Gustavo "Minerva" Alves - Support
Cross Fire Roster
Felippe "felippe1" Martins
Alex "afc" Costa 
Carlos "castieL" Henrique
Italo "Gunnerz" Martin
Gabriel "FalleN" Toledo
Street Fighter 
Luis "Ludo" Fernando
Pictures - paiN Gaming