WCS NA:Group B Recap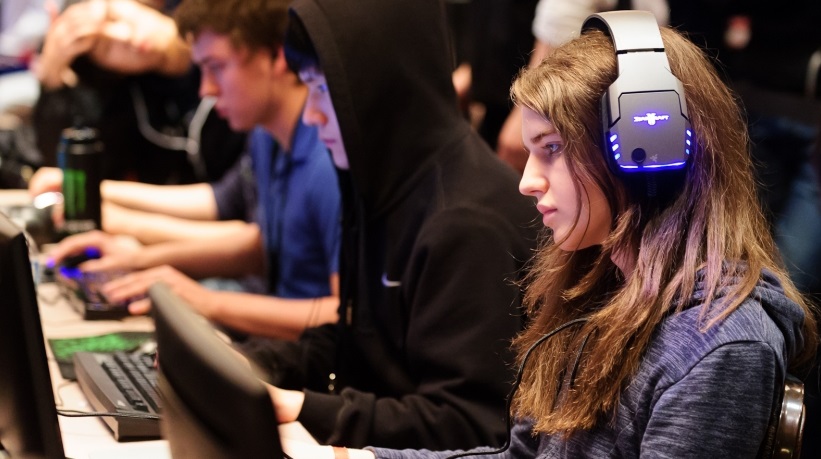 Photo by: Kevin Chang
Day six of WCS premiere league was today with group B playing, and with a group that had State, Oz, Scarlett, and Violet in it. With such a strong group the there are going to be some intense games.
More WCS America coverage
Check link for VODs, news and match info
Scarlett counters Colossus with Hydralisk
---

The first series of Group B was between Scarlett and State. Scarlett is regarded as one of the best foreigners, and she showed why with some fantastic macro play in game one. As well as some excellent decision making with her hydralisk army in game two where she was able to decimate a relatively colossus heavy force from State. Scarlett was able to take the series 2:0 and advance on to the winners match for a chance to advance on to the round of 16.
 
Zerg Continues to dominate Protoss
---

The second series the day was between Violet and Oz. Game one began with Oz going for a Stargate opening that wasn't scouted by Violet, however Oz was unable to do very much damage with his Phoenix's. Violet then tech switched to mutalisks that was not scouted by Oz, and when the mutalisk swarmed into his based they decimated his economy and forced him to all in. Which he could not kill Violet with because of his huge mutalisk count. Game two played out very similar with Oz going for a stargate opening which Violet responded to with hydralisk, and attempted to take out Oz's third base. Oz was able to hold his base with some fantastic force fields. Violet then tech switched to mutalisk and was able to decimate Oz's base and army due to his lack of anti air, allowing Violet to take the series 2:0.

A War between Mutalisks
---

The winners match to see who would be the first player to advance to the round of 16 was between Scarlett and Violet. Game one Violet went for baneling/Roach all in that was able to catch Scarlett before her spine crawlers finished to take an early win in game one. Game two Scarlett showed off her multitasking by attacking one base of Violet's with a zergling run by, and at the same time attack Violet's main with a flock of mutalisks. Constantly picking him apart and forcing him to eventually GG. Game three was similar to game two but with Violet decimating Scarlett's economy and forcing her to GG, knocking her down and allowing Violet to advance on to the round of 16.

?State shows how Clutch he can be
---

The losers match was to see who would go on to face Scarlett for a second chance to move on to the round of 16, and was between Oz and State. Game one Oz was able to counter State and decimate his army. Game two told a different story with Oz making a critical mistake by moving his army out before he was fully maxed, he then was destroyed by State's heavy zealot and templar composition. Game three never made it past the mid game with Oz going for a blink stalker timing, and State going for dark templars. Even though he had observers State was able to get a pivotal ten worker kills with one dark templar. Allowing State to turn the game in his favor and take the series 2:1. 
 
Scarlett 2:0s State again
---

The final series of the night was a rematch between State and Scarlett to see who would advance on to the round of 16 with violet. Game one Scarlett hit a fantastic timing push with a hydralisk/zergling ball that let her take game one. Game two Scarlett took it into the late game by teching into swarm hosts and caught State's army off guard and decimated his colossus count. Which led to him not being able to destroy the locusts before they destroyed his army. This allowed Scarlett to take the series 2:0 and advance to the round of 16.