A delicate situation in TPL

Mousesports falls with honor, taking down Empire with 2-0. The next game on April 23 will decide the last finalist of TPL Season 4.
Empire deployed a roster with two players standing in, ex-mouz player twiSta840 and Enlight, after losing their two support players, Artur 'Goblak' Kostenko and Airat 'Silent' Gaziev.
The Russians chose a pretty greedy line-up for the first game, with Queen of Pain, Storm Spirit and Lifestealer. Mouz, on the other hand, selected a strong team with good initiation and AOE potential, and they managed to win almost every team-fight in the game.
The second game was pretty intense, with both teams able to beat their opponents in several clashes. Blowyourbrain's Shadow Fiend was impressive, but mouz line-up eventually got too strong, with Faceless Void getting enough farm to take Empire down.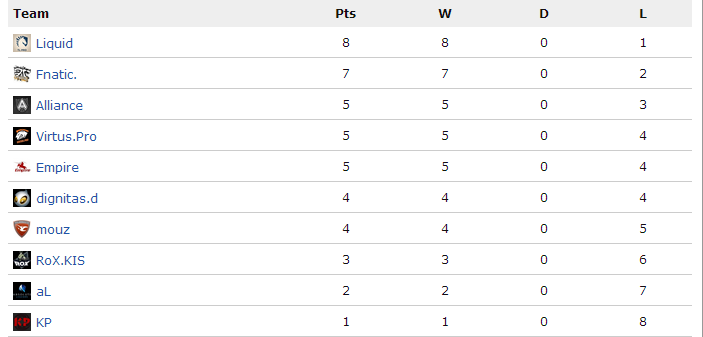 The next game will take place on April 23rd, and it will decide the last finalist of the 4th Season of Premier League. The two contestants are Alliance and Dignitas. The game is scheduled to start at 20.00 CEST. You can place your bets
here
.
According to Premier League's rules, a point tie is solved by the result of the game between the two tied teams. With Alliance being in front of Dignitas by just one point, a win by Dignitas will result in 4-team tie. With Empire beating Alliance and Dignitas but losing to Virtus.Pro, the tie cannot be broken by the current rules, so it will probably be settled by additional matches.
Alliance wins:
Final four : Team Liquid, Fnatic.EU, Alliance, Virtus.Pro

Dignitas wins:
4-team tie between Empire, Virtus.Pro, Dignitas and Alliance
Live broadcasting is provided by
Blaze
.