One more qualifier to go for THOR OPEN

We are drawing to an end for Thor's online qualifications. Only one qualifier left to be held - tomorow, 30th of November 2012, so get ready for the new tournament in the Dota 2 world.
The top eight teams from the online qualifiers will battle it out for The Thor Open in LAN with its 130 000 SEK (~$18 800) cash prize on the 8th-9th December in Kistamässan, Sweden.
Winner of first six qualifiers:
1.
We haz Asian
RMC, Crydasia, unicornxoxo, hiphopNOTpop & Cr1t-
2.
NoTideHunter
Eternalenvy, S4, AdmiralBullDog, Loda & Akke
3.
ROOT
monkeys-, KoReYa-, Fun, chw & Audio
4.
MYM
CalculuS, THEneNo, Ryze, LINK, Sockshka & 7ckingMad
5.
Virtus.Pro
NS, Santa, KSi, Crazy & Airman Ga Taosenai
6.
Pulse eSports
Mini, Wagamama, Reesion, Pinoy and Fishbone
7.
FnaticRC
H4nn1, Era, Trixi, N0tail and Bot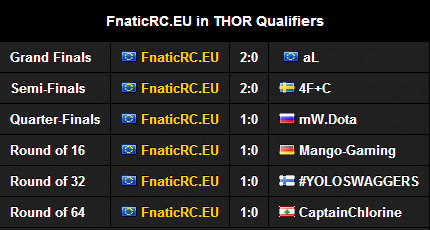 FnaticRC is the winner of the 7th qualifier. They have beaten aL in the finals with the score of 2-0 and advanced to the LAN Finals. The last online qualifier is going to be held tomorrow.
| | | | |
| --- | --- | --- | --- |
| WhA | nth | ROOT | MYM |
| VP | Pulse | FnaticRC | TBA |
THOR OPEN prizes
1st place: 100 000 SEK
2nd place: 20 000 SEK
3rd place: 10 000 SEK
Source:
Fnatic Official Site
More Information:
Fragbite.se