Loda reunites with Akke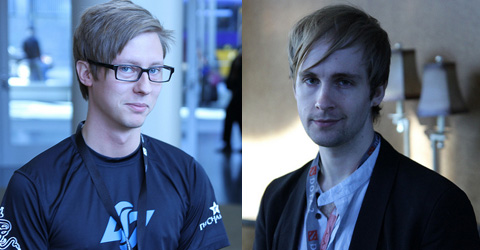 Akke to the left and Loda to the right. Picture from rakaka.se
Longtime friends Loda and Akke join forces once again as they team up with the remnants of NoTideHunter (AdmiralBulldog, EternalEnvy, s4).
You just can not keep some people away from each other. That seems to be the case, as Loda and Akke once again team up with one another. Together in 2007 they started the team with the remarkable name Team_Team, which got picked up by SK-Gaming later that year. The players went their separate ways in 2008 and started playing HoN together when the game was fresh.
In the early days of Dota 2 they were seen forming the team Experience which later got picked up by Counter Logic Gaming. Loda left the team and moved to Singapore, joining Zenith while Akke remained with Pajkatt and Miracle in Counter Logic Gaming. Then, with the demise of CLG as well as Loda's return to Sweden, many predicted the two players to saddle up once again. Well, wish and ye shall receive.
NoTidehunter roster
Loda
Akke
AdmiralBulldog
s4
EternalEnvy
NoTidehunter was recently rumoured to have split-up and is now resurrected by the reformation of the team. However the team will not be going to ESWC as their place has been given to Team Zero, as can be read
here
. It seems as NoTidehunter definitely will be attending THOR Open though, taking place in December.
Update:
The team just received an invite to Dreamhack Winter 2012. Akke gave a comment to GosuGamers about that:
Joakim 'Akke' Akterhall:
It feels great to have a team up again and even better when it's one with my good old friend Loda! Since we have been abit afk from the scene lately Dreamhack feels like a good event to come back to. I still haven't been able to play the finals on the big stage (and win!) yet and with Sweden as my home-country and all it feels like it's about time I get to!