PGF Live Blog
Pinoy Gaming Festival (PGF) finally kicks off, stay updated as GosuGamers brings you a mini-coverage of the event.
GosuGamers will present you this page as a live-blog, bringing you up-to-date happenings and results regarding the Pinoy Gaming Festival, including the games and the various events related to it. Stream links will also be given once they are available.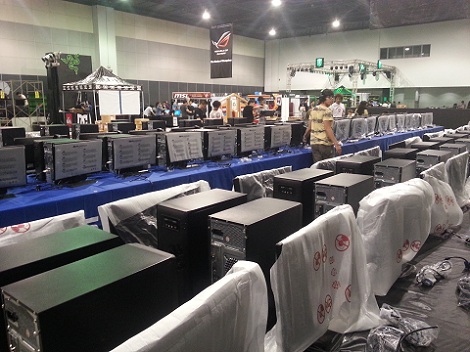 The night before: Proverbial "calm before the storm"
All times are on GMT+8.
Day 1:
0845 : Venue is starting to get packed with players and spectators alike. The stage is a beauty, and the booths are just as nice.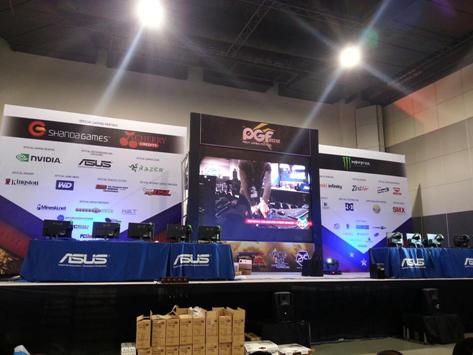 1030 : Teams are being assembled and a parade will be held soon.
1045 :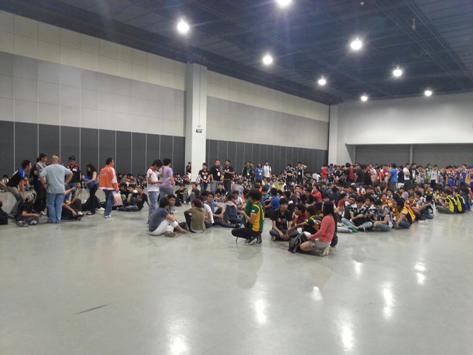 1200 : Opening ceremony concludes. NCCL DotA about to get underway.
1400 : Adamson took down NCCL champ FEU. GMPGL match of Mineski against Pacifix.eMaxx next on stage match. Mineski is featuring their acquisition, Gio and Zymon.
1500 : Pacific.eMaxx won over Mineski on the stage match, and the non-stage matches started. Some Dota 2 teams were relocated into Mineski Taft to accommodate the teams still playing on the venue. An SC2 match was put into the stage.
1600 : A number of people were reportedly not accommodated due to the venue capacity. More than 6 thousand people was the reported number of people who went into the first day of the event.
1700: Izone played on Stage on the brink of elimination, since they were defeated by Sweetopia. They played against Noty.
1730: Izone defeated Noty, Pacific.eMaxx proceeded to top Group A. Soon after, WC3 Dota Ro8 started.
1930 : Pacific.eMaxx eliminated Kupunan ni Eugene on the Quarterfinals, 2-0. Moments after, MSIEvoGT took 1 game against Mineski. Their 2nd game will be played tomorrow.
2035 : Dreamz defeated Izone on their first game. Their second game will be played tomorrow as well. Sweetopia vs Loseless will be played tomorrow again.
PGF Organizers had announced the opening of another hall tomorrow to further accommodate the high number of gamers and spectators wishing to take part. Day 2 will be bombarded will playoff games on different sports so expect another action-packed day tomorrow.
Day 2
1000 : Gate opens. Thousands of people flocked again
1030 : Stage match of SC2 began, followed by world of tanks. MSI eventually eliminated mineski and dreamz eliminated izone.
1300 : Dreamz and emaxx started, a semifinal match. Pacific lost the first game but rebounded on the next one.
1530 : I just arrived. Haha. 2 halls are packed, Dreamz vs emaxx game 3 about to get underway.
1700 : Dreamz dominated Pacific on game 3 to advance to the finals. LoL finals live on the stage match. MSIEvoGT Dota team also just won their first game on their semi final match up against Sweetopia
1800 : Sweetopia won the 2nd match to force a third game. The finals of Tekken is proving to be a breath-taker, and Dragon Nest 3v3 about to get under way on Stage match.
1900 : MSI advances to the finals after defeating Sweetopia. Crossfire on stage match. Dota 2 semi finals also about to get underway. The matches there are Pagibig vs Ambush, and Full Tilt vs. Gangster.
1930 : MSI won crossfire. Dota 2 match between Pagibig.tnc and ambush next on stage.
2020 : Pagibig obliterated their match-up to advance to the finals. Meanwhile, Dreamz took the first game on the Championship match.
2040 : Mineski '11 was awarded for being the champuon last tear. Game 2 of Dreamz and MSIEvoGT next up. Third place match between Pacific and Sweetopia had started. The finals match on Dota 2 between Pagibig.TnC and Gangster is now starting on the gaming area.
2100 : Pacific.eMaxx took 3rd place against Sweetopia, 2-0.
Remember that this specific page will be regularly updated. Stay tuned to GosuGamers for more details.
2110 : FEU took the NCCL championship for the second straight year. Also, Pagibig.TnC further established their dominance via degeating Gangster to take the Championship.
2120 : Full tilt took 3rd place on the Dota 2 tournament. Game 2 of Dreamz and MSI is being reloaded due to a disconnect.
2220 : MSI took the back-and-forth game 2 to force a decision. Game 3 starting right away. Awarding on other games taking place while Game 3 is underway.
2230 : Jhoven awarded rookie of the year, and Pacific.eMaxx wins breakthrough team of the year.
2315 : Dreamz takes the Championship! Big dog J, LA and julz of dreamz took the manager, carry and semi-carry of the year respectively. Kimo of MSI took captain of the year and support tandem of the year, with Dreamz's Paty.
Live stream
:
http://www.twitch.tv/mineskitv