MLG: Stephano, MarineKing go undefeated through first pool play day - RESULTS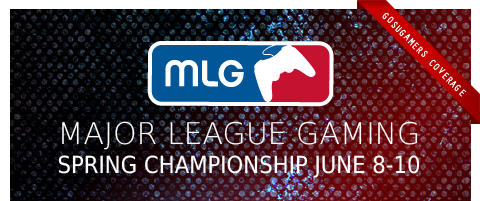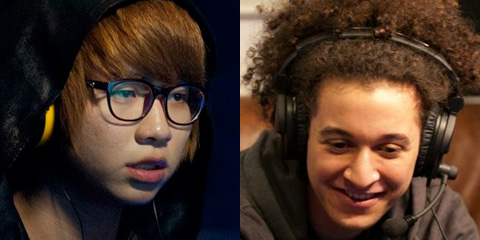 MLG Spring Championship 2012

Pool A
Pool B

1.
Leenock
2-1
5-3
1.
MarineKing
3-0
6-2

2.
Inori
2-1
5-3
2.
Grubby
1-2
4-4

3.
Ryung
1-2
3-5
3.
Dream
1-2
3-5

4.
viOLet
1-2
3-5
4.
Symbol
1-2
3-5

-
TBA
-
-
-
TBA
-
-

-
TBA
-
-
-
TBA
-
-

viOLet 0 2 Inori
viOLet 2 1 Leenock
viOLet 1 2 Ryung
Inori 1 2 Leenock
Inori 2 1 Ryung
Leenock 2 0 Ryung
Symbol 1 2 Dream
Symbol 2 1 Grubby
Symbol 0 2 MarineKing
Dream 0 2 Grubby
Dream 1 2 MarineKing
Grubby 1 2 MarineKing

Pool C
Pool D

1.
Stephano
3-0
6-1
1.
DongRaeGu
2-1
5-2

2.
Alicia
2-1
4-3
2.
MC
2-1
4-3

3.
Polt
1-2
4-4
3.
Socke
2-1
5-4

4.
GanZi
0-3
0-6
4.
Heart
0-3
1-6

-
TBA
-
-
-
TBA
-
-

-
TBA
-
-
-
TBA
-
-

Stephano 2 1 Polt
Stephano 2 0 Alicia
Stephano 2 0 GanZi
Polt 1 2 Alicia
Polt 2 0 GanZi
Alicia 2 0 GanZi
MC 2 0 Heart
MC 0 2 DongRaeGu
MC 2 1 Socke
Heart 0 2 DongRaeGu
Heart 1 2 Socke
DongRaeGu 1 2 Socke
Eight more players will be joining the pool players. After the first day, players like Clide, Oz, SaSe, Sleep, HuK, Alive, JYP, Ret and PuMa are only one match away from reaching the pools.
For full details on yesterday, check out the
official winners bracket
and
losers bracket
on the tournament website.
Matches continue tonight at 20:00 CET.