SMM Day 2 wrap up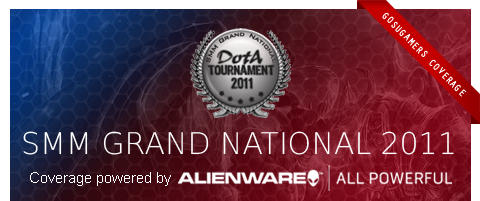 Day 2 of SMM went off to a better start compared to day 1 with majority of the technical issues being fixed.
Once the group stage games were done, the playoff bracket was available. Some interesting match ups and results occurred.
In the first round, the two Malaysian's pride, MUFC and Orange were sent into the losers bracket by EG and MiTh.Trust respectively. While MSPR, Yamateh's team for the event managed to overcome Singapore's Immortality to reach round two. The four Chinese team had no problems winning their games and breezed through to round 2. Mineski also managed to win their game against Ks-JJ, in a thrilling stage match.
Round two is where things start to get interesting. First stage match for round 2 was between Mineski and LGD whereby Mineski pulled another surprise result like what they did at "The International" taking down Chinese powerhouse, LGD who did not lose a game at all in their groups. The second stage match was DK vs iG which proved to be another thrilling game with lots of kills going back and forth. But iG was able to inch ahead of DK to win their game. Can DK make a comeback and win their seventh consecutive title?
The most controversial match of the day was between EG and MiTh. Both teams were playing fine up to the 16th minute when a player from MiTh disconnected from the game. EG wanted to claim the win due to the disconnect but after discussion among the teams and the marshals. It was ruled that a remade will be done. MiTh won the remade game. Misery and Demon were unsatisfied with the results and had no intentions to hide it.
In the loser's bracket, it was a showdown between the two Malaysian powerhouses, Orange and MUFC. MUFC showed that they were a better team during the match and proceed to round two of the loser's bracket. Ks-JJ redeemed themselves by beating Aeon, they will face EG tomorrow. Neolution eSports show some great performance against their game versus Velocy Hyper and subsequently won it. Neolution eSports will face the loser of Nirvana.CN and MSPR.
| | | | | |
| --- | --- | --- | --- | --- |
| 1st Round | 2nd Round | 3rd Round | WB Final | Final |
MUFC
EG


MiTH
Orange


MSPR
Immortality


Nirvana
G7


iG
Neolution


DK
Velocy


Mineski
Ks-JJ


LGD
Aeon


EG
MiTH






MSPR
Nirvana






iG
DK






Mineski
LGD






MiTH
______














iG
Mineski














______
______




























______
______
| | | | | | | |
| --- | --- | --- | --- | --- | --- | --- |
| R1 | R2 | R3 | R4 | R5 | LB Final | |


Orange
MUFC


G7
Immo.


Velocy
Neol.


Aeon
KS-JJ
LGD
MUFC


DK
G7


MSPR
Neol.


EG
KS-JJ


____
____






____
____
____
____






____
____




____
____

____
____