Up close and personal with MuShI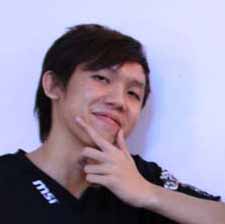 MushI, famous for his Lanaya and the star player of CyberTime and Nirvana.My has sat down and spent some time with GosuGamers do an exclusive interview.
Hi there MuShI, could you give a quick introduction of yourself to the community?
-"Hi there, my name is Chai Yee Fung. My online user is MuShI. I am 20 this year and I am neither work nor schooling."
The Alienware Arena Malaysia Preliminary happened over the weekend, however you were absent for that event. Why was that so?
-"I was supposed to take part in the competition however a few days before the competition, I was hospitalized and had to undergo surgery in Singapore because for personal reasons that I do not wish to reveal."
"
I have to compliment MuFC for playing really well."
So what are your thoughts about the Alienware Finals when Nirvana lost to MuFC? Do you think that your presences at the event may have changed the final results?
-"I believe there may have been some impact when I was not able to play for the competition. Chuan had taken my place in this competition and I feel that he is a better player than I am in many other areas. However I feel that I have much better communication with my teammates. After watching the replay, I saw that each of my teammates had made their own mistakes in big group battles. I have to compliment MuFC for playing really well and sorry to all for not being able to make it to the competition."
It has been confirmed that Chuan would be leaving Nirvana.My, so who will it be taking his place?
-"Kenchi will be taking over Chuan's place in the team. We are still unsure if the results would be good or bad. I am certain to say that we are not just teammates but also good friends in real life. We are always happy when we play together. Even though I feel that this may be unfair to Chuan, I know there are some things that a word of sorry will not just cure the problem but I still wish to say sorry to him now on this interview."
So with the Chuan leaving and Kenchi joining the team, what are the plans for Nirvana.My in the future?
-"The plans are to take part in every DotA tournament if possible however tournament in Malaysia always ban all the top teams from joining but it is ok because there are other big tournaments for us to take part. For example, ACG, ESWC and ESTC etc. It will be unlikely for me to be attending these tournaments but you will definitely see my team taking part."
So with ESWC being listed one of the big tournaments for Nirvana.My to take part, would the team be attending ESWC Paris?
-"Each and every one of my teammates really would like to attend ESWC Paris and I really hope that they will be able to attend such a big tournament however I, myself, will not be going for ESWC with my team due to personal reasons."
"
I feel that the map has a lot of changes and is really fun to play on "
It is highly possible that ESWC would be using 6.67c as their map. So has Nirvana.My started training on that version yet and what are your thoughts and opinion about 6.67c?
-"Personally I feel that the map has a lot of changes and is really fun to play on however some people may not like the map due to the many changes. I feel that the reason why DotA is so popular and can last so long is because of the constant changes to the map. If there were no constant changes, the game will get boring and slowly die out. The only thing now that I am disappointed with is the paths and terrain are still the same. Walking up and down the map is still the same for many previous versions and it is rather boring to keep seeing the same thing. It is also easy to roughly guess where all the wards are planted."
Well, as you know there would be a fair number of European teams attending ESWC and there has been a lot of debate over which continent's DotA teams are better, Asia or Europe. What are your thoughts regarding this topic?
-"I feel that every team have their own style of play and every country have their own style as well. That is why it is very hard to say which country is stronger right now. I personally like China teams' and my team's style of play and I always felt that Asia DotA teams are stronger than European teams. I really respect Team Mski because one year before SMM, they really train very hard and improved so much that I felt that even my team will be unable to improve that much."
I am sure you have heard about StarCraft 2. So have you had the opportunity to try StarCraft 2 and what are your thoughts about the game? Is there a chance that you will move over to StarCraft 2 once it is released?
"
I feel I am very noob at that game. Haha."
-"Well actually I have never played the game before but I watched my teammate, Net, play it every day so I decided to play along with him but I feel I am very noob at that game. Haha. The game is very fun but it can be challenging at times. I am still unsure if I will stop playing DotA and move over to StarCraft 2 in the future but for now I am sure I will not give up DotA because I had promised some people that I won't!'
With you being such a big fan of DotA, do you think DotA will die out with the upcoming release of new games like StarCraft 2 and HoN?
-"Of course it will affect DotA but I don't think it will affect DotA a lot. DotA is a very fun and challenging game and I believe that a lot of people will still play DotA. If only the maps used in tournaments are much more fun than definitely more people would start playing DotA!"
Well, you know that IceFrog is developing a new DotA with Valve. What do you wish to see from the new DotA?
-"Actually this is news to me about IceFrog developing a new DotA but I think this is good news for everyone. I hope the game will be much more fun with more changes. Haha."
Any shoutouts to your friends and fans?
-"Firstly, I would like to thank all my friends who visited and took care of me when I was in hospital and thank you for all the gifts you bought me and for the soup you cooked for me. I feel rather guilty for causing you guys all these inconvenience. I would also like to apologize to my team for not being able to make it to the Alienware Arena Tournament. There were a lot of personal problems that I encountered and I want to thank all those for supported and comforted me even though some of the problems had to be settled by myself. I like to wish you all a happy mother's day!
"
I would like to wish my friend, XGongZu- a very happy birthday."
Secondly and more importantly, I would like to wish my friend, XGongZu- a very happy birthday. It is her birthday today. I am really sorry for being unable to celebrate your birthday with you so I want wish you a very happy birthday, may you stay happy every day, become more beautiful with each passing day, stay fit and healthy and become more pro in DotA! Even though you may be busy with your birthday celebrations, I hope you can see me wishing you a happy birthday here. Haha. I hope all my friends, fans and those who know her will wish her a happy birthday for me too."
OK, thank you very much for taking time to do this interview with us.
-"Of course. No problem. I would like to thank
GosuGamers
for doing this interview and hope
GosuGamers
will continue getting better and better."