MBC Survivor Tournament Group 12 - Results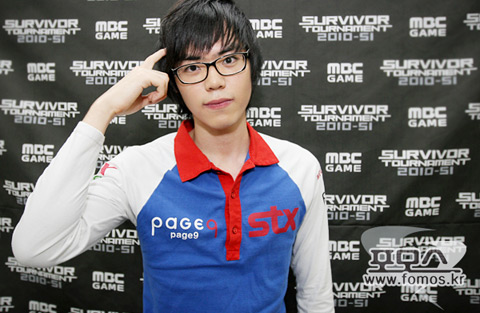 Calm advanced to the MSL main round with FireFist. Photo by: Fomos.kr
Kim Yoon "Calm" Hwan and Kim Jae "FireFist" Choon advanced to the MBCGame Starleague today from Group 12, leaving Oh Yeong "Anytime" Jong and Jo Byung "sKyHigh" Se out in the cold.
For the first seed to the next round, Calm faced off against the CJ Entus player sKyHigh who suffered defeat after a zergling run-by and mutalisk followup.
Calm became the fifth STX SouL player to advance to the main round which places STX in the front seat in number of team members through. Kal, Hwasin, JulyZerg and Shuttle are through since before.
- I was embarrassed because I lost in the last MSL too quickly and I want to rise to a higher place this time, said Calm to Fomos.kr after the match.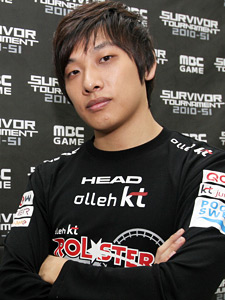 KT Rolster Zerg FireFist, who won the NATE MSL Preseason Royal Roader tournament, had a tougher run than Calm. He lost the initial match against sKyHigh on Fighting Spirit by losing too many lurkers against the Terran infantry army.
But he bounced back and played a very good 24-minute Zerg versus Protss game against Anytime on Match Point.
- I planned up to the Lurker Drop and I was going to match my opponent from there. I tried my hardest to focus harder, and I'm thankful that I won, said FireFist to Fomos.kr.
In the last match, FireFist took revenge on sKyHigh after the first game. sKyHigh went for a two-barracks tech and had a marine count too low to hold back FireFist's wellmicroed mutalisks.
- I was just planning to do some damage and play a management style game, but because his Marine count was low, I decide to all-in and that worked out well, said FireFist.
Qualified for MSL Main Round

Jaedong
Flash
Kal

Kwanro
Hwasin
BeSt

ZerO
Light
Stats

Hyuk
Sea
JangBi

great
Midas
Pure

July
BaBy
Bisu

Hydra
MVP
Movie

Action
fantasy
Stork

YellOw[ArnC]
Mind
Shuttle

HyuN
HiyA
free

Calm


FireFist
Links
TeamLiquid.net
- Source
Fomos.kr
- Source