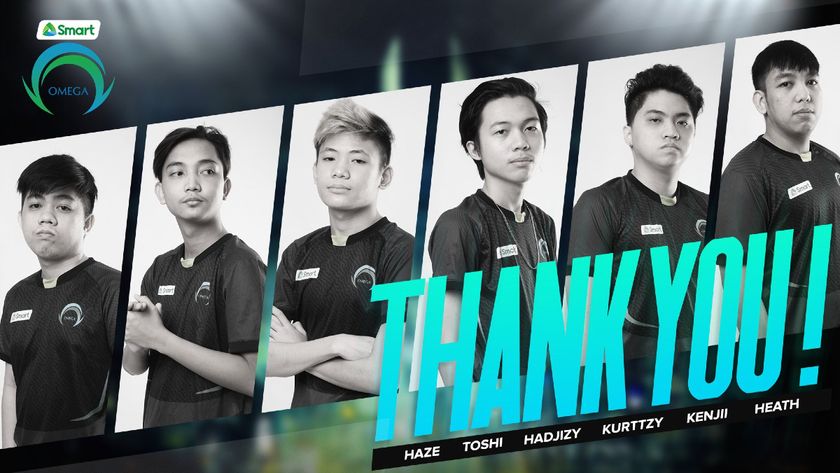 Omega Esports release their Mobile Legends roster
After three years together and some amazing plays, the Smart Omega Esports Mobile Legends: Bang Bang roster is released by the organisation.
headline image courtesy of Omega Esports
Only a few weeks after Execration announced that they would be releasing their Mobile Legends roster, another massive name in the scene has done the same. Omega Esports, having some amazing players and wonderful finishes in tournaments, have decided to release their roster. In a TwitLonger post made a few days ago the organisation had the following to say,
In the past 3 years that we're together as a team and as a family, we had our fair share of highs and lows.

From earning multiple championships and runner-up titles here and there, to exiting early at some tournaments. Then having the 2 of you represent our country at the SEA Games, eventually earning the 2nd spot consecutively and then most recently, flying off to Singapore for M2.

We are proud that we were a huge part of your growth as a professional athlete. We fully understand that in order for an athlete and an organization to grow further, a huge change in the environment is necessary, in which we support everyone's decision for this change wholeheartedly."
Omega Esports have seen some great achievements, such as finishing in second place to Bren Esports at the Mobile Legends Professional League Philippines Season 6, as well as having two players fighting for their country at the Southeast Asia Games in 2019. The team also had a magnificent run at the M2 World Championships earlier this year, followed by a tough but solid performance at MPL – PH Season 7.
For Kenji, Haze, Heath, Hadjizy and KurTzy, they will now look to continue their MLBB journey in a new squad – and with MPL – PH Season 8 looming, it will be interesting to see if they appear on any new rosters involved. We will continue to follow these players and let you know of any information that comes up prior to the announcement of MPL – PH Season 8.