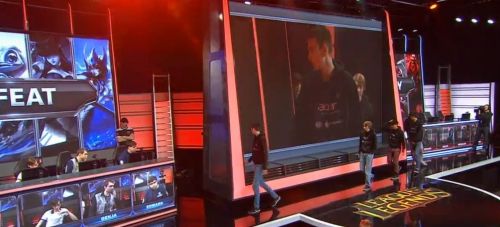 Fnatic closing in on Alliance to end LCS EU Week 8

Fnatic has been closing it to attempt reclaiming their throne in the European LCS.  If Alliance loses their next match and Fnatic wins, the two will be tied for first place in the standings.
The day kicked off with Alliance vs. ROCCAT. Alliance came out ahead with an aggressive advantage, but Jankos was really on fire this game.  With Jankos' high map pressure exposing the weakness of Alliance, ROCCAT were consistently able to win fights against the top-placing juggernaughts.
With Alliance stalling and utilizing their strongest suite in the late game, it simply wasn't enough to revitalize the old "CLG EU" potential of winning late and ROCCAT were able to take the game.
Second was Gambit Gaming's second chance to prove their roster movements are worthwhile up against Supa Hot Crew. Innovation was on the site of the crew, who ran a Rengar jungle and a Gragas support to throw off Gambit Gaming.  
The game was relatively even from both sides, but the later the game went, the larger the gold disparity between the two teams in favor of Supa Hot Crew.  In the end, SHC was able to take the game and push Gambit down to the exclusive last place poisition.
 Millenium faced off against Copenhagen Wolves next and the drive for Copenhagen Wolves to avoid relegation was very much still alive. They continued their string of upsets by putting up a great fight against Copenhagen Wolves.  The real annoyance for CHW was Kottenx, who was putting an amazing amount of pressure on the map.
While Millenium stayed ahead throughout most of the game, Copenhagen Wolves were able to win a crucial teamfight that brought them back into the game, acquiring a dragon shortly after. Despite a gold deficit, strong objective play lead Copenhagen Wolves to a decisive win.
The final game was "el classico" between Fnatic and SK Gaming.  Perhaps the least close game of all, Fnatic smashed SK Gaming early and continued to uphold their lead.  Fnatic showed their hunger to get to the top and represent Europe at Worlds, crushing out SK Gaming and further clenching an exclusive second place position.
---

STANDINGS
Team
M
W
D
L
P

28
21
0
7
63

28
19
0
9
57

28
16
0
12
48

28
15
0
13
45

28
13
0
15
39

28
12
0
16
36

28
8
0
20
24

28
8
0
20
24
Matches and results