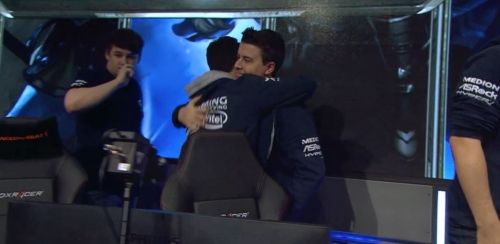 ROCCAT maintains the throne in the EU LCS

ROCCAT continue to have a firm grasp on the throne of the EU LCS while SK Gaming steadily improves their performance to close the 5th week.
CHW vs. ROC
Bans
* This player was a stand-in for this match
ROCCAT once again picked up their trademarked Morgana support. Despite the buff to top towers, Copenhagen Wolves were able to pound away at the top tower and weaken it. The teams were able to trade towers early. Copenhagen Wolves were doing an amazing job with objectives, taking the enemy blue, a second tower, and the first dragon of the game. Copenhagen Wolves were looking to set up an upset with a rather massive lead at 20 minutes against the regional leaders.
ROCCAT almost found a way to comeback, but Copenhagen Wolves was able to take the middle inhibitor tower first.  However, when overstaying their welcome, ROCCAT were able to capitalize on situations like this. It only takes one bad mistakes to lose a game late game though, and ROCCAT were able to pick up a baron, shove back, and make a huge comeback.  This allowed ROCCAT to take over a thrown game and continue their European domination.
SK vs. GMB
Bans
* This player was a stand-in for this match
Gambit Gaming tried a very unique composition to end the 5th week of LCS, utilizing Warwick and Skarner for the ultimate lockdown duo.  SK Gaming's early jungler Pantheon commanded by Svenskeren was able to grab a first blood bottom, making the Vayne lane slightly easier.  SK Gaming would continue to dominate and punish Gambit's early game to prevent their late game power.
Unfortunately for Gambit, their unique composition was not paying dividends.  Candypanda was extremely strong with a strange but self sufficient build.  23 minutes in, SK Gaming was 6 towers to 0. Eventually SK Gaming was crushing Gambit Gaming and found themselves exiting week 5 with an excellent week.
---
STANDINGS
Team
M
W
D
L
P

28
18
0
10
54

28
17
0
11
51

28
16
0
12
48

28
15
0
13
45

28
14
0
14
42

28
13
0
15
39

28
10
0
18
30

28
9
0
19
27
Matches and results