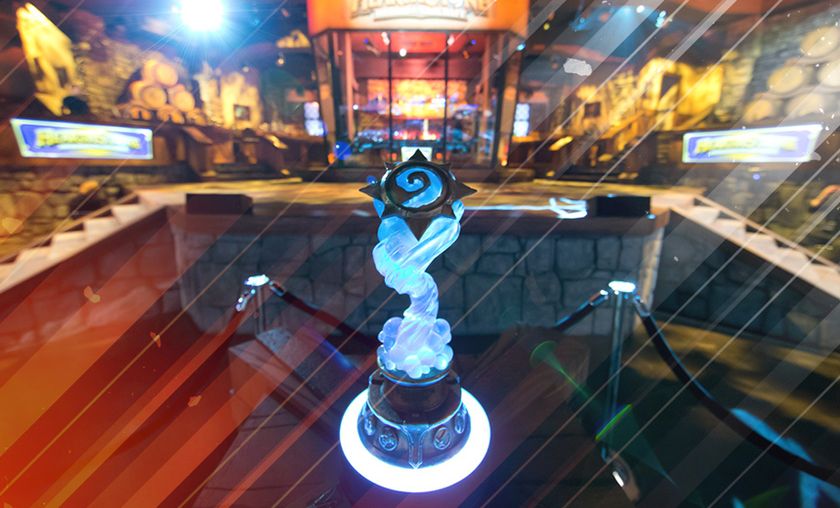 The Hearthstone competitive recap: June 20-26th
Welcome to the third edition of GosuGamers' "Hearthstone Competitive Recap", where we keep track of what has happened in our favorite game each week. 
The "Hearthstone competitive recap" will be issued every Monday and will go over the major events in - and often outside - competitive Hearthstone. Blizzard's card game is in the middle of of its HCT campaign but there are also lots of other third party tournaments running in parallel, and this post will summarize everything for your convenience.
Enjoy!
Tournament recap:
---

Cydonia punches his ticket to Blizzcon 2016
The Canadian won the HCT Americas Spring championship, going 4-3 in all of the series he played, elimination the trio of Americans Deerjason, Napoleon and Rosty, thus denying the States their second representative at the Blizzcon World Finals. So far, South Korea is the only country to have qualified more than one player to the World Finals. 
World Elite take the lead in the Chinese Team Story league
World Elite are the only undefeated team so far in the second group stage of the premier team league on Chinese soil. WE will play Team Celestial today, hoping to extend their lead in the rankings to 3-0 and their chances look great, considering how Celestial struggled in group stage #1 and almost faced elimination.
Back-to-back GosuCup SEA victories for Vietnam
Btuan denied yet another championship for the Philippines, defeating Gromhell12 3-1 in the grand finals of the penultimate cup for the Summer season. The last tournament of the current circuit will take place this Saturday, 13:00 SGT, offering another $500 and 7 HCT points to APAC players. 
Major news and content:
---
Hearthstone did a short video documenting Will "Amnesiac" Barton's road to the world finals. The youngster, currently a member of Archon, emerged as victor at the AM Winter Championship and is the youngest player to compete on the world finals stage. A great look back at one of the best storylines of last season.
GosuCup HCT Europe expands to July
GosuGamers' circuit of open tournaments will continue next month, too, offering 21 HCT points spread over three tournaments each week. The tournaments are free to enter for anyone and take place each Monday, Wednesday and Friday at 17:00 CEST, with full information available here.
AMA: The top 8 of HCT Americas Championship
The champions of the Americas region gathered to do a cool collaborative AMA on Reddit just before the finals played this past weekend. Given how all are up and coming players still building their careers, it's a recommended read if you want to learn who are the personalities behind the nicknames.
To watch/play next:
---
Each week, DTwo and his team of casters bring you the best of Chinese Hearthstone, covering the Team Story league on twitch.tv/tempo_storm. It looks to be a quiet week of Hearthstone ahead of us, so why not use this to check on what China's playing in one of the biggest tournaments on the scene? Full information is available on our event coverage hub here, and the matches for this week are as follows:
World Elite vs Celestial - June 27, 13:00 CEST
iG vs TongFu - June 28, 13:00 CEST
eStar vs OMG - June 29, 13:00 CEST
EDG vs ViCi - June 30, 13:00 CEST
Truesilver Championship 3 qualifier
20 players have been invited to the Truesilver Championship 3 qualifier, and seven of which will advance to join reigning champion Ness at the main event later this year. Sottle and Raven will bring the action June 28-29 on Multiplay's Twitch channel over at http://twitch.tv/Multiplay_HS.
GosuCup HCT Europe is GosuGamers' own circuit of open events, with cups every Monday, Wednesday and Friday at 17:00 CEST. Everyone's free to join, compete for the prize pool of 7 HCT points and kickstart their world championship campaign by playing Hearthstone from home! Registration links here. 
Looking to compete in more events than our own? Check the link above for full list of open cups with HCT points available.
Decks and guides:
---

Video guide: Aggro Shaman by GosuGamers
HCT AM Spring Championship decklists
DreamHack Summer top 16 decklists

Top 10 GosuRanked players:
---
Plenty of big Hearthstone tournaments defined the GosuRankings landscape this month. DreamHack Summer and StarLadder happened amidst the HCT Spring Championship campaign and forged a plethora of captivating storylines. ThijsNL became the only player to win two HCT championships. Ex-Hearthlytics player Fr0zen climbed into the top 10 after crushing two DreamHack swiss rounds in a row, and finishing second in Jonkoping. Rdu also scribed his name in the book of records, becoming the only player two win two DH titles and with that entered the $100,000 club. ANOX's Pavel came from seemingly nowhere, going 7-2 in DH Summer swiss, but barely missing the playoffs on tie-breakers.
Here are the top 10 ranked players as of June 27th.
1. 
Jan "SuperJJ" Janssen | Complexity Gaming
2.
Frederik "Hoej" Nielsen | Natus Vincere
3.
Pavel "Pavel" Beltukov | Team ANOX
4.
Sebastian "Xixo" Bentern |Natus Vincere
5.
Thijs "ThijsNL" Molendijk | G2 Esports
6.
Dima "Rdu" Radu | G2 Esports
7.
David "Dog" Caero | Team Liquid
8.
Frank "Fr0zen" Zhang 
9.
Esteban "AKAWonder" Serrano | SK Gaming
10.
Jon "Orange" Westberg