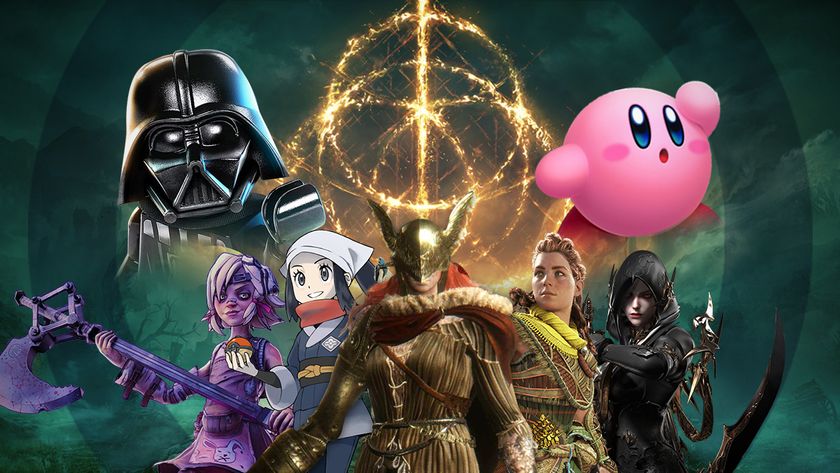 Here are the best games we've played in 2022 so far
2022 isn't over yet, but we've already played quite a few Game of the Year contenders. Here are our favourites so far!
2022 is shaping up to be an incredible year for gaming. Less than half of the year has passed, and we've already gotten our hands on a colourful assortment of Game of the Year contenders. That's without taking into account all the other games still set for release later this year, such as God of War Ragnarok and Pokemon Scarlet and Violet. While we wait for them to arrive, however, it's a good time to go over the very best games we've played in 2022 so far:
Elden Ring
Let's be honest: you saw this one coming. FromSoftware's Souls franchise has produced some of the best and most brutal games of the last two decades, but Elden Ring feels like the culmination of all their efforts in a genre they helped innovate. In a sprawling open-world setting, one would think a Souls game would lose its focus - but instead, it's ripe with new heights of possibility and adventure. Some of the most difficult bosses Souls players will ever face are in this game, but they're not the roadblocks in progress that they used to be. Now, you can simply pursue a different path forward until you're ready for the fight. 
Elden Ring lacks the tropes that riddle modern open-world games, and it does not suffer for it. Every path forward, every hidden wall and every precarious cliff promises either an adventure or an early death, and even then, never the last adventure nor the final death. FromSoftware has somehow made their most accessible and difficult Souls game yet, in a format that meshes mainstream pleasures with punishing thrills. All that, and we haven't even talked about the memes. 
Horizon Forbidden West
Horizon Forbidden West was one of the best open-world games we've played recently, and that's saying a lot considering it launched two weeks before Elden Ring. This sci-fi adventure fleshes out a world dominated by machines and sentient AIs by turning its sights to the stars. Although Aloy managed to defeat HADES by the skin of her teeth in Horizon Zero Dawn, where she finds herself racing against the clock to save the entire world from collapsing in on itself. As if that isn't enough, powerful new threats start making themselves known to make her mission that much more impossible.
Horizon Forbidden West is by far the most beautiful game we've played on the PlayStation 5, with gorgeously detailed environments, cinematic cutscenes and stunning art design. Pair that with its fast-paced combat, challenging new machine types and a surprisingly interesting cast of characters, and you have a sequel that far exceeds the quality of its predecessor. We can't wait for Aloy's next adventure, even if it takes years for us to see it. 
Pokemon Legends: Arceus
It's the year of open-world games! After dipping its toes into the genre with Pokemon Sword and Shield, Gamefreak's first fully open-world Pokemon game takes players into the Hisui region - an ancient interpretation of the Sinnoh region from Pokemon Diamond and Pearl. Mainline Pokemon RPGs have begun to spin their wheels in a stale, repetitive formula bereft of player freedom, so this game was a breath of fresh air. Being able to chart your own path in the open world, take on side quests and fight Pokemon in a real-time combat system all amounts to a gameplay shakeup this franchise desperately needed. 
Most importantly, Pokemon Legends: Arceus doesn't lose sight of why we love this franchise so much. It was such a joy to grow attached to our party of Pokemon and watch the little monsters jog after us as we explored the open-world. The main story revolving around the deity-like Pokemon Arceus kept us moving forward, but exploring Hisui and discovering its secrets is the real attraction here.
Dying Light 2
Dying Light 2 is fun on a bun. This open-world zombie sequel delivers more of the fast-paced parkour and satisfying melee combat fans loved about the original, but with much more focus on player choice. Dying Light 2's strengths aren't in its meandering story, but in how fun it is to pick up the controller and simply run around a city, scaling walls and jumping over rooftops before delivering a swift butt-kicking to zombies that thoroughly deserve it. Its day-night cycle lays the tension on thick, especially when you're stuck doing a nighttime mission when the worst monsters in the game have come out to play. 
Dying Light 2 has nailed its moment-to-moment gameplay, to the point that we can forgive its uninspired story and mindless sidequests simply because we'd take any excuse to dropkick a zombie in this game. Fore!
Tiny Tina's Wonderlands
The Borderlands formula is tried and true, but Gearbox's latest entry in the franchise tweaks it just enough to keep it going stale. In this Dungeons & Dragons-inspired spin-off, players enter a magical fantasy land as the Fatemaker. You'll fight alongside a party of heroes trying to stop the rise of the Dragon Lord, who turns out to be an unexpectedly compelling villain thanks to a brilliantly-cast Will Arnett.
Sure, it's a ton of fun to blast through skeletons and crabs with a colourful variety of ridiculous weapons, and the jokes constantly thrown at you along the way might induce the occasional chuckle, but the Dragon Lord is the real star here and he knows it.
Lego Star Wars: The Skywalker Saga
The entire Skywalker Saga gets bricked in this massive action-adventure game. Developer Traveller's Tales has a rich history of making fantastic Lego games, but this is by far their most ambitious, recreating all nine mainline Star Wars movies with explorable planets, a new combat system, hundreds of unlockable characters and even space battles for good measure. Lego games have always been deceptively great co-op adventures, but The Skywalker Saga shakes up the series formula with gameplay changes that have been a long time coming.
Whether you're blowing up a Federation droid control ship, blowing up the Death Star or blowing up the Death Star again but bigger this time, this game is a real treat for Star Wars and Lego fans alike. 
Kirby and the Forgotten Land
This game has a 'Mouthful Mode', which is almost enough to earn it a spot on this list by itself. Kirby and the Forgotten Land is the titular pink balloon's first fully 3D game, and what a spectacular debut it was. Bouncing around and vacuuming up enemies feels fantastic in this game's colourful 3D environments. Comparisons to Super Mario Odyssey are inevitable and while this game doesn't feel as bombastic, it certainly feels just as ambitious an adventure for its adorable protagonist. If we arranged our list in order of which games made us the happiest this year, this could easily top the list. 
Gran Turismo 7
Gran Turismo 7 represents the return of an iconic gaming franchise on its 25th anniversary, and even with the baggage of high expectations, it doesn't disappoint. This simulation racing game boasts beautiful visuals, smooth driving mechanics and a bevvy of customisation options available for the game's many driveable vehicles. Despite its shaky launch and grindy unlockables, Gran Turismo 7 knocked it out of the park with its staggering amount of content, immersive driving gameplay and the interesting addition of a new visual novel-like game mode in GT Cafe. 
OlliOlli World
You don't have to be a skateboarding enthusiast to love OlliOlli World. I spent hours in its character customisation screen alone, tinkering with my character's hair, face and clothes and somehow finding a new way to look fantastic every time. The game's cartoonish Adventure Time-like visuals are cosy eye candy, and that goes double for its colourful level design that takes the player to skateboarding races across multiple environments. Chaining together trick combos and trying to complete levels in the shortest time possible is a deceptively addictive gameplay loop, and the game is constantly throwing new stuff at you to keep things fresh - whether it's new tricks to execute, obstacles to avoid or cosmetics to wear. A feel-good game. 
Lost Ark
Although it initially launched in South Korea in 2019, Lost Ark hit the big time with its North American and European debut earlier this year. Saying that it had a successful launch would be an understatement - the game became Steam's second most-played game of all time over just one weekend. This action-RPG brings the hack and slash delights of Diablo to an MMO format, allowing players to adventure together as they fight back hordes of enemies and discover exotic new locations. The game's story is nothing to shout about, but its combat, exploration and customisation are more than enough to keep you hooked to the ol' keyboard and mouse for inadvisable amounts of time.