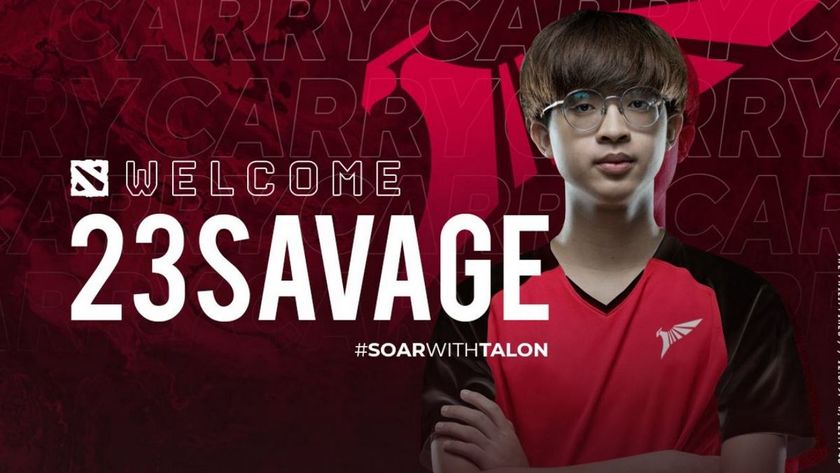 Talon Esports welcome 23savage to carry position
Talon Esports roster is whole again with the addition of former T1 carry player Nuengnara "23savage" Teeramahanon.
Thai prodigy player Nuengnara "23savage" Teeramahanon arriving now at Talon Esports is essentially a swap between him and Kim "Gabbi" Villafuerte Santos, who left the Talon lineup in the Winter Tour aftermath to join T1. While Gabbi will play the next Dota Pro Circuit Tour in Southeast Asia Division 1, 23savage will take the challenge of helping Talon to promote from Division 2.
Talon Esports' entrance into the Dota 2 scene at the beginning of this year's DPC was one of the biggest surprises, but one of the most underwhelming performances as well. Despite making their debut with Dota 2 legendary captain Tal "Fly" Aizik on their team and with Gabbi in the carry role, Talon failed to punch a top two finish in SEA Division 2 in the Winter Tour.
At the end of the season, both Fly and Gabbi parted ways with Talon. About two weeks before the Spring Tour is expected to begin, Talon has a full team again as Fly's spot was taken by former Motivate.Trust Gaming support player Worawit "Q" Mekchai, who will make a role swap from soft to hard support for the coming season.
Talon Esports roster
Nuengnara "23savage" Teeramahanon

Rafli Fathur "Mikoto" Rahman

Damien "kpii" Chok

Brizio Adi "Hyde" Putra

Worawit "Q" Mekchai