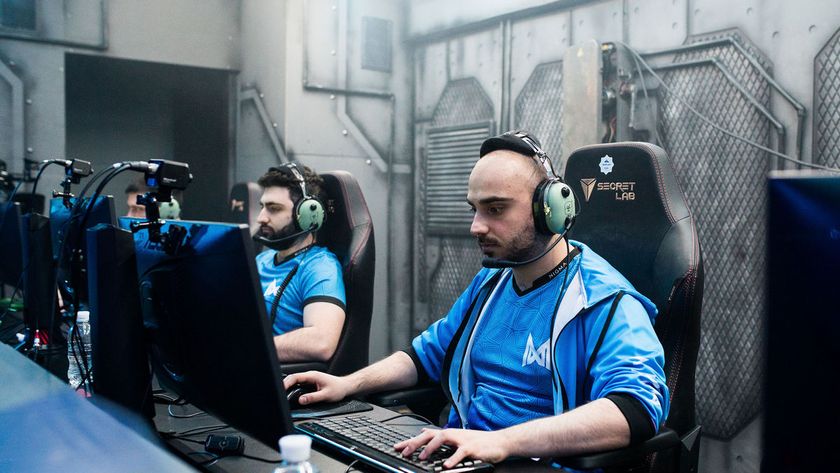 Disastrous start for T1 and Team Nigma at Singapore Major
headline image: WePlay Esports
T1, Southeast Asia seed #3 team, and Team Nigma, Europe seed #3 at the ONE Esports Singapore Major, are already on the brink of elimination after finishing the first day in the wild card leg with disappointing 0-3 performances.
 
Stand-ins on top of roster changes hinder T1
With a new player on the roster, as they decided to change Souliya "JaCkky" Khoomphetsavong with Nuengnara "23savage" Teeramahanon after they qualified for the Major, T1 were faced with even more challenges just ahead of their trip to Singapore, as they were forced to bring a stand-in for Carlo "Kuku" Palad, who couldn't join his team at what is so far the most important tournament of the year, "due to health problems." The two roster adjustments seemed to have hindered them more than they anticipated and they ended day one of the competition without landing a single game victory.
T1's first adversaries at the Major were the CIS seed #3 team, ASM Gambit, who came prepared with an Io carry and a Bristleback mid lane to start the day and proceeded to grab a quick 25-minutes game in which they weren't contested at all. The series went from bad to worse for T1 as they could only land two kills through the whole second game and completely botched the support Alchemist Aghanim's Scepter factory strategy that they had planned to push with.
Without too much time at their disposal to shake off their shoulders the first loss, T1 were pitted in the next series against ViCi Gaming, who came with their own interpretation of the meta and drafted Luna support twice and ran away with a clean 2-0 victory
The long day one marathon closed for the SEA representative with a two game series against Europe seed #4 Team Liquid, the stand out squad from all the wild card lineup so far. Despite changing pretty much nothing in their drafts since the Dota Pro Circuit leagues, and overall running the same strategies displayed a month ago, Liquid closed the day with a clean 3-0 series score after T1 allowed them to play their most comfortable heroes. Ironically, T1 lost the last series to yet another Io core coming from their adversaries, while for the second game they allowed Liquid to stomp them with the unbreakable Oracle-Huskar duo.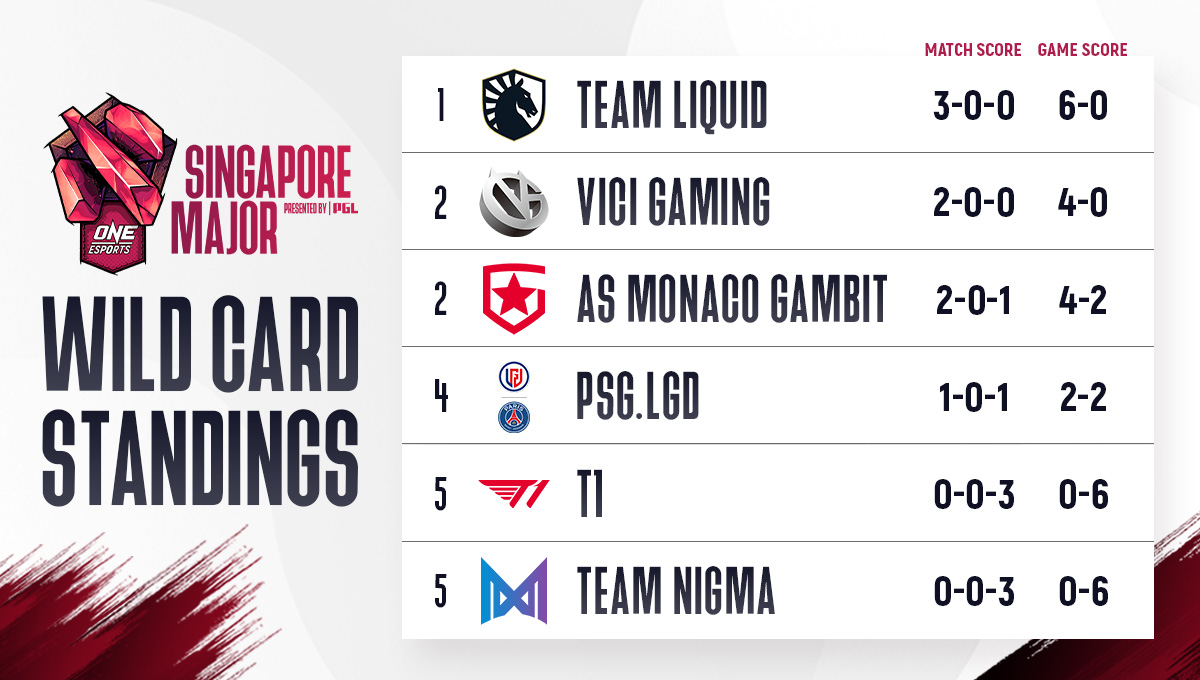 No role swap could save Team Nigma from disaster
Team Nigma have arrived at the Major with a stand-in as well and because in the opening series they struggled to find the synergy with Roman "rmN-" Paley in the offlane instead of Ivan "MinD_ContRoL" Ivanov, they took a risky approach and rotated captain Kuro "KuroKy" Takhasomi through all lanes and almost all roles as the day went on.
A support player by nature, rmn started the day at Singapore major by playing in the offlane only versus Team Liquid and couldn't make the difference for his team. Neither his Dragon Knight nor his core Grimstroke proved to be strong enough to disrupt Liquid's coordination and both games closed with a huge gold advantage for the latter.
Despite the loss, Nigma kept rmn one more game in the offlane and tried to force PSG.LGD to a fast tempo with a mid lane Death Prophet. However, past the 20-minute mark PSG.LGD started to take the control of the game with big team-fights combos and ultimate spells that complemented each other extremely well.
Headed into the second game Kuro decided to start the role swaps and put himself in the offlane, while Aliwi "w33" Omar went safe lane on Alchemist and Amer "Miracle-" Al-Barkawi took the midlane on Void Spirit. The change almost worked as Nigma held the lead for most of the game, but threw it all away in the last five minutes of the battle.
Team Nigma versus AS Monaco Gambit
Going into the final series of the day with a 0-2 record, Kuro tried to take the matter in his own hands and drafted himself a midlane Alchemist, focused on farming his own items to hit early pushing timings. The strategy once again almost worked out. However, ASM.Gambit identified fairly early Kuro's plan and played extremely patient around Akbar "SoNNeikO" Butaev Black Hole cooldown and their Terrorblade's need to farm.
Kuro couldn't match Kiyalbek "dream" Tayirov's item progression and the game slipped through Nigma's fingers once again. The final game of the day featured KuroKy going on a safe lane Tidehunter and Miracle- trying to salvage everything with a midlane Morphling, but neither of these heroes made any impact, which led to the abysmal 0-6 game score and 0-3 series score on day one.
Both Nigma and T1 have two more series on the schedule and could potentially salvage their Major run with clean 2-0 victories. The second day in the wild card stage will determine which three teams will advance into the group stage and which three will return home empty handed. The games are slated to start Sunday, March 28 at 10:00 SGT/04:00 CET. In the meantime, you can head to our tournament coverage hub HERE to get up to date with all that's happening at ONE Esports Singapore Major.